LennyThroughParadise: 2017-09-29 12:22:39
My First Day In Pangasinan (Budget Traveling Experience)
A new destination: Pangasinan. One of my favorite provinces; and I've been here before. I'm planning to stay here for four days, and visit some main attractions including Hundred Islands, and the enchanted cave in Bolinao.
I live in Manila and it was supposed to be a 5 and a half hour busride to my destination in Dagupan, where I booked a seaside little B&B-resort. The Manila taxi-driver thought he'd know which bus I should take, and brought be to a bus which ultimately didn't have no air-conditioning. Also the chairs were uncomfortable, and at one point when the bus got full I had to have my big and heavy drone bag at my lap which ultimately kinda hurt my legs.
When I arrived at the bus' end destination, apparently we were not in Dagupan and the bus driver said I would have to take a jeepney to go there. The rain was falling out of the sky real heavy and there was thunder as well. The driver was actually real nice to ride the bus towards the jeepney for me to put me off there.
Loaded with a drone bag and a suitcase I struggled through the jeepney passengers to get to the front, but it turned out I could get to Dagupan for a mere 20 pesos. Jeepnies get really full a lot of the time and that makes it often an uncomfortable experience especially for long legged foreigners. Anyway when the jeepney driver told me to get out, the struggle with my bag and suitcase through the passengers was even harder, and I finally got off in Dagupan where it was still raining. I didn't know what to do and somehow the tricycle drivers didn't want to bring me to my end destination or they didn't know where it was. Ultimately when they looked at the resort's address showing on my phone, people told me to get the bus to Labrador municipality. So I had to take another bus.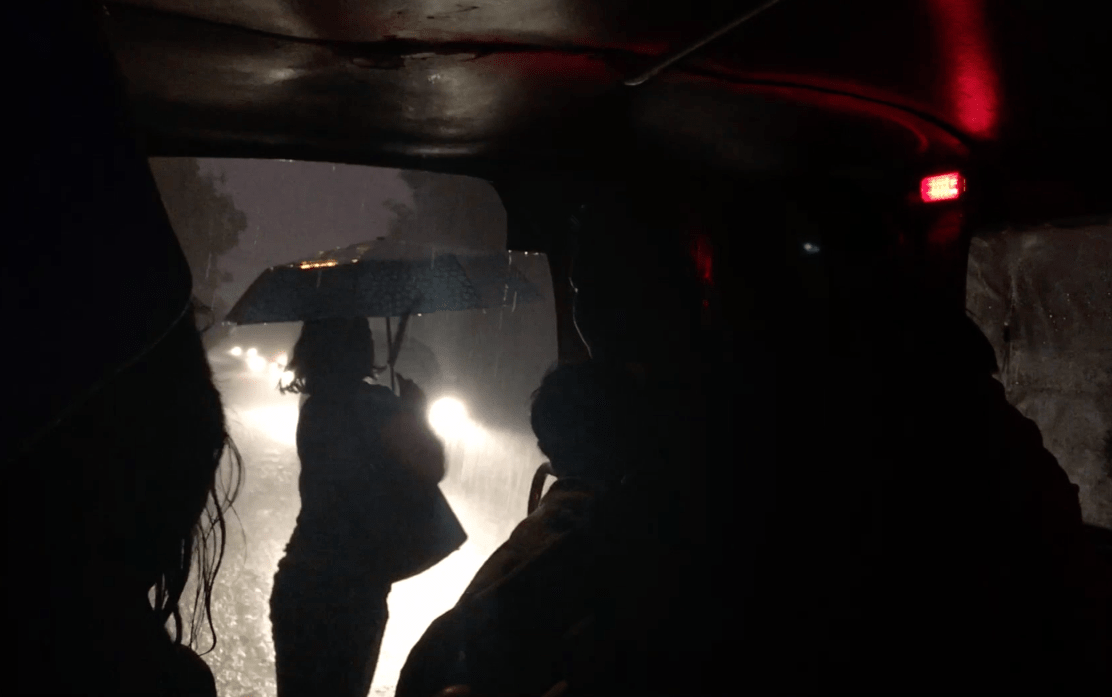 It was raining cats and dogs. This shot is taken in the jeepney.
Through the rain I walked to the bus station, and people were actually quite helpful there asking where I need to go. After telling them they led me to the right bus which an open bus, with very small seats. Unfortunately for some people which had to end up standing; my bags and me took up three seats. When the bus starting moving I noticed that the open bus wasn't even so bad; I though the wind blowing through was actually kind of nice.
Some older Filipino gentlemen started talking to me and we ended up having a conversation where I understood only about 20% of what they were saying due to their poor pronunciation. They were really nice, open, and friendly though. One of them even gave me a card to visit him in Bolinao sometime. I was getting real annoyed with all the hassle and uncomfortableness of it all, but after they were so nice to me, I really calmed down. Filipinos tend to be quite friendly, helpful, and welcoming to foreigners and this often times really warms your heart, or calms you down.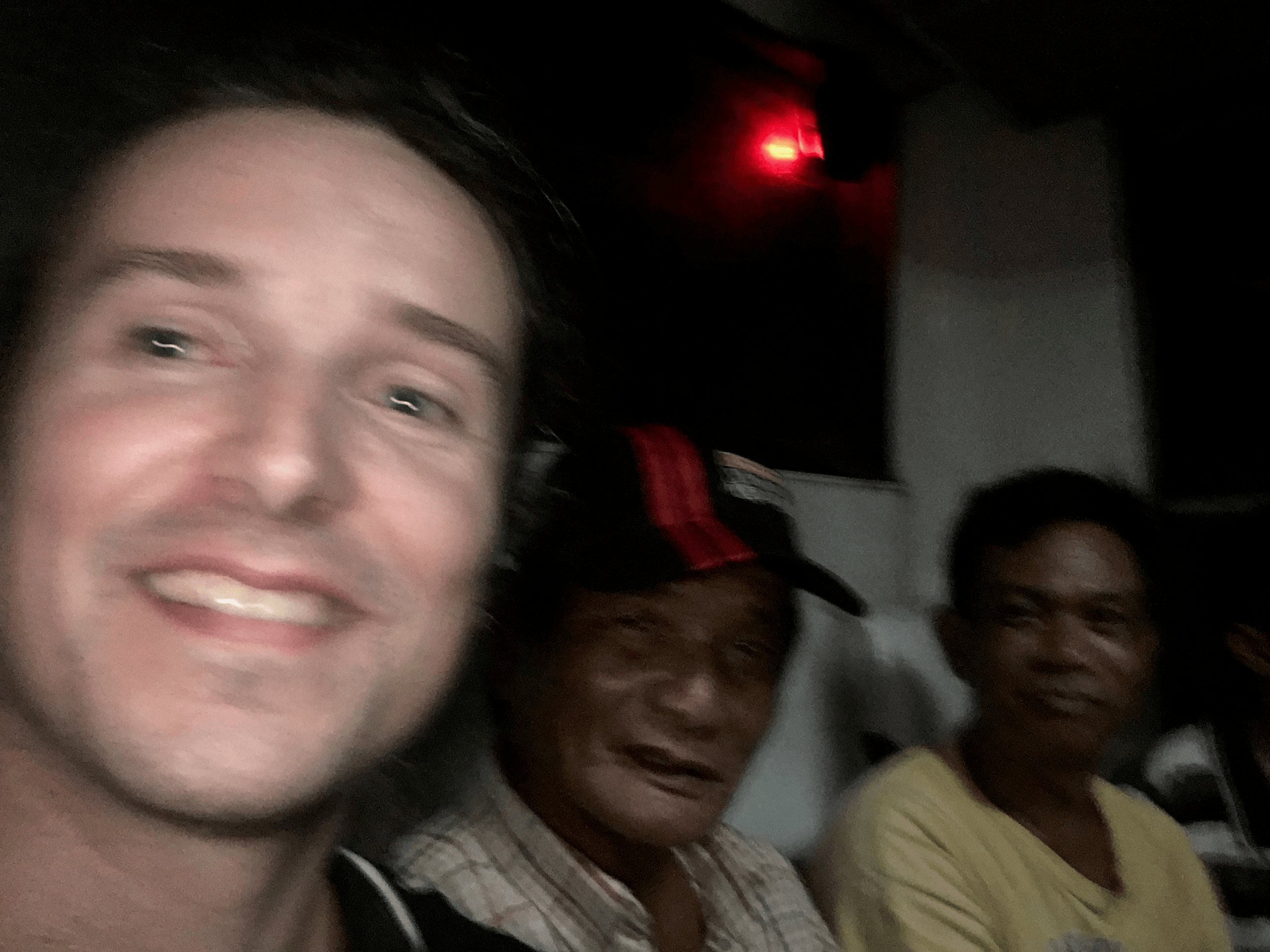 Took a selfie with the gentlemen that started talking to me.
Finally the bus stopped to let me off at Labrado municipality, and there were some trikey-riders immediately available for me. But the streak of discomfort and tediousness actually continued from then still, the driver couldn't find the resort. I think we searched for an hour, asking different kinds of people. Ultimately we ended up going back to the municipality center, and went inside the police station to ask. Luckily one of the police officers knew about Olana Resort. It recently had a name change, which is why nobody new about where I was supposed to go to. The policemen were nice, they offered to patrol me towards the resort. With the help of the police I ended up getting there, were I got a warm welcome from the staff members. I arrived.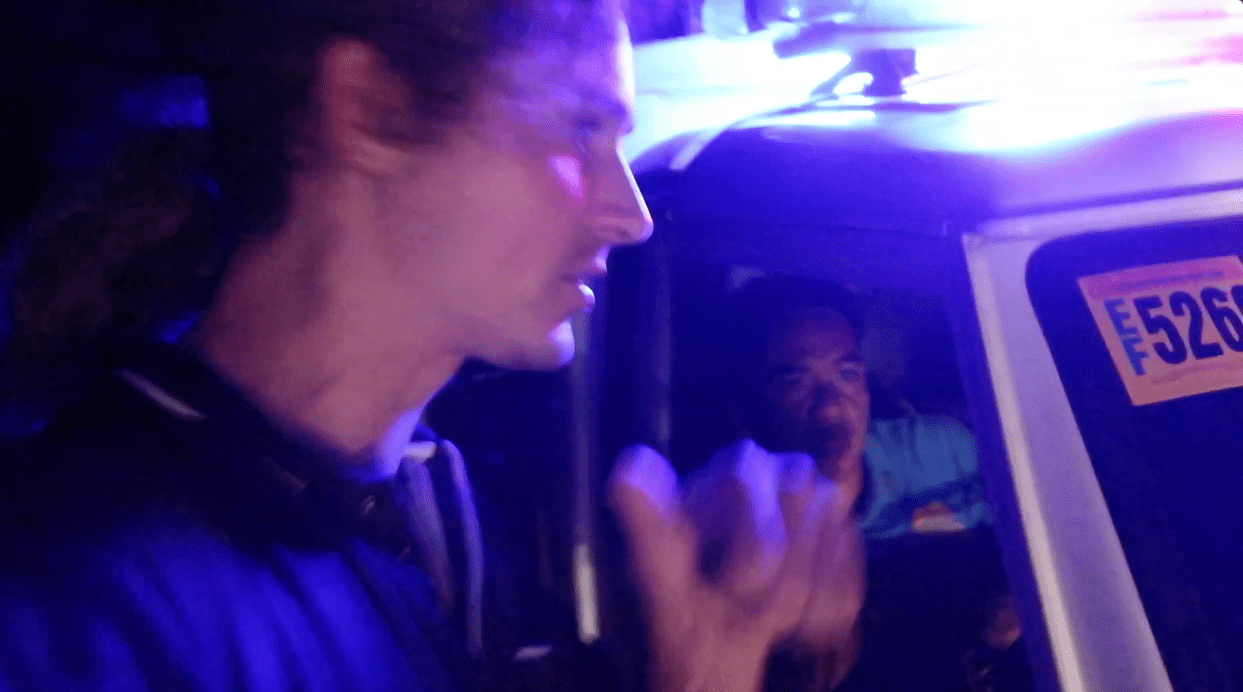 Luckily one officer knew Olana Resort and then they patrolled me to it.
The resort is really fantastic for its price (1800 PHP). The staff and owners are very friendly, and I'm the only guest here until my departure! It's seaside, I'll be having a nice breakfast every morning, and I can take an enjoyable swim in the sea whenever I want to. Olana Resort is a fantastic budget option in Pangasinan and highly recommended!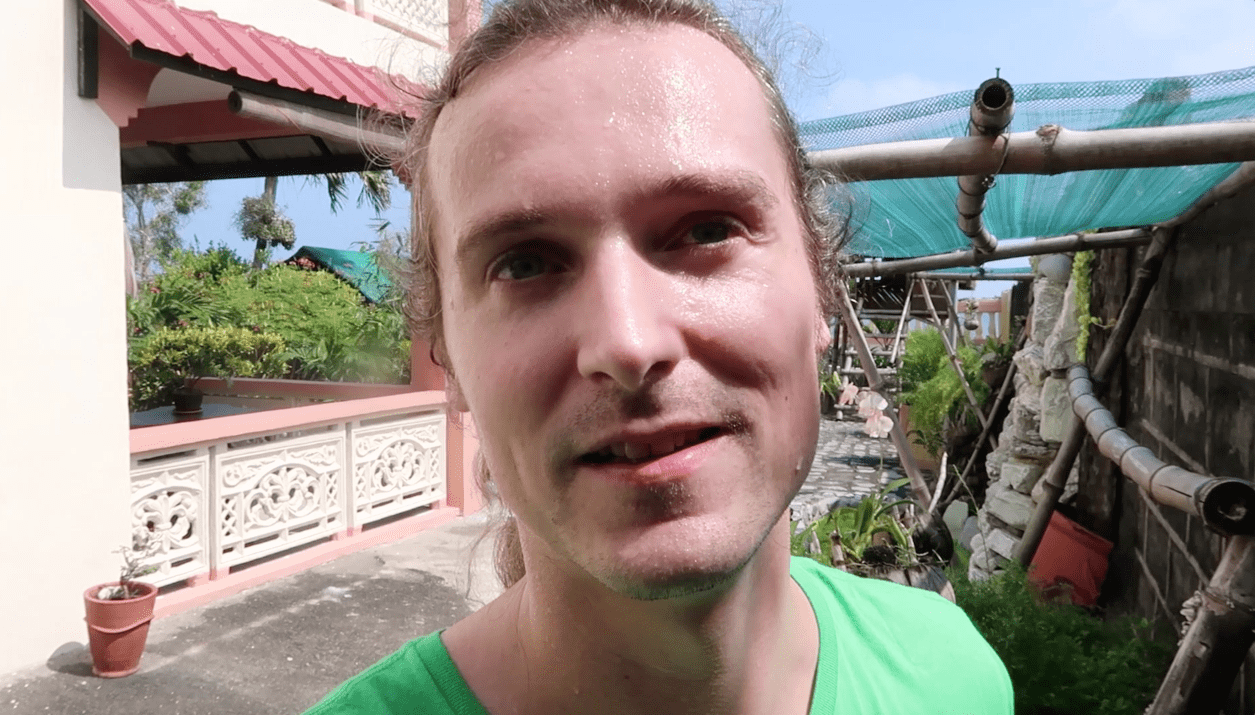 The 9.2 rating of Olana Resort at Agoda is justified.
Conclusion
Low budget traveling in the Philippines: uncomfortable when you're used to more and better, but uniformly a huge money saver. From Manila to Pangasinan over here it ended up costing me a little more than 400 PHP, which is about 8 USD. Congratulations, no matter how big your wallet is: you too, can travel through the Philippines.
I made a vlog about my experience getting here, towards Olana Resort, Pangasinan.
Previous Blog Post
Next Blog Post