"One of the more worthwhile protected nature parks to visit in the Philippines..." - LennyThroughParadise (travel vlogger)
When in Pangasinan, you absolutely would be very sorry to miss out on this great protected nature park located in Alaminos City. Hundred Islands National Park is very likely to become one of your favorite parks and boat tours in all of Philippines; and it's not for nothing that the amount of visitors have increased by a lot over the past recent years...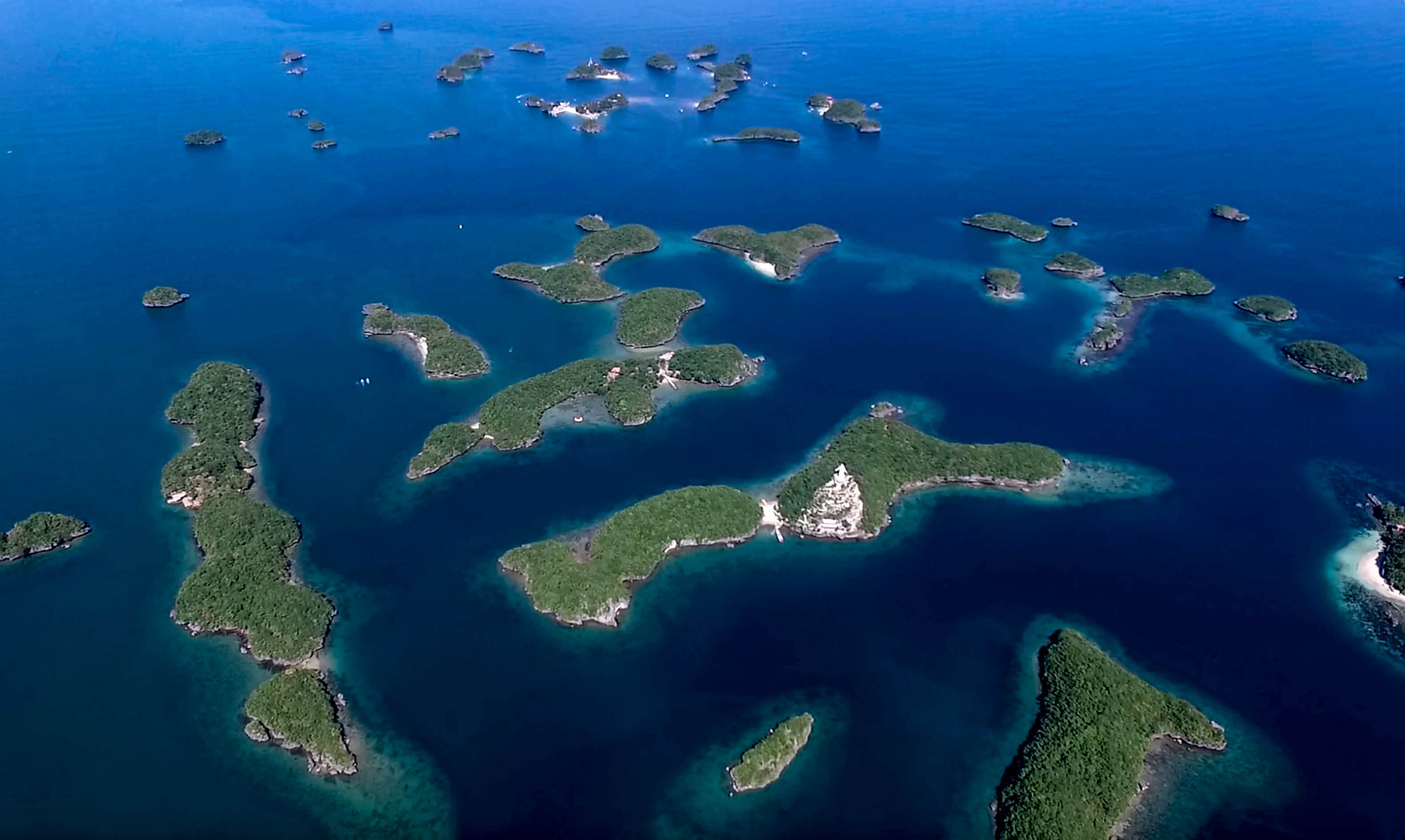 2 million years old
"100 Islands" sure is a catchy name; but Hundred Islands National Park in the Pangasinan province actually consists of 124 islands, and 123 islands at high tide. It's distinct mushroom shaped islands (caused by years of ocean waves and eroding action) are believed to be over two million years old. Nowadays the cluster of islands covers a total area of 16.76 km2 in the Lingayen Gulf, and is touristically available for a large public and managed by the city government of Alaminos City.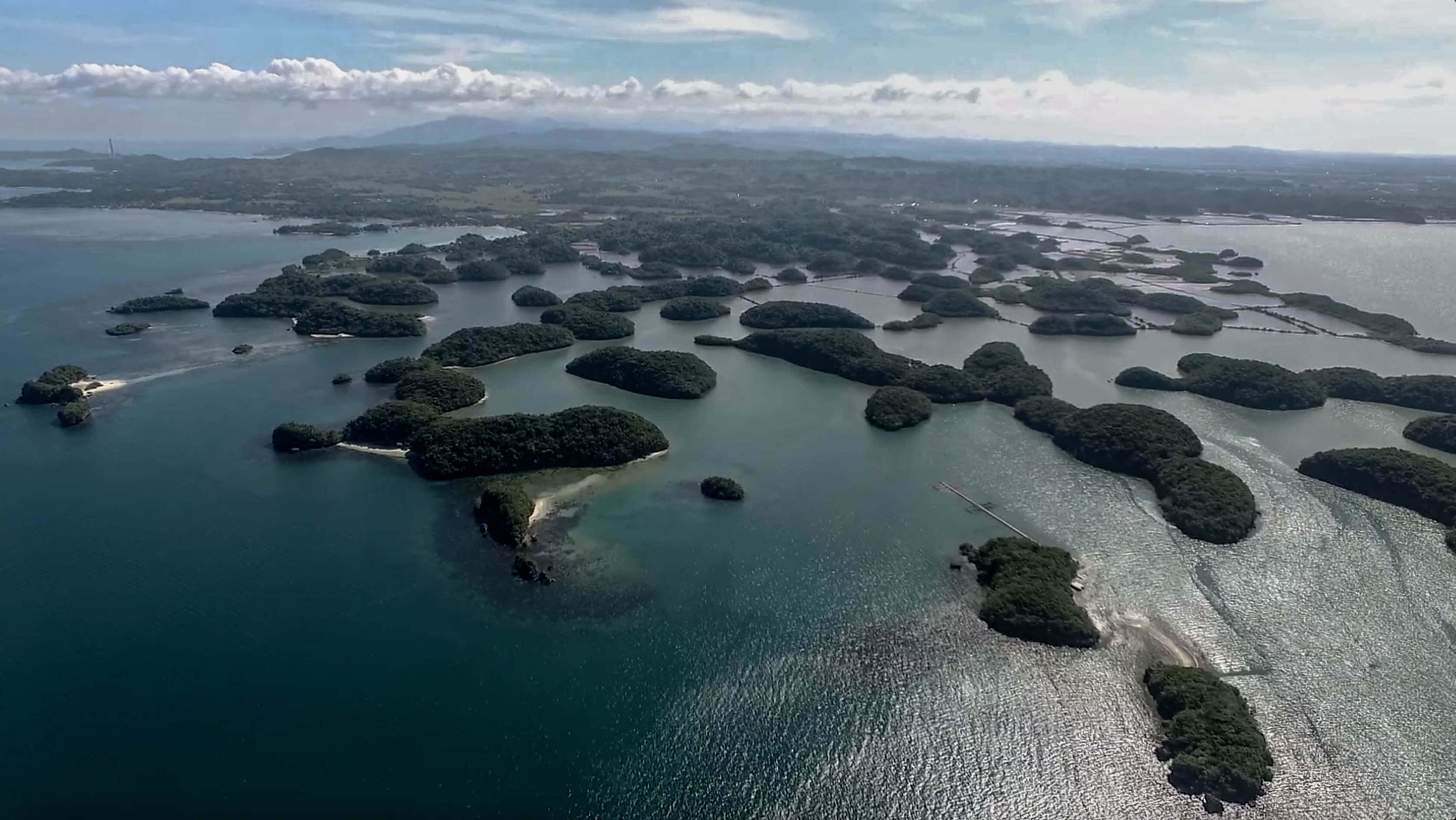 Touristic as well as protected
Three of the 124 islands are more heavily touristically developed than others, with zip-lines, water activities, and restaurants/stands. A handful others are accessible for tourists but less crowded. Most of the islands are inaccessible and reserved to preserve their precious biodiversity. Some of the wildlife species found living on some of the islands are:

-snakes (a species of sea snake and the reticulated python)
-geckos
-monitor lizards
-dugong (medium-sized marine mammal)
-Fraser's dolphin
-sea turtles
-crab-eating macaque
-Asian palm civet
-different types of rodents
-various bat species

A study called the 'Sagip Lingayen Gulf Project', helped the city government of Alaminos protect the Hundred Islands National Park by creating an environmental monitoring program to preserve the park's biodiversity. This project was set in motion in the year 2010 and was even funded by the Dutch government.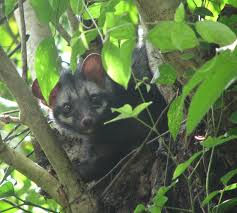 The Asian palm civet.
Right below we will try to create an interesting overview of all the islands (accessible and inaccessible) worth mentioning.
Governor's Island/Virgin Island
This is one of the more touristic islands and probably the first one for you to set foot on during your boat tour. It's connected with a nearby island (Virgin Island) by a bright orange floating bridge that'll let you walk over the park's crystal clear emerald waters. There at Virgin Island a long path alongside it's narrow beachside will take you to the end of this elongated little island where a little cave is located. Inside this little cave, a statue of a mermaid is found, with the ocean waves crashing into the rocks at a little accessible area in the outer end of the cave.

On Governor's Island itself, a little stand is available for you to buy some drinks or ice cream. Toilets are also available on this island. Then there is a large stairway towards the top of island (the island is relatively high in altitude), where a little observation deck is located. From here you have a truly awesome view over the park with several of the main islands in display. A little further down the pathway is the starting point of a long zip-line that leads down to Governor's Island's neighbor: Virgin Island.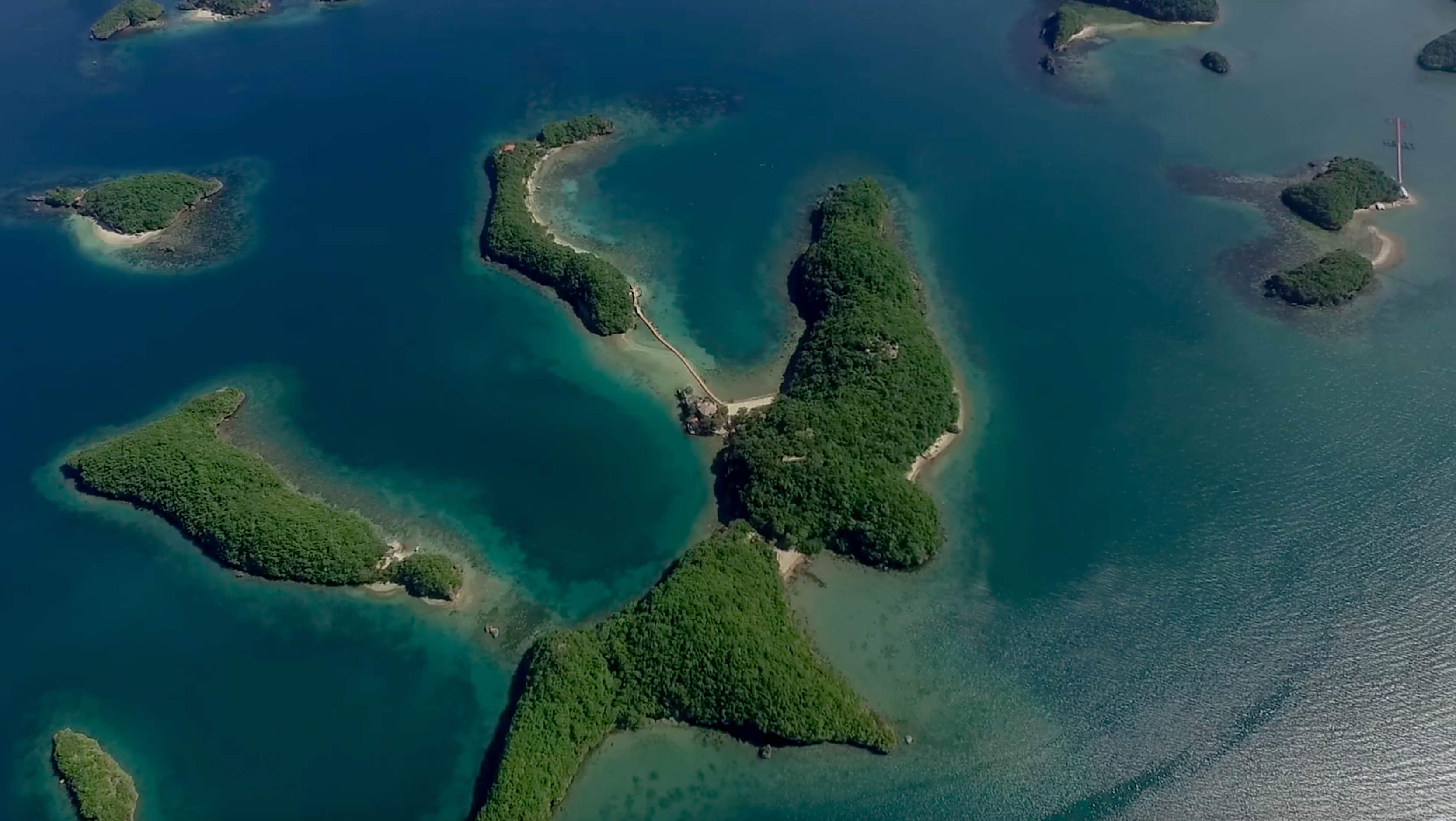 Governor's Island (right) and Virgin Island (left) are connected with a bright orange floating bridge.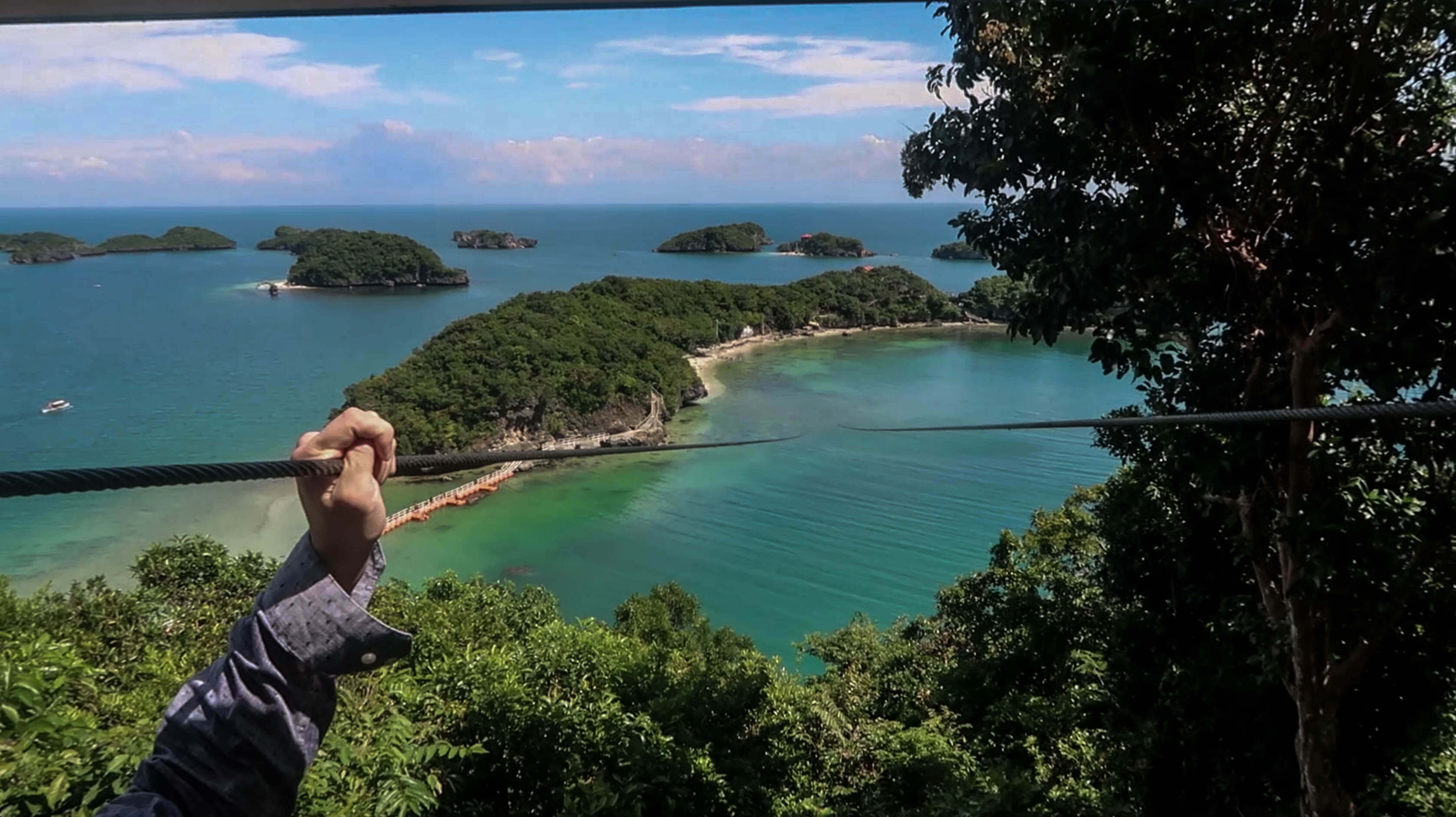 There's a zip-line going from Governor's Island to Virgin Island.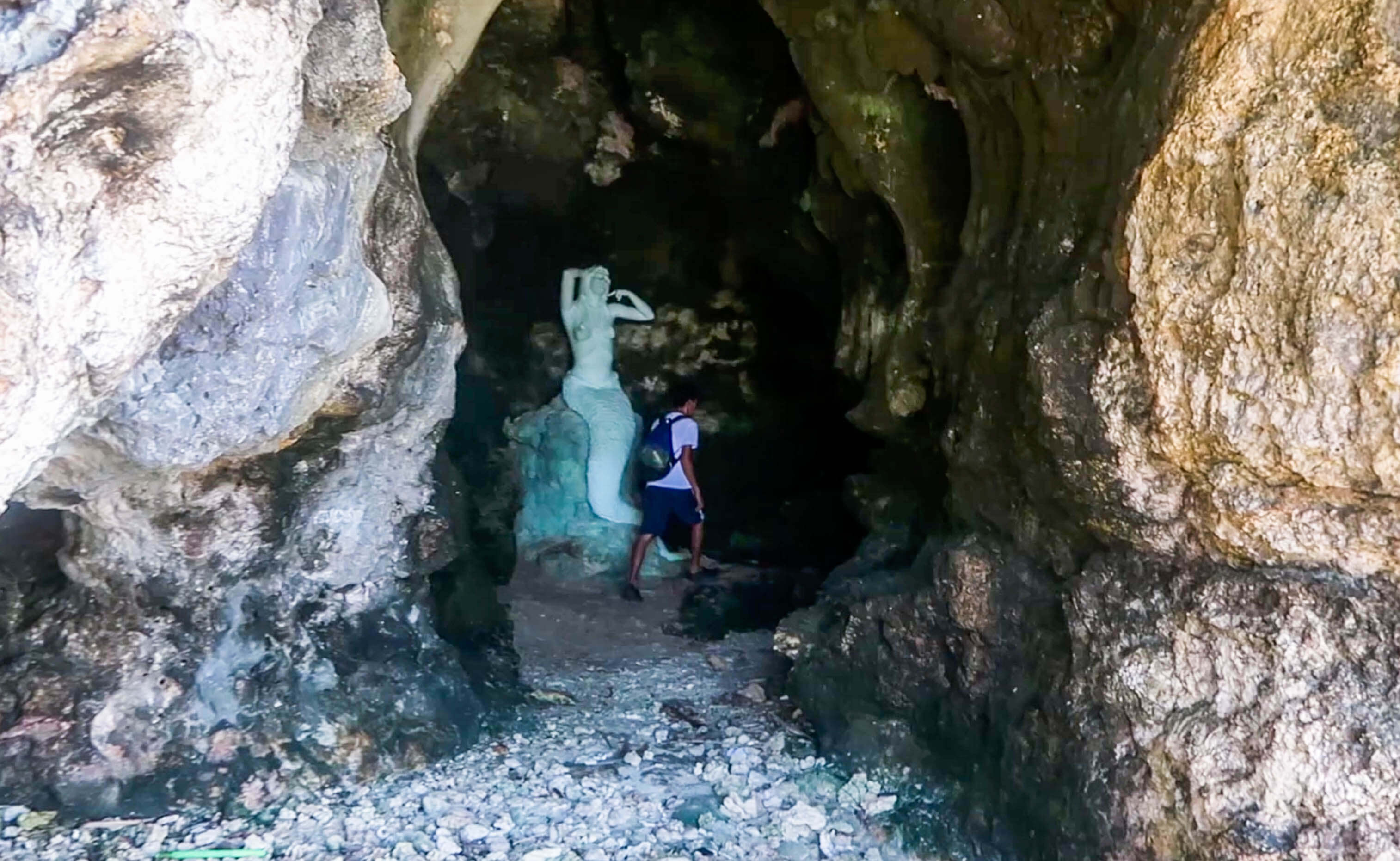 At the end of Virgin Island, a little cave is found; with the statue of a mermaid and the ocean waves clashing into stones at the end of the cave.
Braganza Island
Often after Governor's Island the boatman will give you the opportunity to transfer over to a neighbor island called Braganza Island. This is a quiet and small island where other than a little low altitude observation deck (with still a nice view), there is not much to do. That's why you would find rarely other tourists here, which might make this stop a good opportunity to be alone on an island if that's what you prefer at that moment.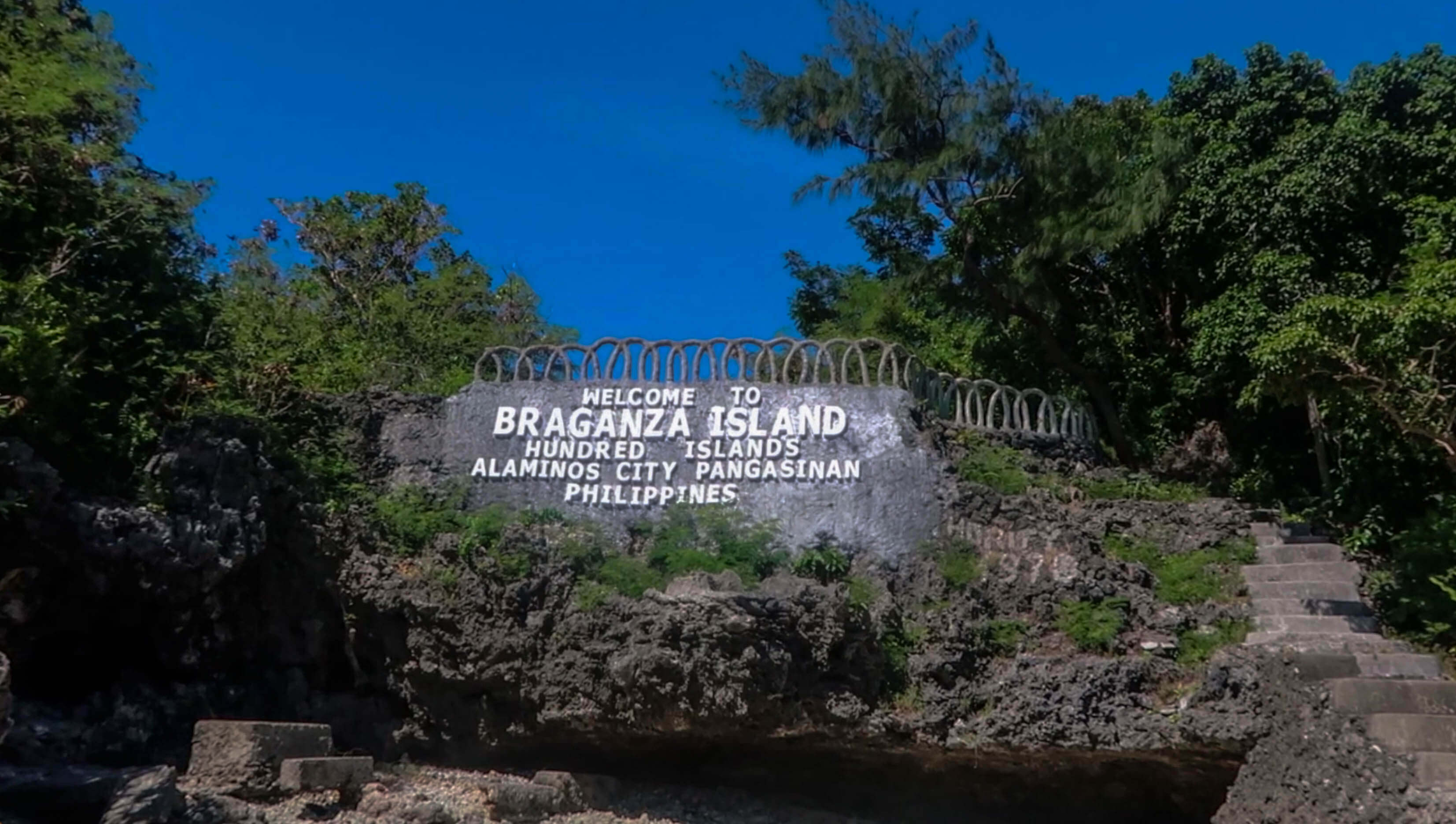 A little observation deck is Braganza Island's only feature.
Snorkeling area (Coral Garden)
You of course at any moment could tell the boatman to head over to a certain spot or island within the Hundred Islands National Park; but a nice followup to Governor's Island might be to just take a 5 minutes boat ride through the park and on to the snorkeling area, or 'Coral Garden'.
Coral Garden is an area in sea near to Quezon Island that's enclosed by ropes (to prevent boats from coming in) to provide an unique snorkeling experience for the nature park's guests. Here you will get the opportunity to either go helmet diving or just go free snorkeling over and around the area. You will get some unique and beautiful views over some of Hundred Island's many precious coral reefs and you might even be able to see (or touch!) the giant clams in there. Little floating wooden houses are available within the area to chill at during and after the snorkeling experience.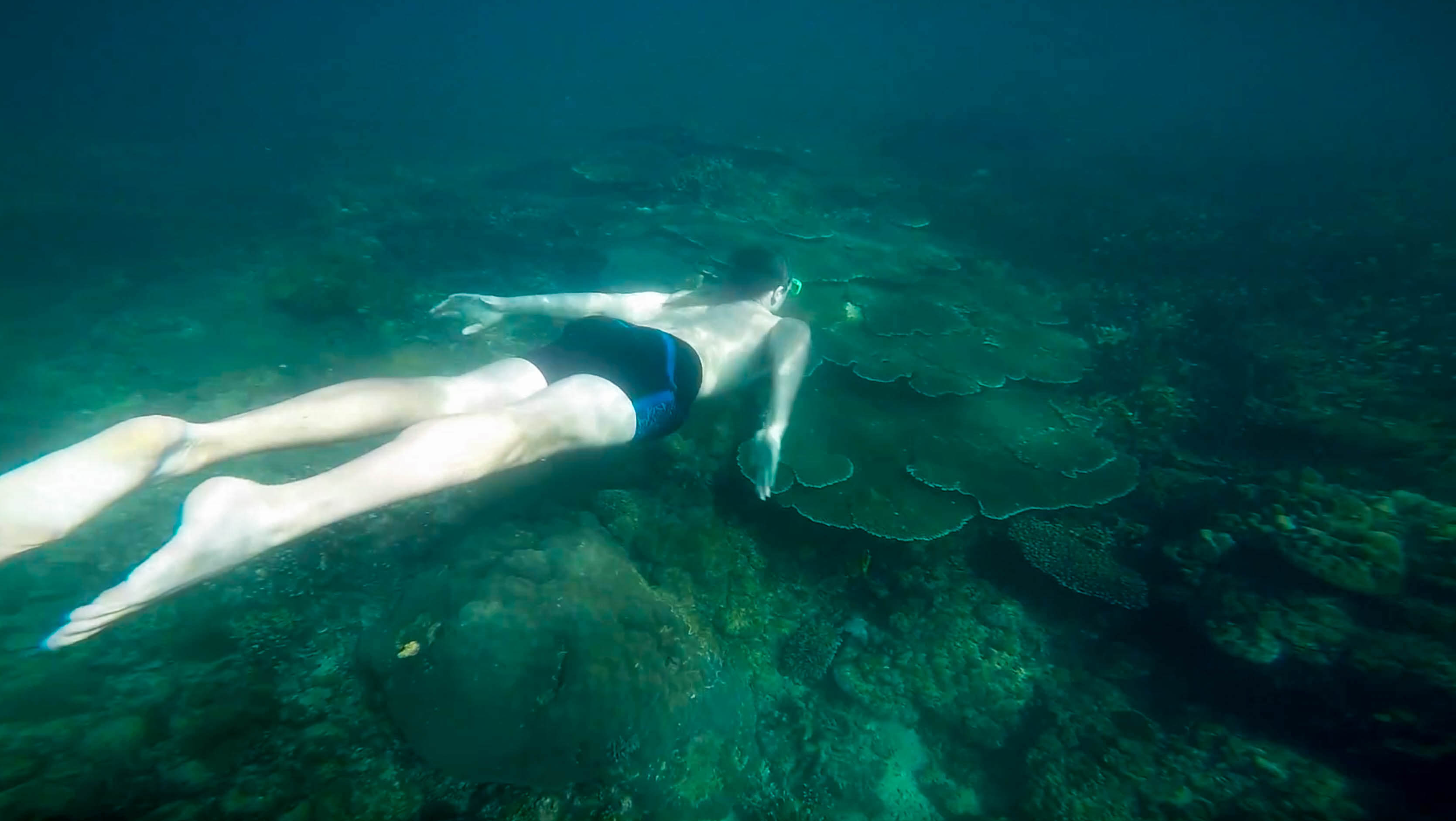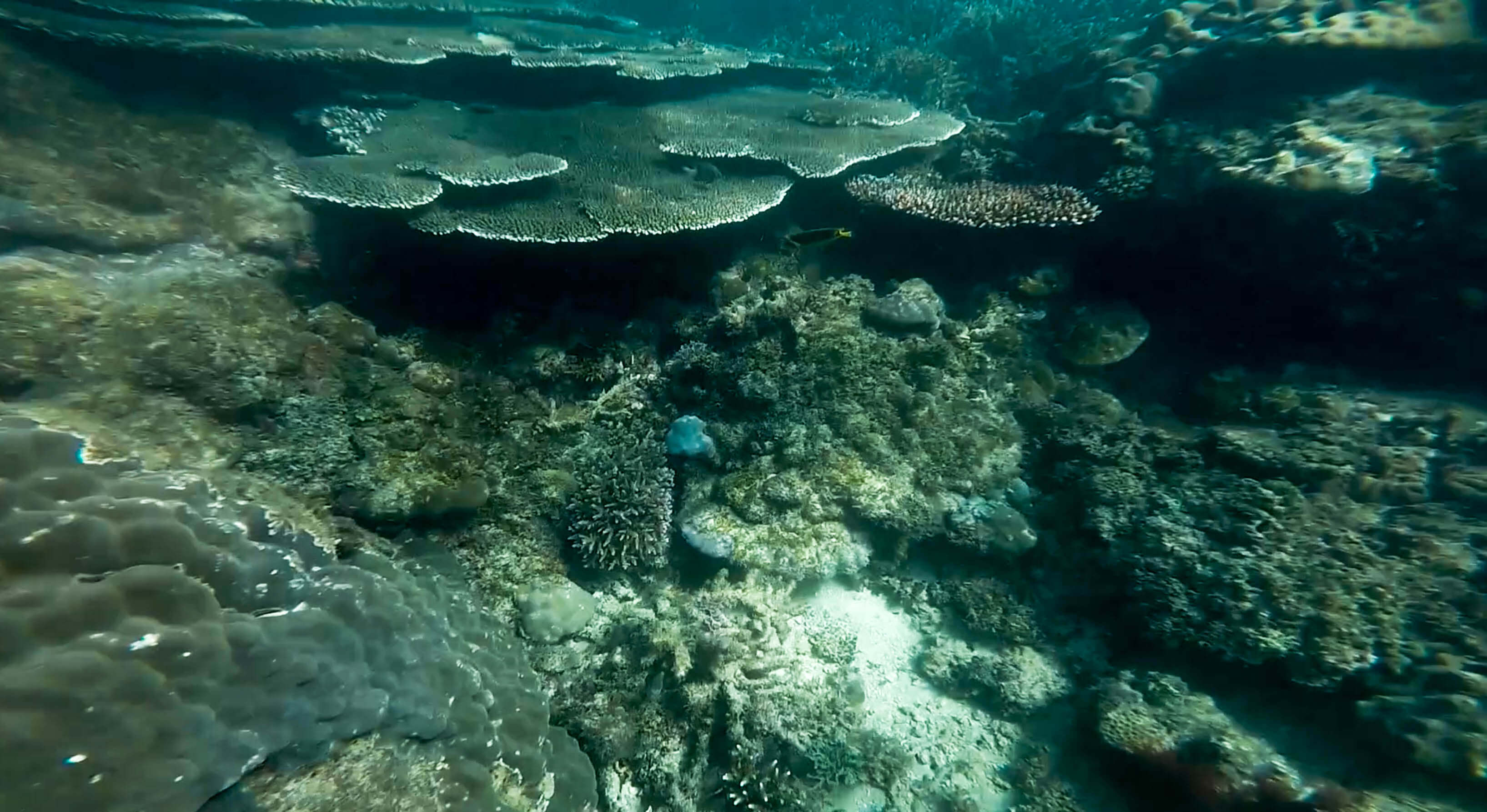 Some good snorkeling opportunties are available at several places in between the park's islands.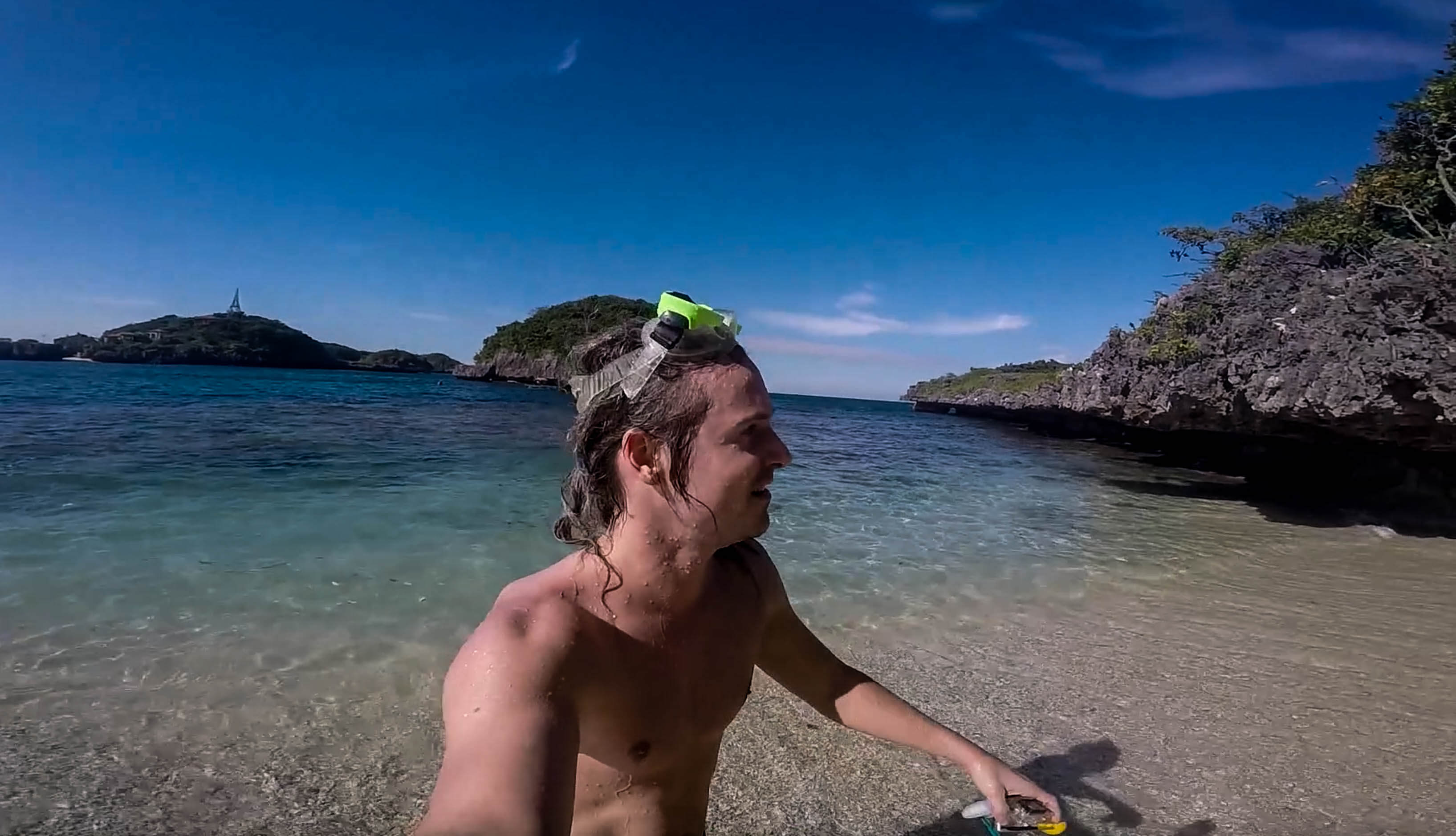 Old Scout Island is reachable from some snorkeling areas.
Old Scout Island
Nearby Coral Garden and the snorkeling area is a little remote island called Old Scout Island. During the snorkeling you could also swim towards the island's little beach. There, a stone in the shape of a face creepifies the island a little bit; but it still makes for a great place to chill at the beach at, by yourself or with your loved one(s). You will have a nice lookout over the sea and a few other islands of the park. One of these islands is Quezon Island; which makes for a great next stop after the snorkeling and beach bumming on Old Scout Island.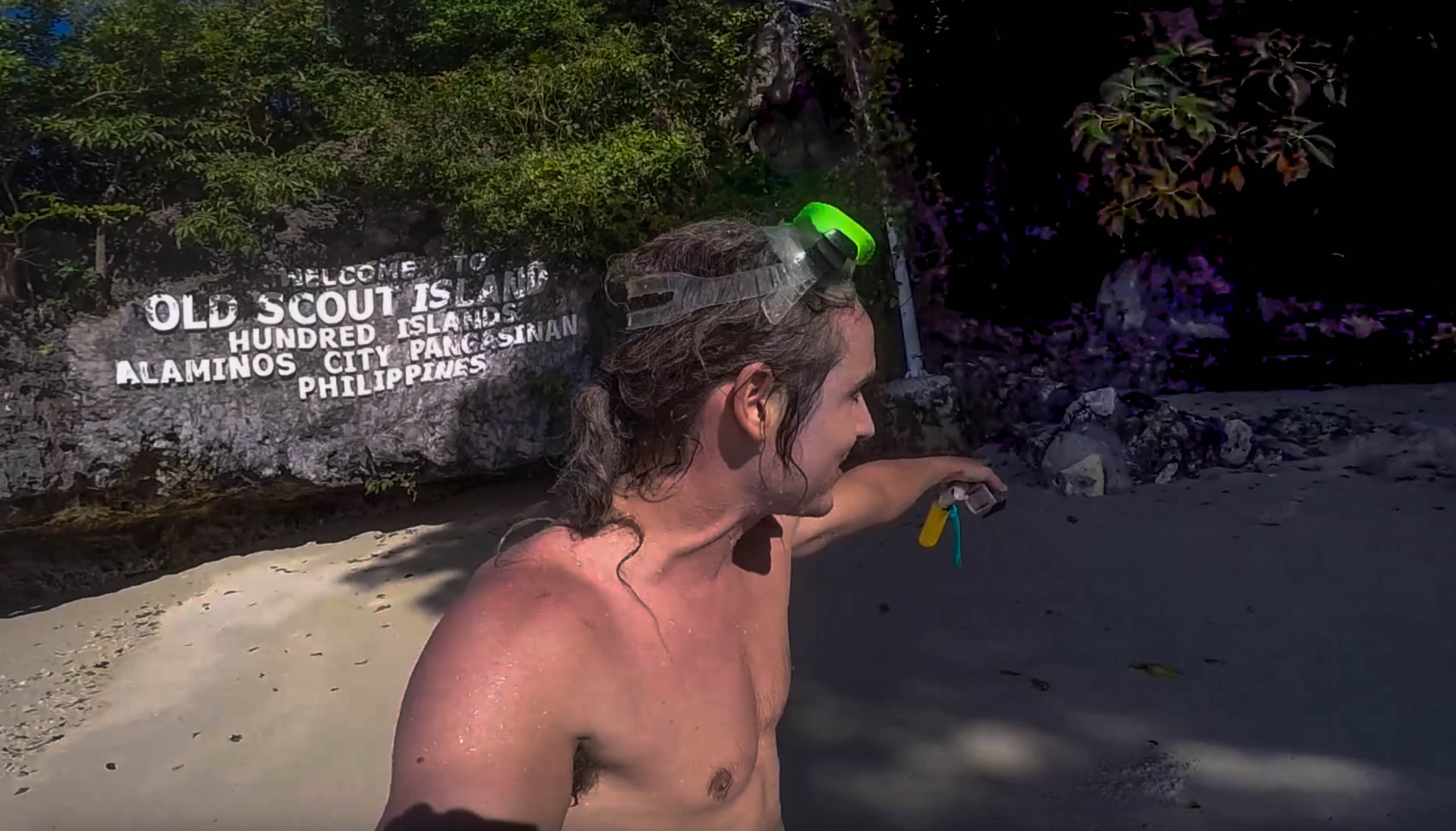 A little creepy looking stone with the shape of a face sticks outside of the sand at Old Scout Island.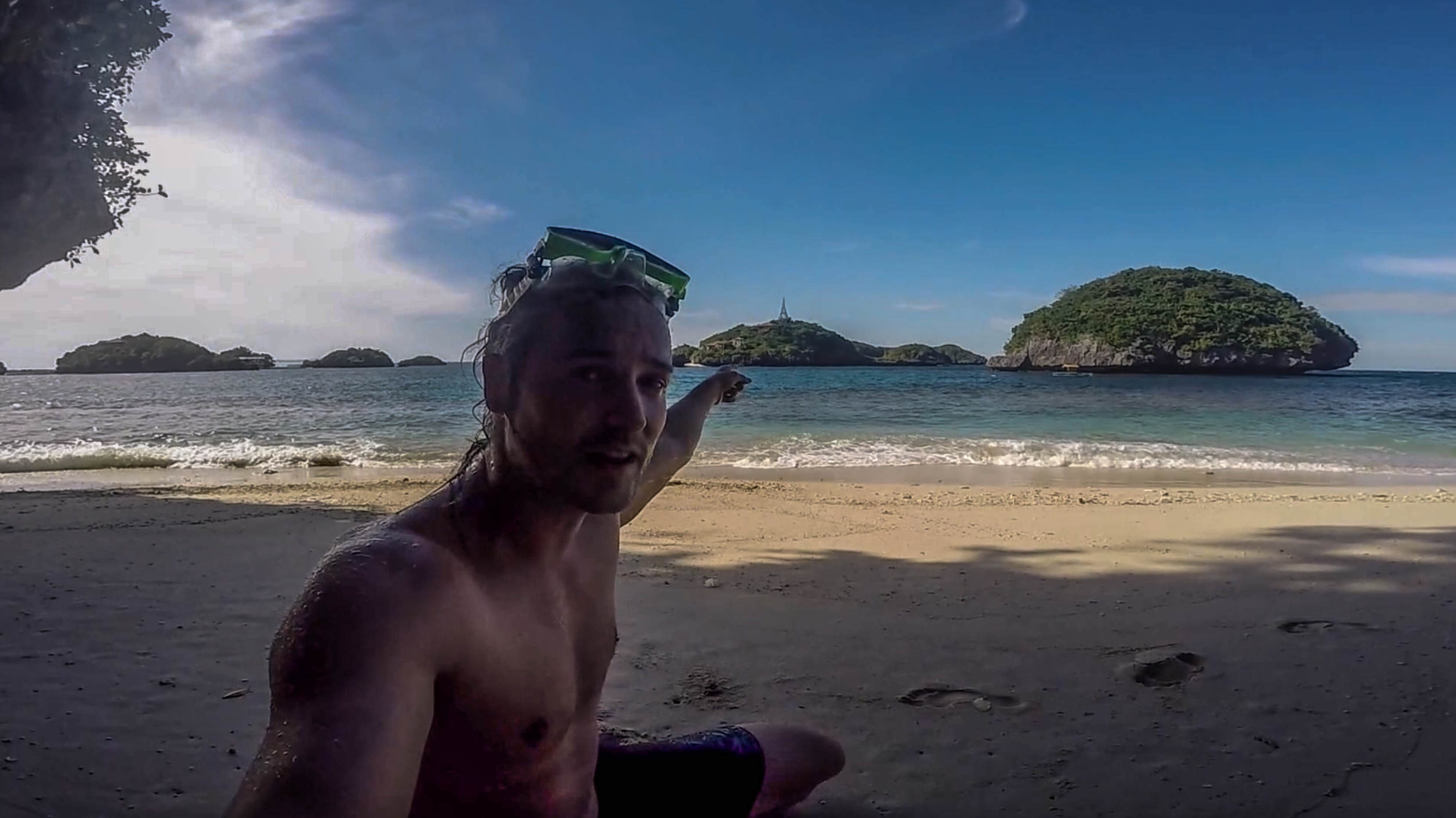 From Old Scout Island you are looking out over some islands including Quezon Island; which makes for a great next stop.
Quezon Island
After the snorkeling and the swimming you probably have become a little hungry. That's why a logical next stop and what the boatmen often will suggest is: Quezon Island. This island is actually composed of three islets and offers quite a lot of activities. You will likely find this to be the most crowded island of the park; but it offers many activities you might enjoy, including of course, the restaurant.
You will find jet-skiing, and banana boat type activities on the island. It also features a long zip-line, and a shorter one. On top of that it's great swimming here too, and the beach is nice white, and powdery. With a bronze statue of Mr. Quezon present at the center of the island (right above the sign), Quezon Island is named after a former president of the Philippines (and famous Filipino figure) Manuel L. Quezon.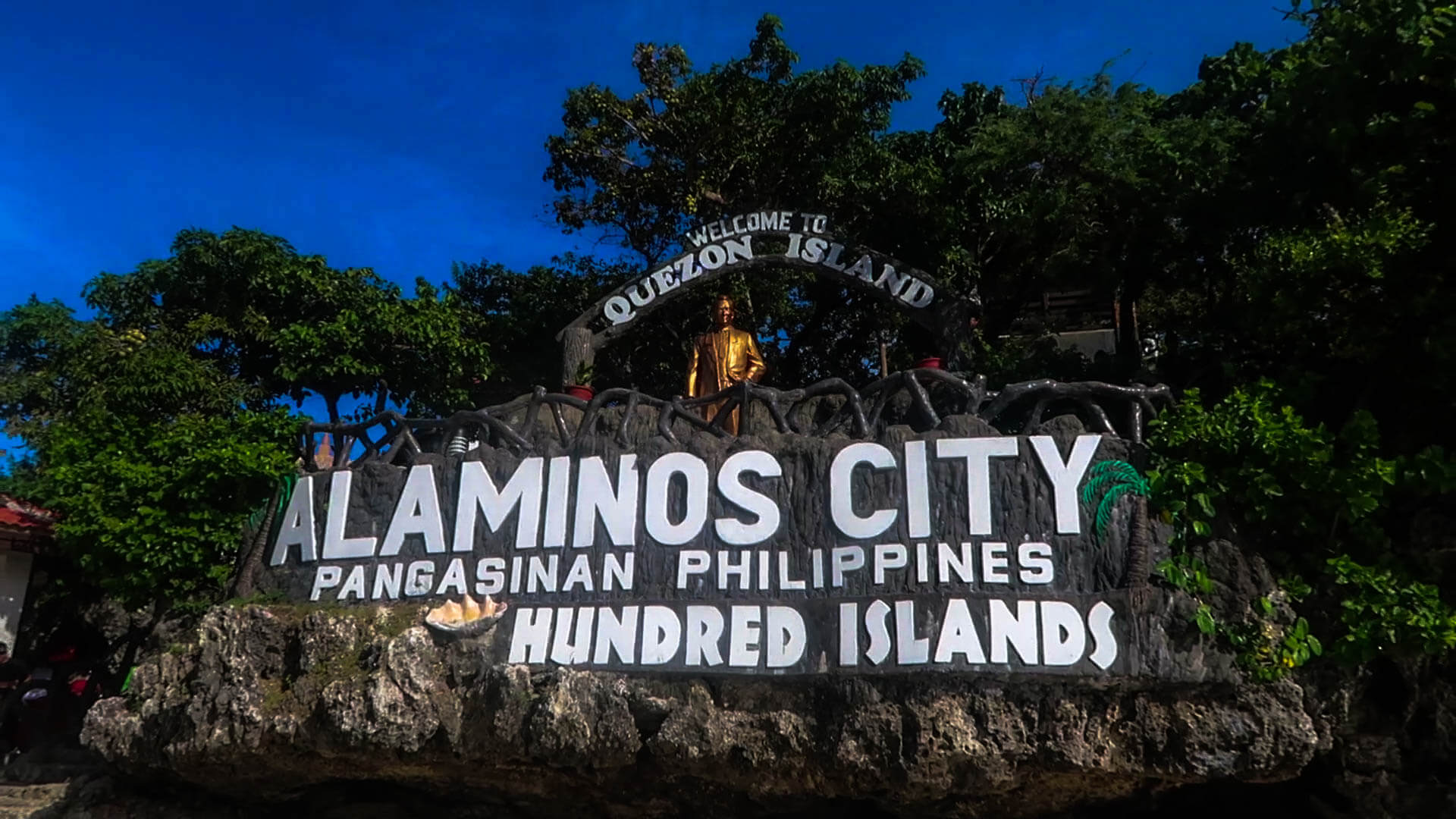 A bronze statue of a famous Filipino figure and ex-president of the Philippines: Manuel L. Quezon.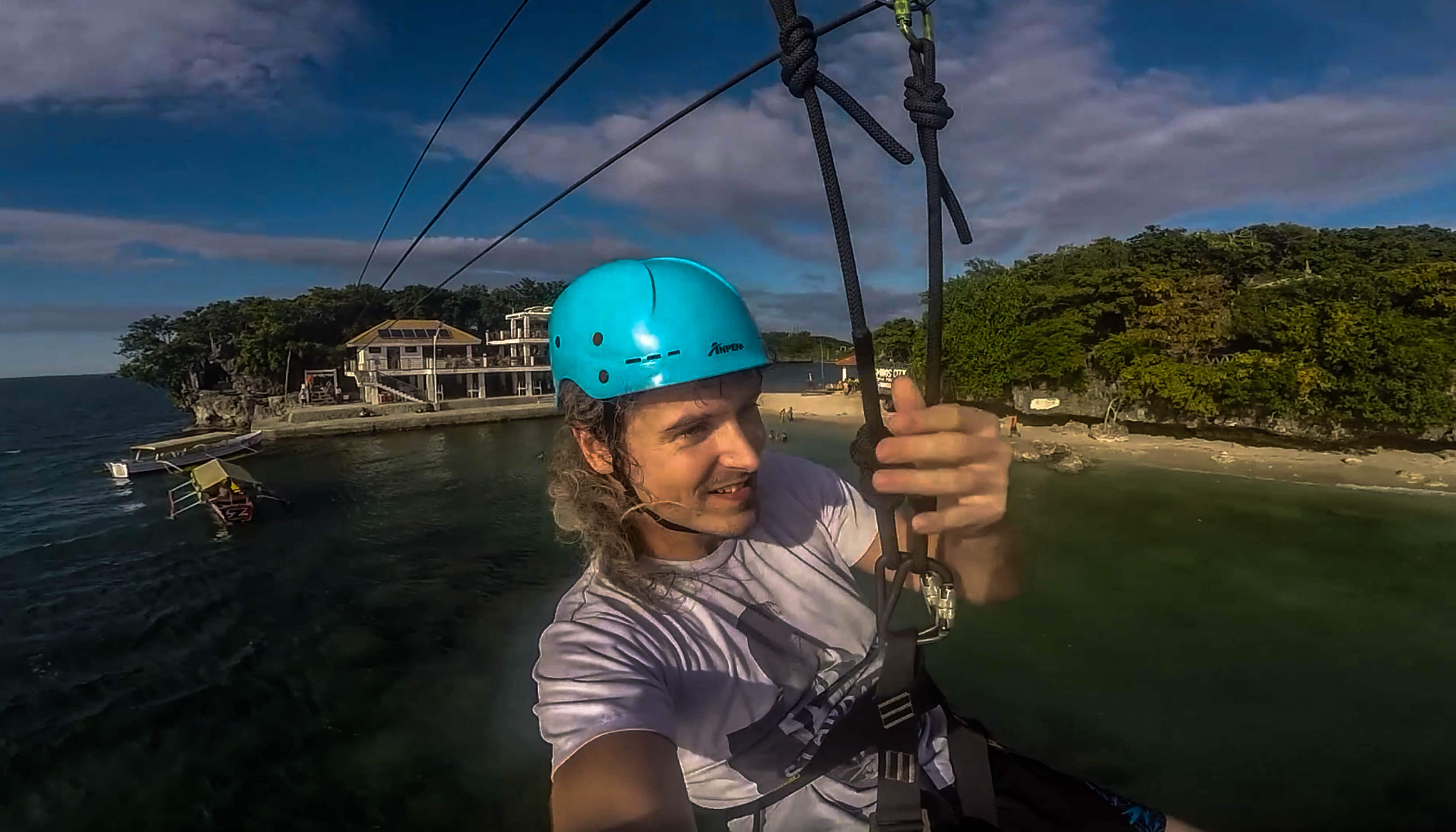 Two zip-lines are available at Quezon Island (the one in the picture is the smaller one).
Children's Island
Another great place to swim, especially if you have children, is Children's Island. Great for families because its shallow waters provide for a safe swimming environment. On top of that, tables are available and even tents for a potential overnight stay. In any case, the island really provides a nice, broad swimming space that is enjoyable for everybody.
Bat Island
At some point in your tour when you're transferring to and in between the more accessible islands; the boatman will lead you around a small round looking island that hosts millions of fruit bats. You can see them hanging from the trees and rocks as you pass by. This also one of the islands that are not allowed to be touched by tourists.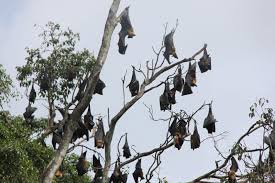 Cathedral Island
Another inaccessible island that's worth appreciating from a distance is Cathedral Island; it has a huge triangular shaped crack in the middle. It also has a grotto inside with a display of Virgin Mary. It's forbidden to enter the cave, but passing by it does make for a good moment to silently pray if you wish to.
Pilgrimage Island (Jesus the Savior)
The perfect island to go to if you're a Christian though is absolutely Pilgrimage Island. This is one of the newer islands that has been made accessible to the public. It's pretty high in altitude which made it a perfect spot to place the 56 ft (17 m) tall Jesus statue that has been built just in 2017.
In front of the Jesus statue are flower rich gardens that are carefully being nurtured by locals on the island. There's a quite, serene, (holy) atmosphere present on and around the island, and whether you're a Christian or not; you will likely enjoy the serene and tranquil nature of this neatly kept (and quite beautiful) island called Pilgrimage Island.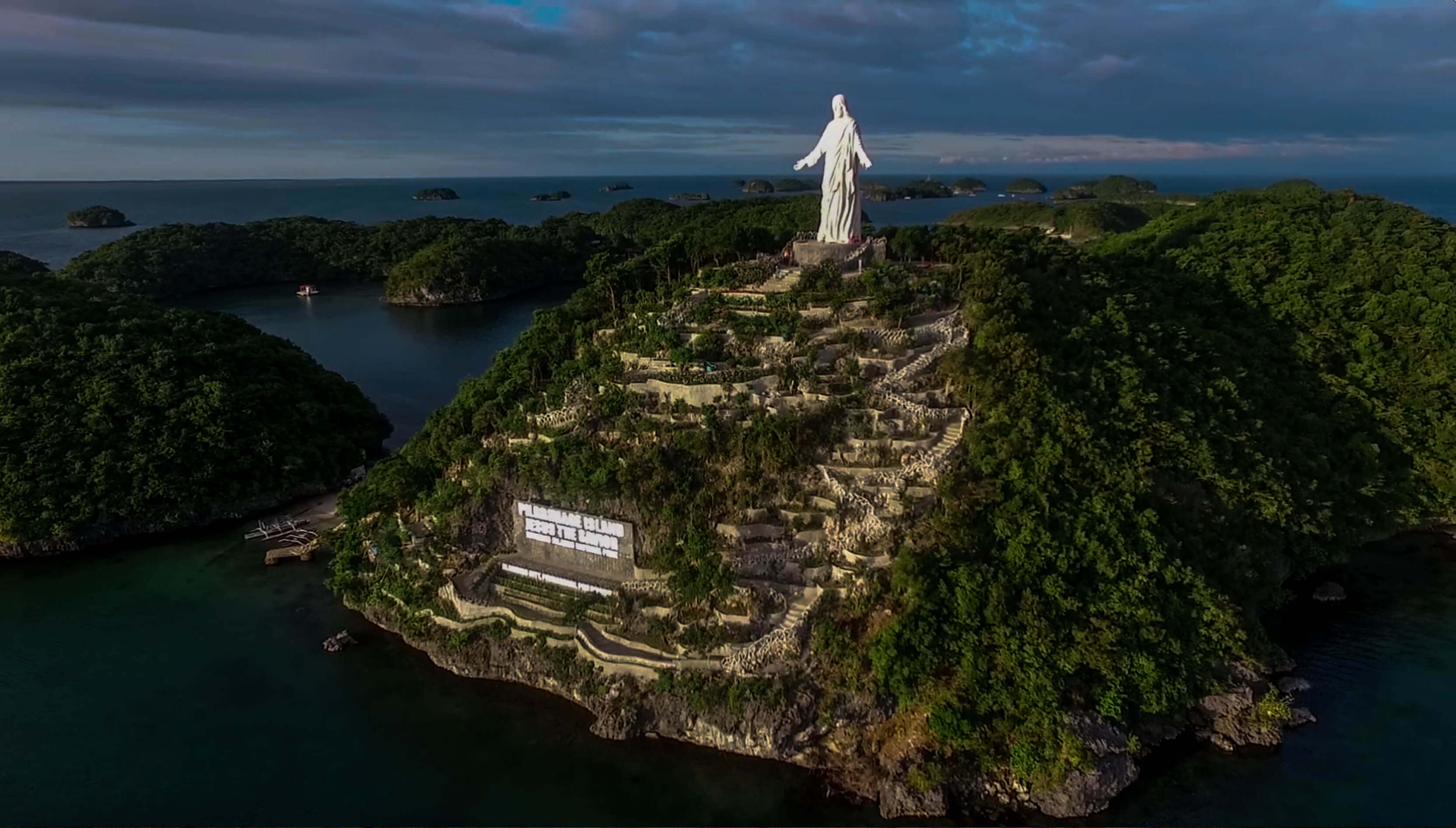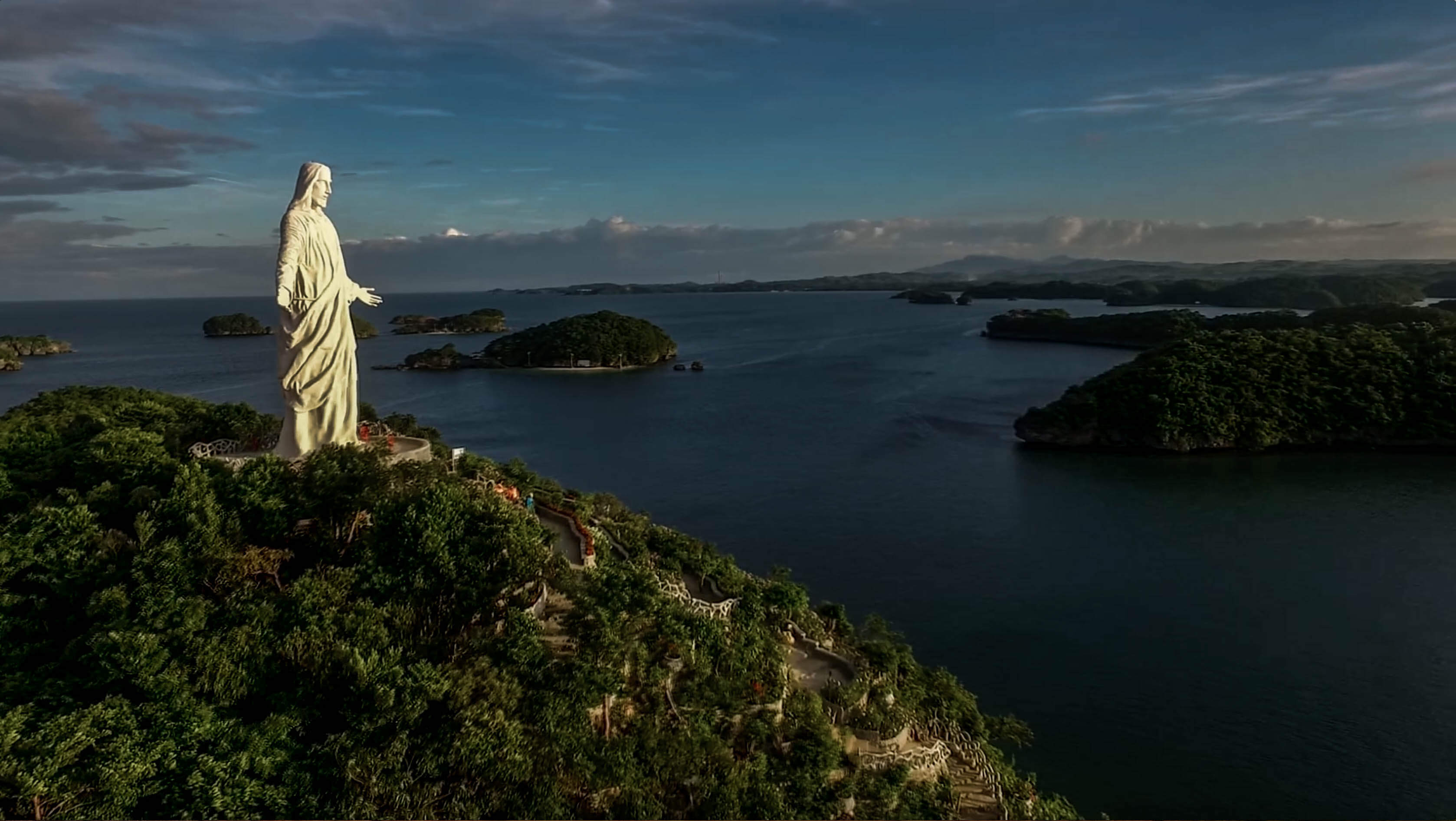 The Jesus statue was built in 2017.
Crocodile Island and Turtle Island
Two inaccessible islands that are also worth mentioning are Crocodile and Turtle Island. These two are also worthwhile to observe from a distance (boats cannot dock the islands), and maybe take some selfies. What's special about these islands is that they are in fact in a shape of a crocodile and a turtle; and these shapes are scene from horizontal angle, not from above. It even looks like the 'crocodile' is 'chasing' the 'turtle'.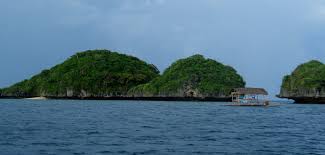 From some angles you can see the clear shape of a crocodile chasing a turtle.
Cuenco Tunnel (Dugong Island)
We're not going to list all possible islands on the tour, but another one worth mentioning is the Cuenco Tunnel, aka Dugong Island. This island was made famous by a TV show called 'Marina', and is called Dugong Island because the cave was home of the 'Dugong' (dugong is also known as a 'sea cow') in the series, a creature that lived inside the cave.
You as a visitor of Hundred Islands can enter the cave as well. At the other side is a little store that sells Halo-halo for 50 PHP. It has an area perched on stilts, and makes for a great place to chill and picnic as well. Here you also have a great view over the ocean, and the island features a ramp that you can jump off of into the sea, and have some fun.
To conclude
It's obvious we didn't list all possible islands you could put onto your boat tour route for a particular day; which is why it might be an idea, if you have the time, to take two full days to experience the Hundred Islands National Park. Make sure that a boat tour fur a full day costs you about 1400 PHP (27 USD); and be aware of the fact that you can make your own itinerary if you have initial knowledge of the islands or know a certain cool route.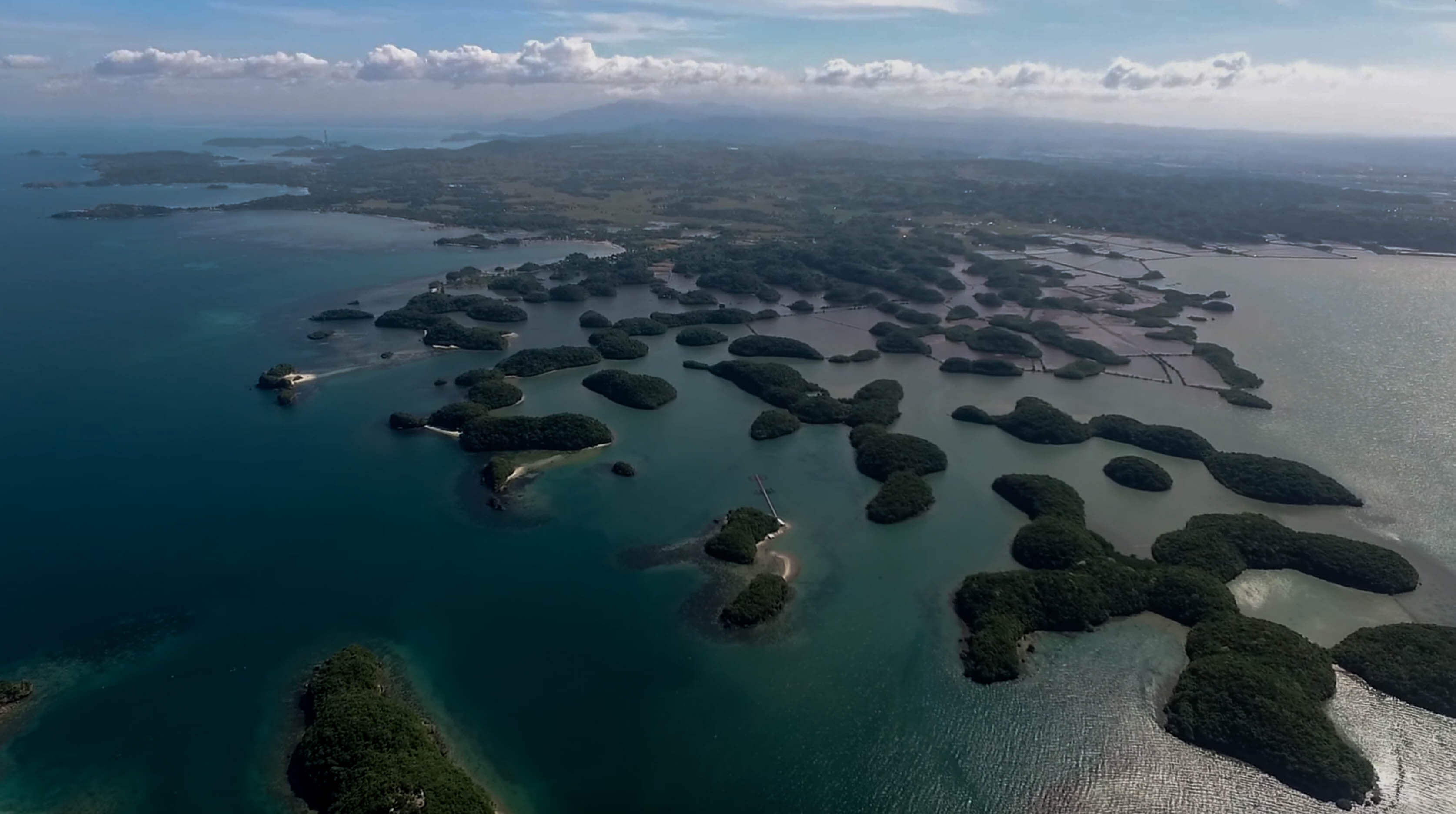 There are two entrances in Alaminos City at which you can take a boat tour going to Hundred Islands. The main entrance is located at the Lucap wharf and all the tricycle riders will know about this too. There is actually a newly built, alternative welcome center for Hundred Islands which might be a great option if you like to avoid the crowds on busy days. It's not known by many but it makes for just a fine and quite little center to register (1400 PHP) and take off with your assigned boat. It's right in the rural area nearby Alaminos with lots of salt farms; and the tricycle riders will know what you mean when you say "Mangrove alternative welcome center Hundred Islands" (in any case it's findable).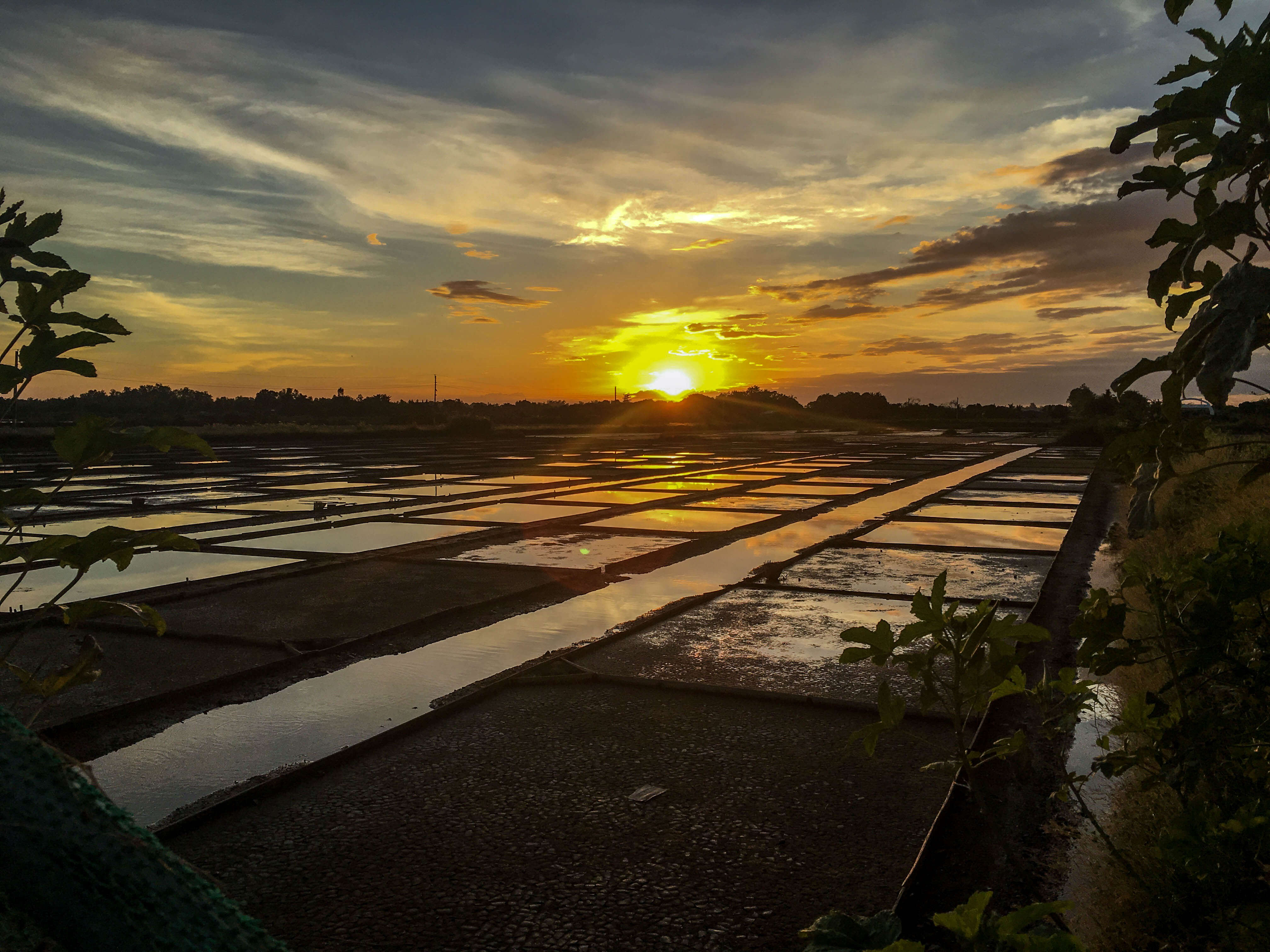 The quieter alternative welcome center is in a rural area with salt farms.
To get from Manila to Alaminos per bus you can take the Fives Star or the Victory Liner buses from Pasay and Cubao. The buses should go to either Alaminos or Bolinao; in both cases you will have direct lines to Hundred Islands in Alaminos so try to figure out how to take those while in Metro Manila. These bus rides shouldn't cost you any more than 400 PHP.

If you made it this far in the article; congratulations. You most likely have sufficient interest in traveling Pangasinan and we believe Hundred Islands National Park in Alaminos City is an attraction you cannot afford to miss. If you still decide not to go; don't leave it to your imagination to decide 'how it would've been', but rather watch this 2 minute video of a drone flight over the Hundred Islands National Park.