Treat yourself on a great adventure..
If what you are looking for is a treat for yourself with a great adventure, then ATV adventures in Rizal, nearby Antipolo, is the right activity choice for you. Have fun quad riding in the beautiful mountains of Rizal...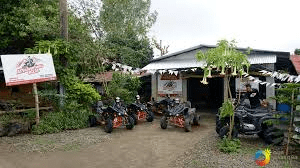 ATV adventures is located in San Mateo, Rizal (about an hour away from Antipolo), and they will offer two types of trail.
Forest trail
This trail it costs P2500/person and the duration is about 2 hours. You'll take the route through the more forested areas, along some muddy off-road trails and through some local villages where you can 'say hi' and smile to the locals. You will experience the fresh air while up on the mountains, and feel the beauty of nature whilst still having a cool view of Metro Manila.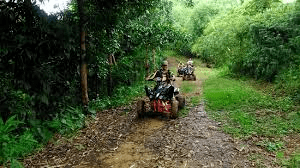 The forest trail is the easier one of the two.
Marikina river trail
This one costs P3500/person and will give you a great sense of adventure. You'll have a stop-off in the Marikina river to take pictures and enjoy the cold water from the river. This trail is more extreme than the first one because of lots of uphill/downhill and 'bumpiness', but definitely worth the try if you're in a more adventurous mood.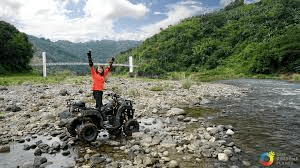 Be adventurous and enjoy the Marikina river trail.
Follow this link to go to ATV Adventures Rizal's website!