An enjoyable day trip of hopping around white sandy beach islands.
Feel like island hopping? Are you near Puerto Princesa, Palawan's capital city? The Honda Bay Island Hopping Tour might be your best choice for a nice day trip. A relaxing boat ride with full freedom to hop on any island in the Honda Bay area, the ultimate day trip is just out there waiting for you just 45 minutes from Puerto Princesa...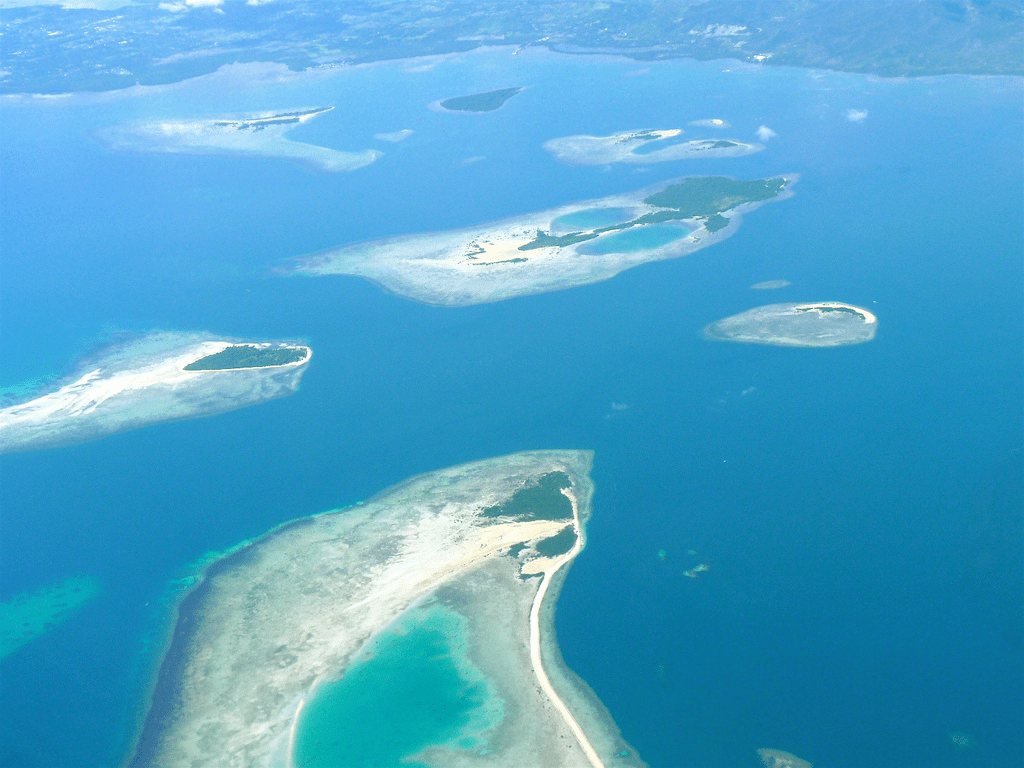 Island hopping
Did you know the term "island hopping" stems from the battle times in Asia during WWII? The Allies (especially the Marines) would land on a Pacific Island, have a fierce battle against the Japanese, and then go to the next one. Then already this maneuver, but then a military one, was referred to as "island hopping".
Today the term "island hopping" only provokes feelings of joy and relaxation within the people in the Philippines, and it's only done in true peace. Well in Puerto Princesa, the capital city of beautiful Palawan, island hopping is made easy by a well organized, very enjoyable tour: the Honda Bay Island Hopping Tour.
White sand beaches
The Honda Bay dock-off point for this island hopping day trip is located about 45 minutes from Puerto Princesa. There you can rent a boat that can take you to a number of small islands. All the islands will let you be inspired by their white sand beaches, and fantastic swimming and snorkeling opportunities. The main islands on the tour are:

-Cowrie Island
-Luli Island
-Starfish Island
-Pandan Island
-Snake Island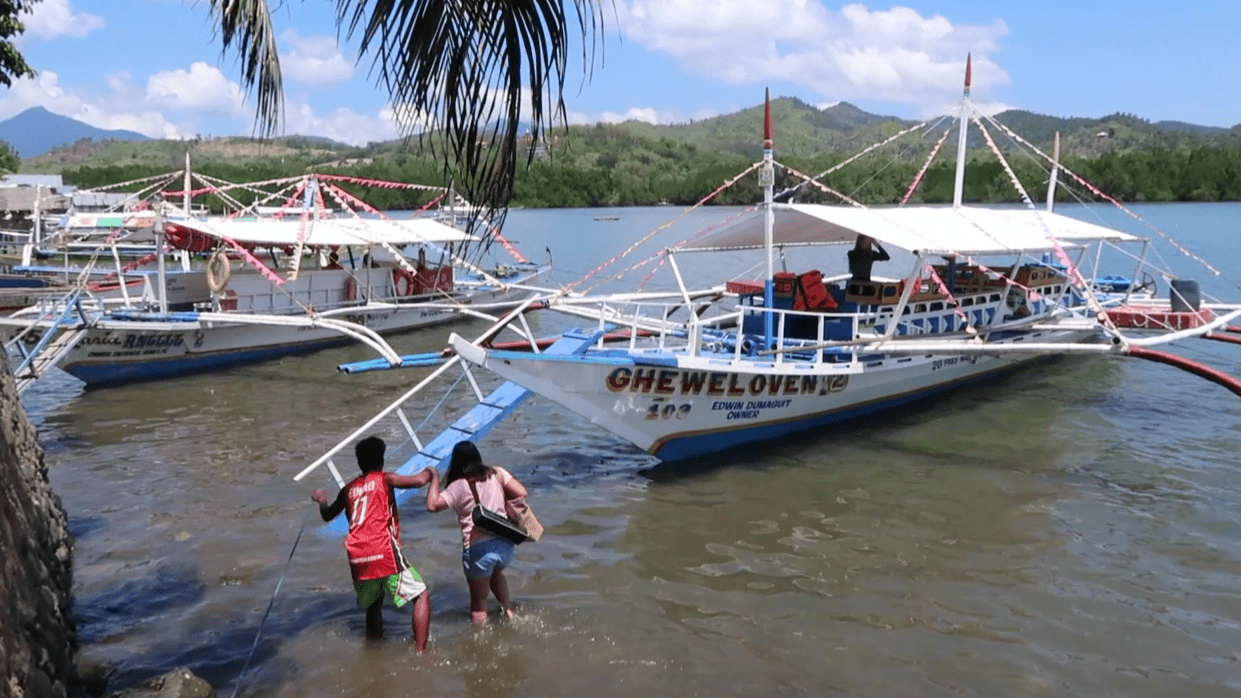 Rent a shared or private boat and go off for a nice day trip island hopping around the islands near Honda Bay.
Cowrie Island
Cowrie Island could be labeled as a vacation-feels type island with a bunch of water sport activities including banana boat, and others. The vacation atmosphere gets magnified by a multitude of cabanas and huts, and a bar for some (non-)alcoholic beverages. This really seems like the island on the tour on which you wanna take your time to chill, drink, and/or have some (water) fun. So you might wanna (re)organize your day-schedule around the characteristics of this particular island and to reserve your well-deserved 'relaxation and fun'-time.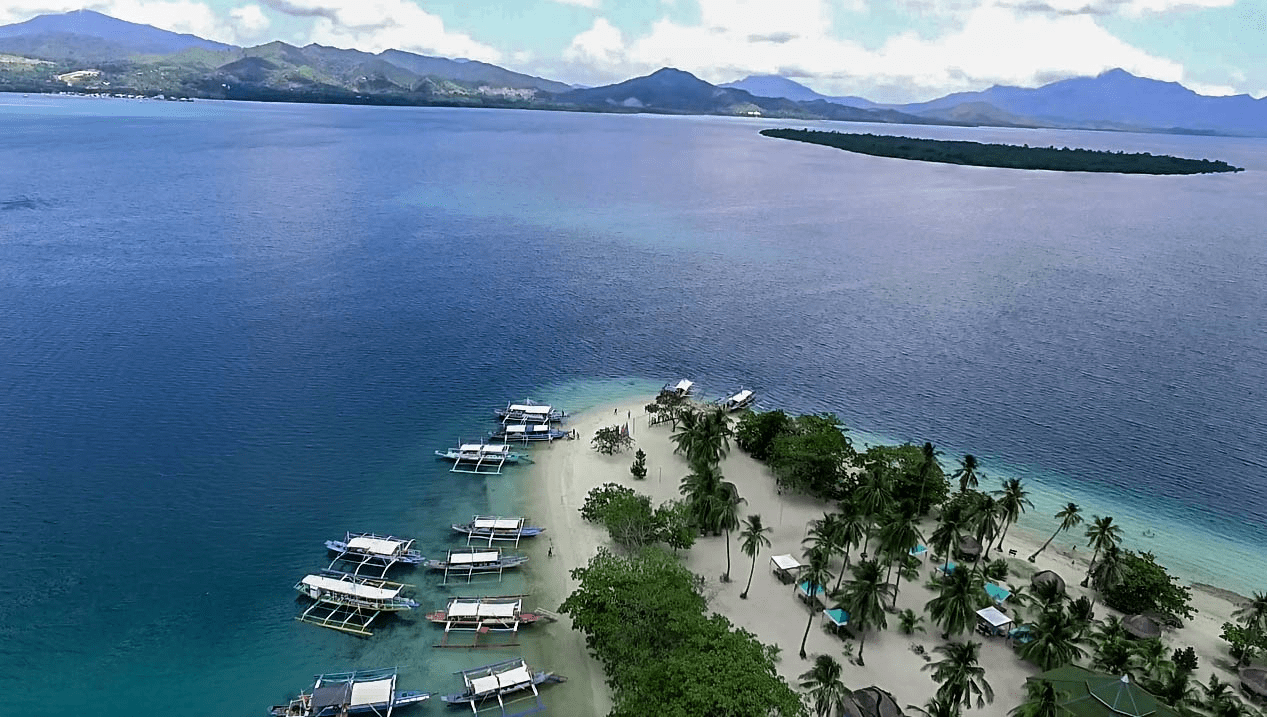 Cowrie Island is beautiful and fun.
As seen in the picture above, Cowrie Island is also quite a beautiful island in and on itself, with its shell shaped form clearly observed 'from above'. It might be a good candidate for a drone flight if you bring one with you on the trip. The island is almost 3 hectares big and is somewhat 'divided' into on one side; the touristy area (beaches, huts, and water sports), and on the other side it's raw flora and greeneries. The island is named Cowrie because it's shaped like a shell: cowries are medium to large sea snails in the Philippines.
Luli Island
Luli Island also has an interesting meaning behind its name. "Luli" is short for "Lulubog - Lilitaw", meaning "Sink and Rise". The island basically disappears and 'sinks' during high tide and reappears during low tide, rising back above the ocean's surface.
Also here are a couple of food and cocktails stands settled. They're all on stilts and there's no electricity on the island because of it's tendency to 'sink' back under the water every day. Nevertheless you might find this also a charming little island to chill and have a drink at.
The island is full of mangroves and often times a big impressive sandcastle is being built at the island which you might wanna take a look at. Other than that there's less action and less things to do on Luli than on Cowrie Island so let's move over to the next one.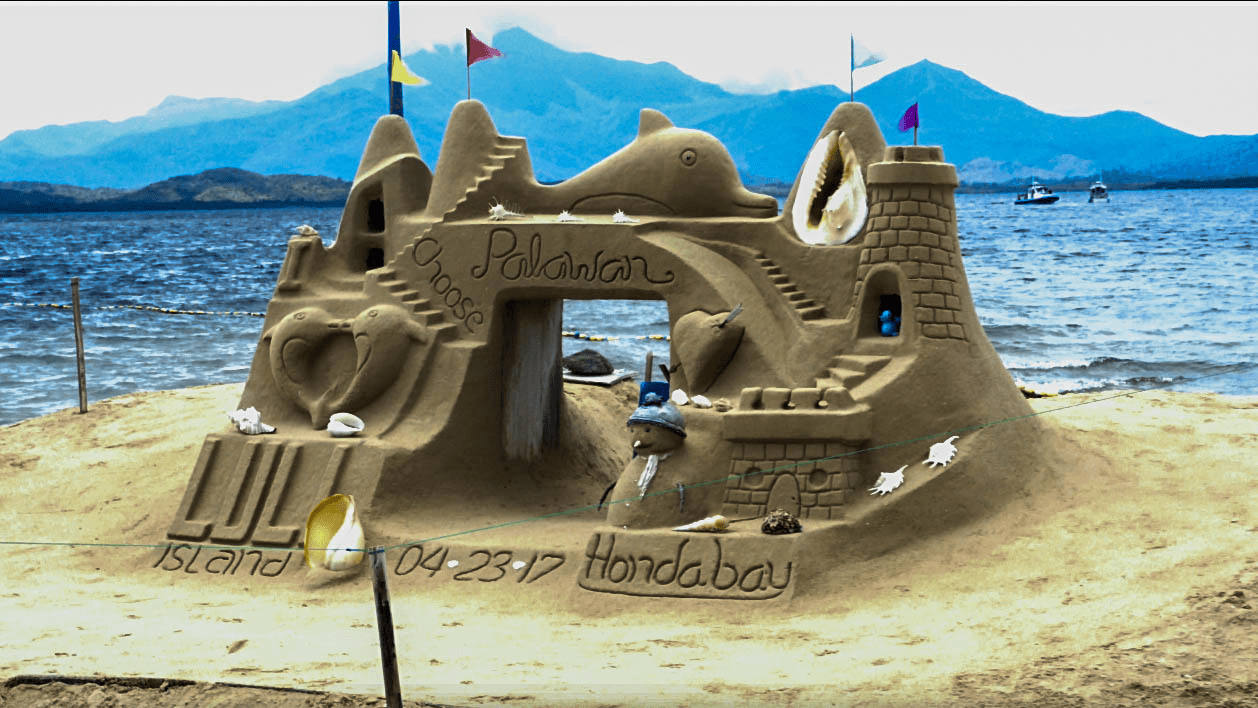 They regularly build a sandcastle at Luli Island.
Starfish Island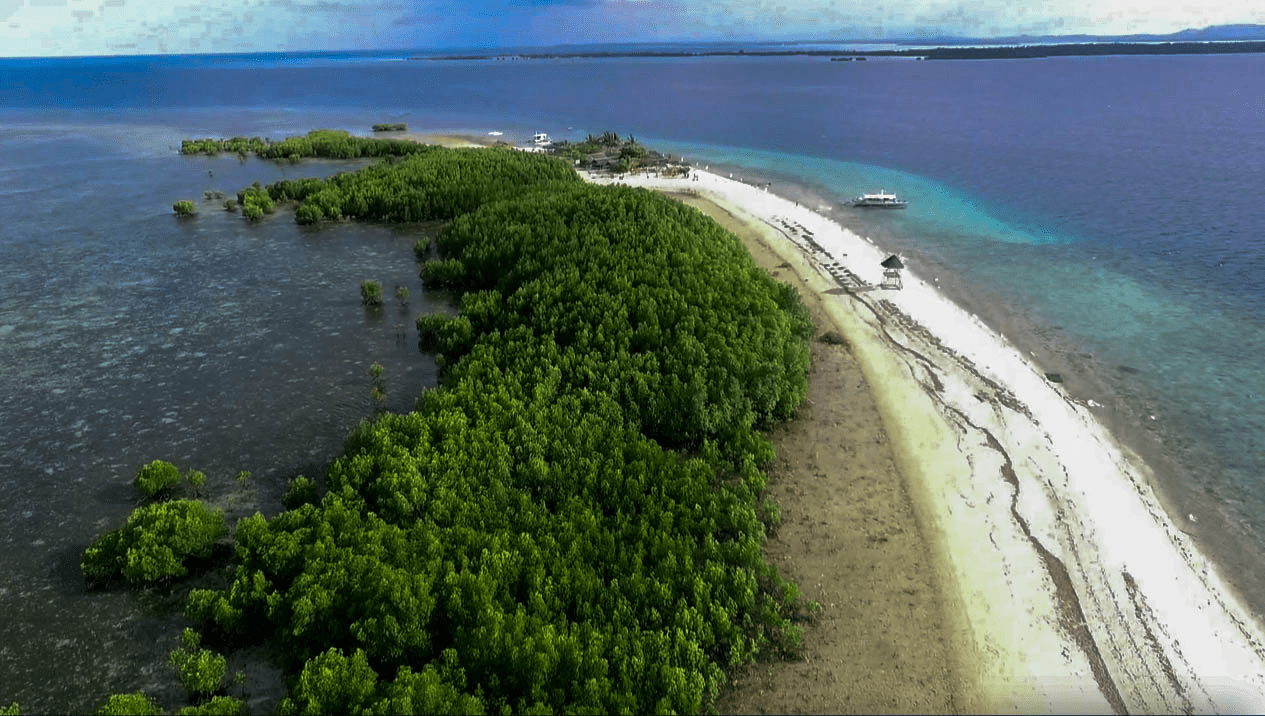 So let's get ready for the snorkeling pearl of the tour, together with Pandan Island. Starfish island as the name implies is full of magnificent starfish, in all varieties and sizes. In fact this island has the largest population of sea stars in all of Palawan!
This island is also full of these marvelous mangrove plants and there's also a house to gather and socialize in having a drink. Other than that the island stretches far so you can walk all to the back to have some 'private time' with anyone or just alone. That being said you might wanna take out your snorkeling gear as well on this one to admire the numerous of beautiful starfish around the shore as well as these colorful, cute little fishes.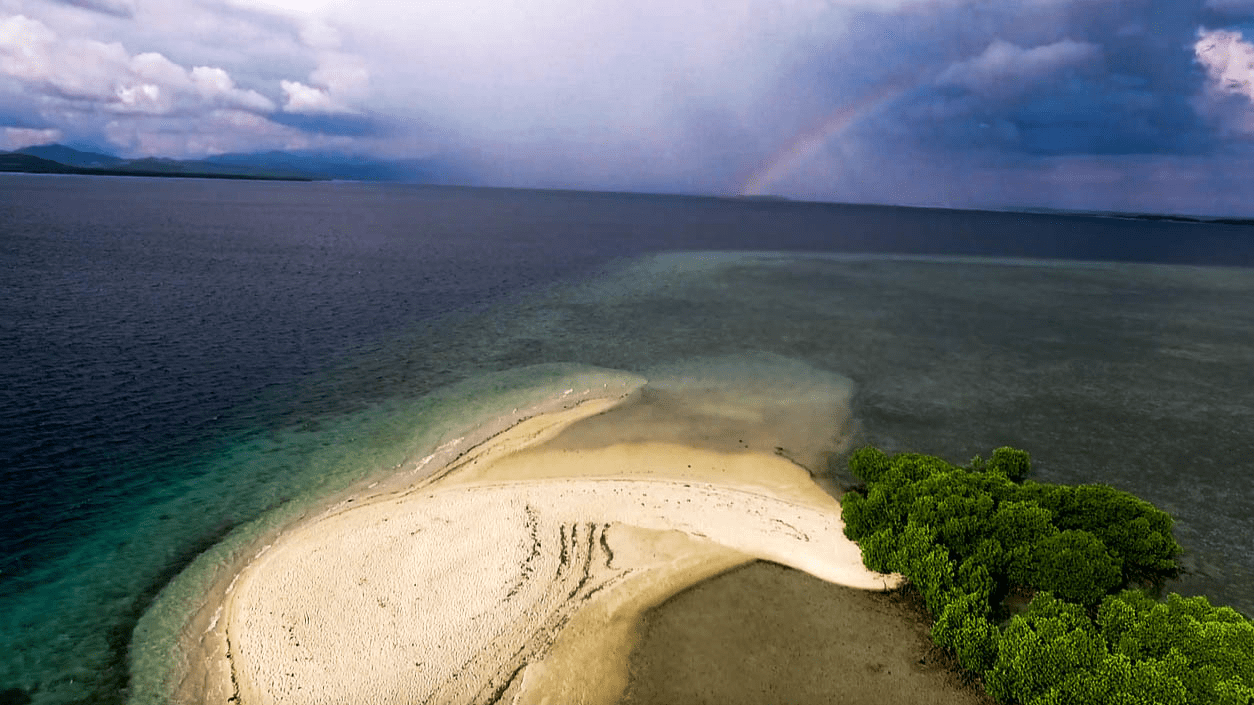 Starfish Island.
Pandan Island
Pandan Island is the furthest island from the start-off point. This island is named after the many Pandan plants prevalent on it. It's actually a private island with one small resort on it, be prepared to pay an additional fee to be able to step on this beautiful island. It might be worth the extra money because this island has some of the finest, whitest sand beaches of the whole tour, with some amazing snorkeling opportunities. It might become just your favorite snorkeling island of the whole Honda Bay Island Hopping Tour. The lush tropical nature as well as the absence of any concrete buildings (only wood) will make you feel one with nature. Come to your senses in this relaxing environment with a nice message or just be chilling on a quite spot on Pandan's beautiful beaches.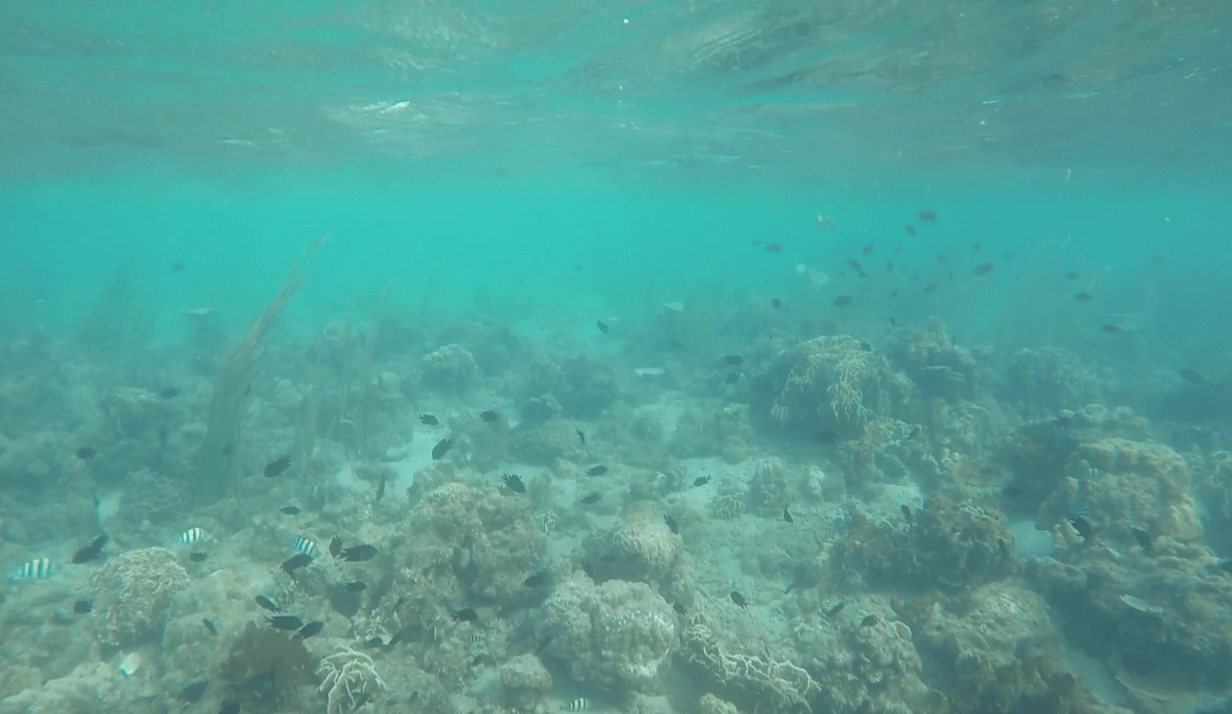 Be one and snorkel with these cute little fishes.
Snake Island
Another island you might wanna walk over real quick is Snake Island. So far every island has had a meaning an to the relief of some there are not dangerous or scary animals on this one. In fact it's just a long, extended sand bar that you can walk over that looks like a snake from above.
To conclude
The Honda Bay Tour is conveniently close enough to Puerto Princesa that you might wanna try it when you're near the city and feeling like some casual island hopping. This can make for a nice day trip with your friends or even alone.

Take the information above to plan your trip according to your own likings. Be aware that the tour takes about 6 hours so if your tastes make for a custom schedule then just tell the boatmen about it; they would always abide to your wishes. The boats themselves cost in the 1000-1500 PHP range (20-30 USD). Shared with several people you can make this day trip affordable enough; or just rent a boat all for yourself to have an unique 'private tour' feel for not too big of a dent to your wallet.
No matter how you're planning to go about this day tour: we wish you'll be having a fun, nice, and sunny day, there at the charmingly beautiful islands of the Honda Bay!