'Art is time transformed into space'.
Over 300 modern paintings, sculptures, and art installations made by various local artists are waiting for you to be admired. Spread over 6 galleries, this spacious and lovely museum sure will captivate your heart with its wide collection of modern and contemporary art...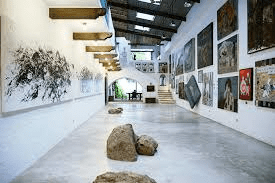 Instagram-worthy
Pinto Art Museum is a project of the 'Silangan Foundation for Arts, Culture, and Ecology', a non-profit organization dedicated to promote Philippine arts and culture, and support local artists.
Because of the white-brushed walls, natural lighting inside the museum and the beautiful greens around, you will surely be grabbing your camera. And for those who like to take food pictures, Pinto Art Café is there for you. They offer a limited menu but with good presentation; and dining beside a beautiful garden with fountain sure is a nice experience.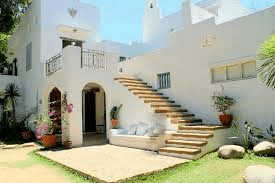 Pinto Art Museum has beautiful Mediterranean architecture.
Great combination of art and nature
Such a good catch for art enthusiasts, nature lovers, photographers or technically for everyone! This art museum is not just filled with artworks but also incorporated with a well-maintained environment surrounded with lush green scenery giving a calm and refreshing ambiance.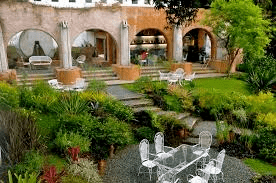 Pinto Art Museum has a beautiful and spacious garden.
An open door
"Pinto" is a Tagalog word which means "door". From the word itself, the art museum was actually established to support local contemporary art in the Philippines. Pinto Art Museum actually has 6 galleries. Each gallery has its own different theme portraying its own message to the public and showcases contemporary artworks made using different media by local Filipino artists. You will encounter a wide variety of artworks such as paintings, metal works, wooden sculptures, and mixed media as you go to each gallery.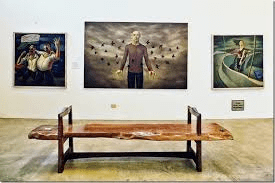 The art museum was established to support local contemporary art.
Useful information:
The museum is open Tuesday through Sunday, from 9:00 am to 6:00 pm.
The museum is CLOSED on MONDAYS.
They're open during holidays (as long as it's not a Monday).
Guided Tour Schedule: 09:00 am – 11:00 am; 12:00 nn – 02:00 pm; 02:00 pm – 04:00 pm; 04:30 pm – 06:00 pm.
No food or pets are allowed.
Smoking is strictly prohibited inside the museum.
No flash photography.
Changing clothes is not allowed inside the museum.
Children can visit Pinto Art Museum as long as they are accompanied by an adult inside the premises at all times.
Pinto Art Museum reserves the right to remove from the premises persons deemed unruly by management.