This might just be your favorite waterfall in all of Luzon. The great Hulugan Falls will provide a stunning view as well as a great place to swim for you.
Another one of Laguna's beautiful waterfalls; the Hulugan Falls may become your new favorite. A short but adventurous hike down and you can be in a small oasis with one of the more breathtakingly beautiful waterfalls the whole Philippines has to offer…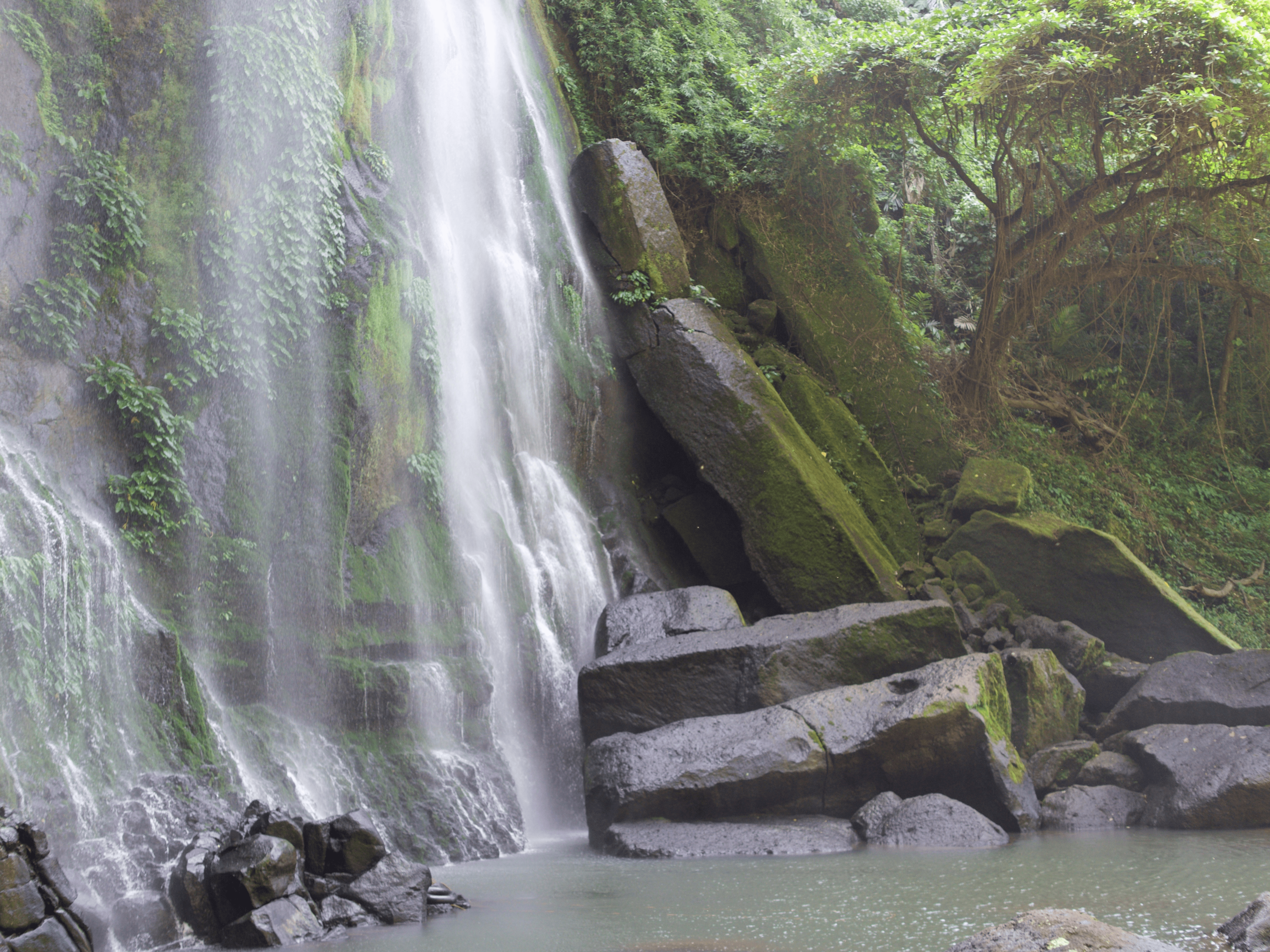 Hulugan Falls in Laguna
Whether you like adventure, chilling by the water, or nature photography; Hulugan Falls is the place to go to for a few hours on a nice sunny day when you're in the Laguna province. This breathtaking waterfall has gained some popularity over the years, and pick your right time to go it; it can get somewhat to very crowded on weekends and holidays.
Two trails
There are two trails going down towards the Hulugan Falls, but first you will have to register at the Barangay Captain's house where you will be assigned a guide. You will have the choice over two trails: and easy one and a hard (and steep) one. The steep one is faster and there is a time difference of about 30 minutes there. Take good care of the weather when you're picking out the perfect time as well: the steep trail will get muddy, slippery, and just plain dangerous when it has rained.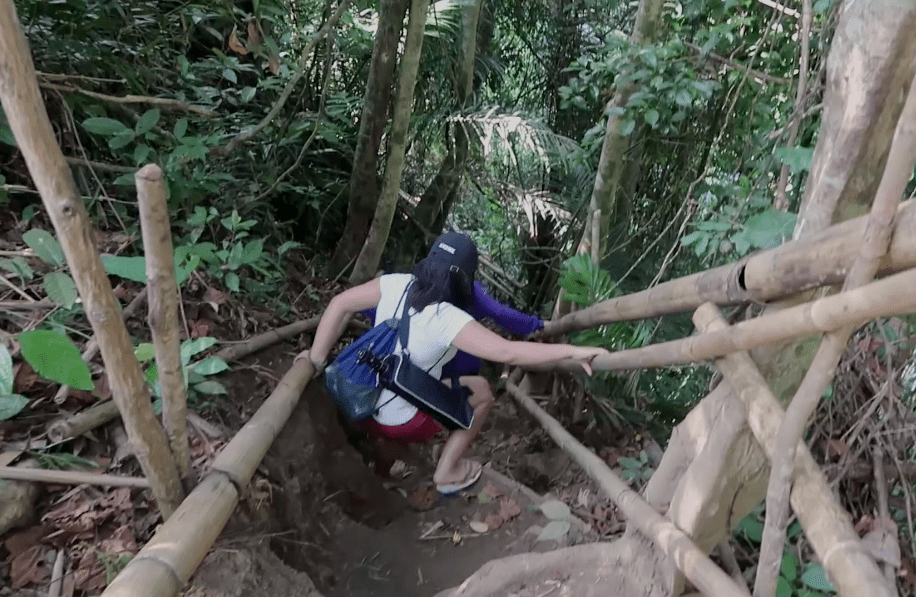 It's a steep natural stairs down if you take the harder trail. Make sure it hasn't rained!
The easier trail passes by the top of the falls as well where you can stop to take a refreshing swim. The harder trail is just a steep and rocky climb down better suited for the experience hiker/climber or adventure lover. Especially the way back up on the harder trail, can get exhausting and in the end you might find yourself bulging sweat when you arrive back up onto the mountain. There are showers available here and there though for 15 PHP as well as a food stand ('sari-sari-store') where you can get something to drink as well as other refreshments.
Either way, and by either trail, when you get all the way down to the small oasis the Hulugan waterfall scene is offering you; find your peace (or join the crowd when you go at 'the wrong' times) and take an exhilarating swim in the fantastic swimming water the Hulugan Falls provides. It also has a cave to find some shadow, and several different spots for some awesome photo-taking.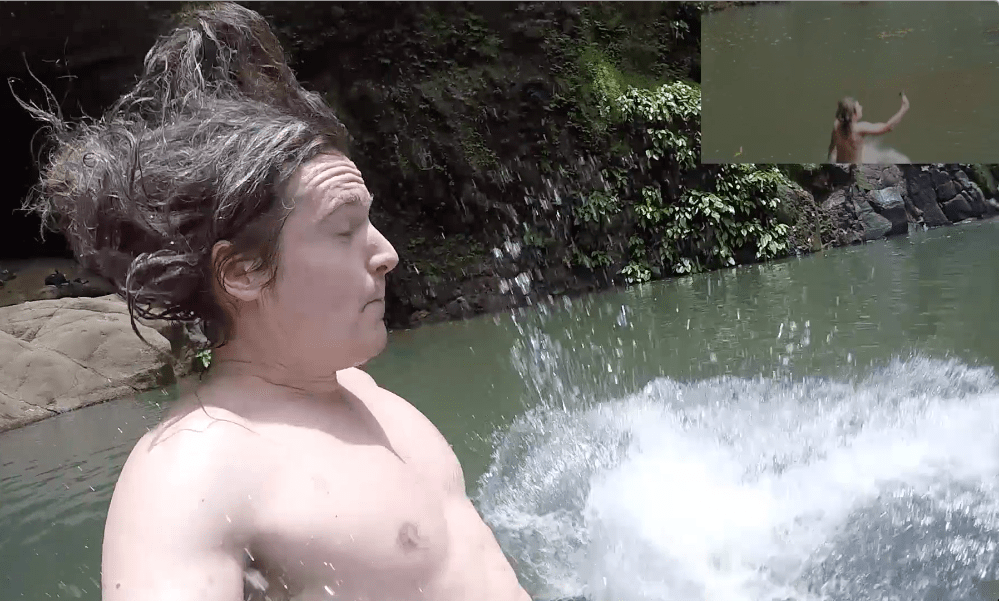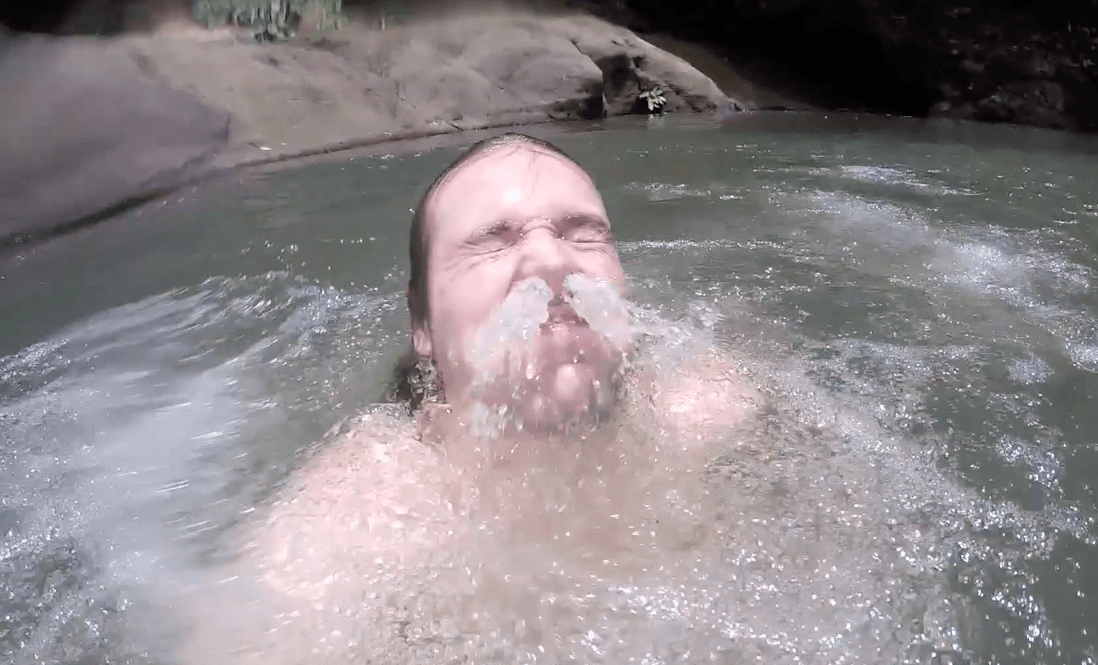 Great, great swimming water.
Breathtaking
Your photos and the view itself from your own eyes, is truly breathtaking, as you emerge yourself in the sheer beauty the 235 ft. high (72 m) Hulugan Falls projects upon its audience. And definitely make sure you have your swimming gear with you! Preferably also a water-proof camera. The water is really great to swim in, nice and cold.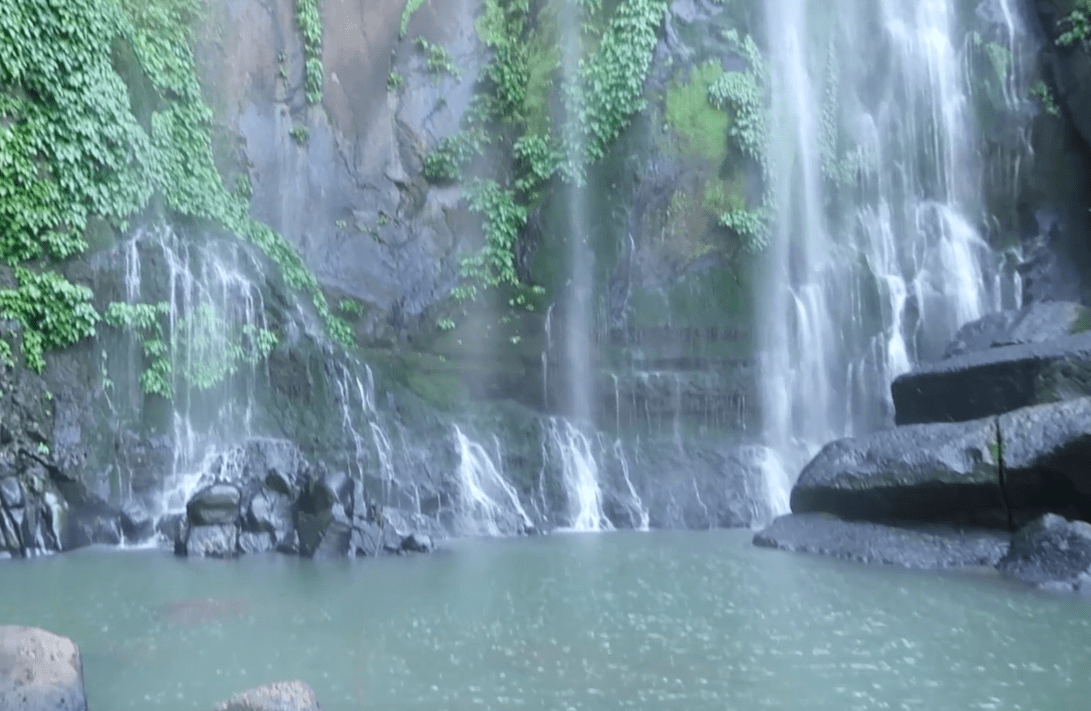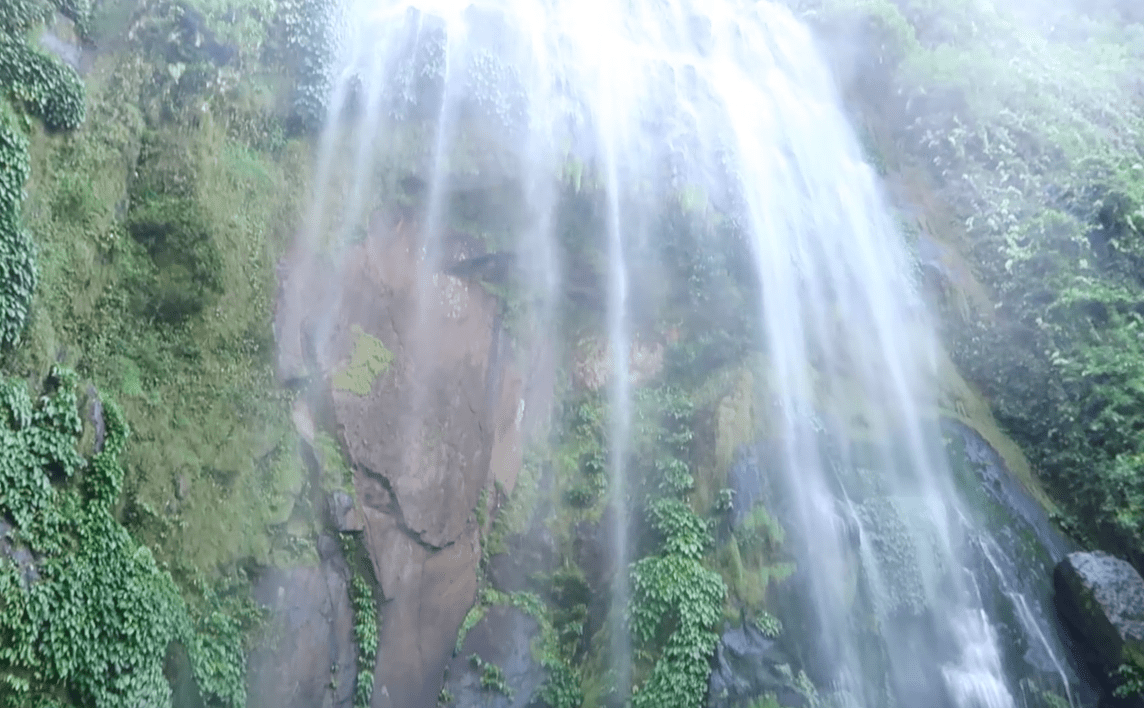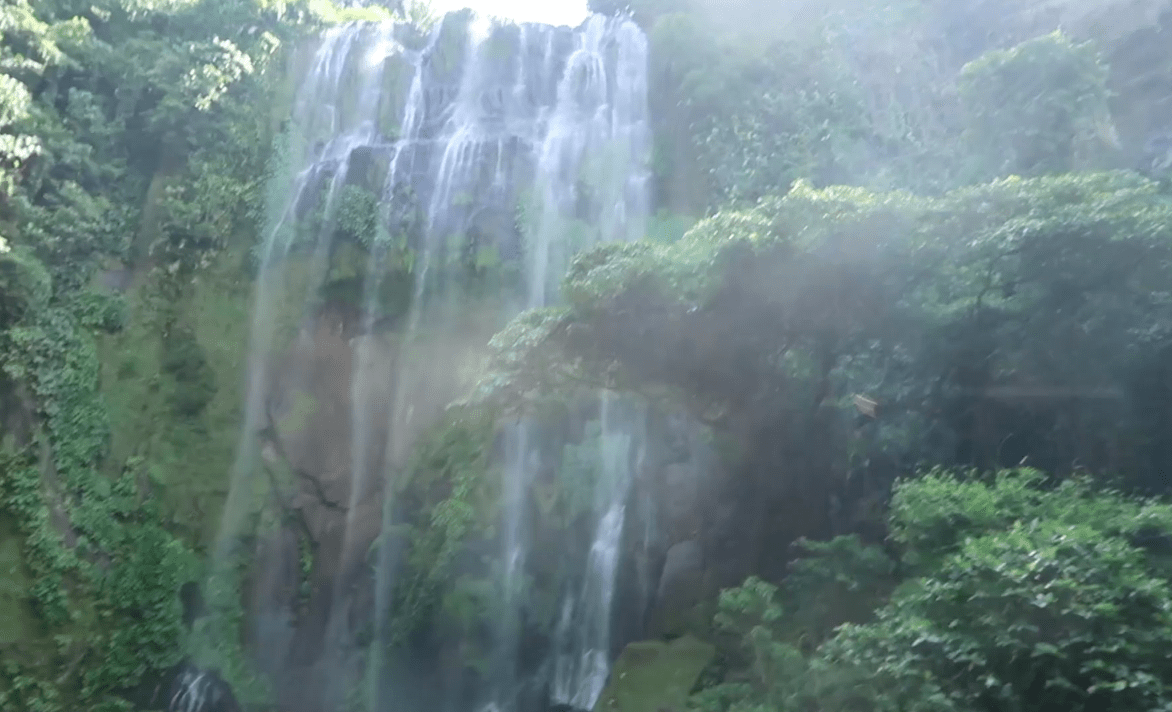 Be in awe of the majestic sceneries the 235 ft. high Hulugan Falls provides.
There are also some other falls nearby (about 30 min walking distance away from each other), if you feel like getting some more than you initially came for. They are called the Talay Falls and the Hidden Falls. Another very popular fall (one town away) is the Pagsanjan Falls (or Cavinti Falls), which is also worth visiting.