Fun, beautiful, and exciting things to do in the famous Patar Beach area in Bolinao.
Bolinao, a charming municipality in the topmost northern part of the Pangasinan province. With Alaminos City and it's famous Hundred Islands attraction just a short bus ride away, Bolinao provides more than a two hand full of attractions for you to enjoy, making it just another recommended destination when traveling through Pangasinan. Patar Beach is maybe the destination where Bolinao is famous for with a long stretch of coast with rocky rugged terrain as well as white sand beaches, aligned with beach resorts. In this article we'll cover the most exciting and worthy attractions the Patar Beach area has to offer…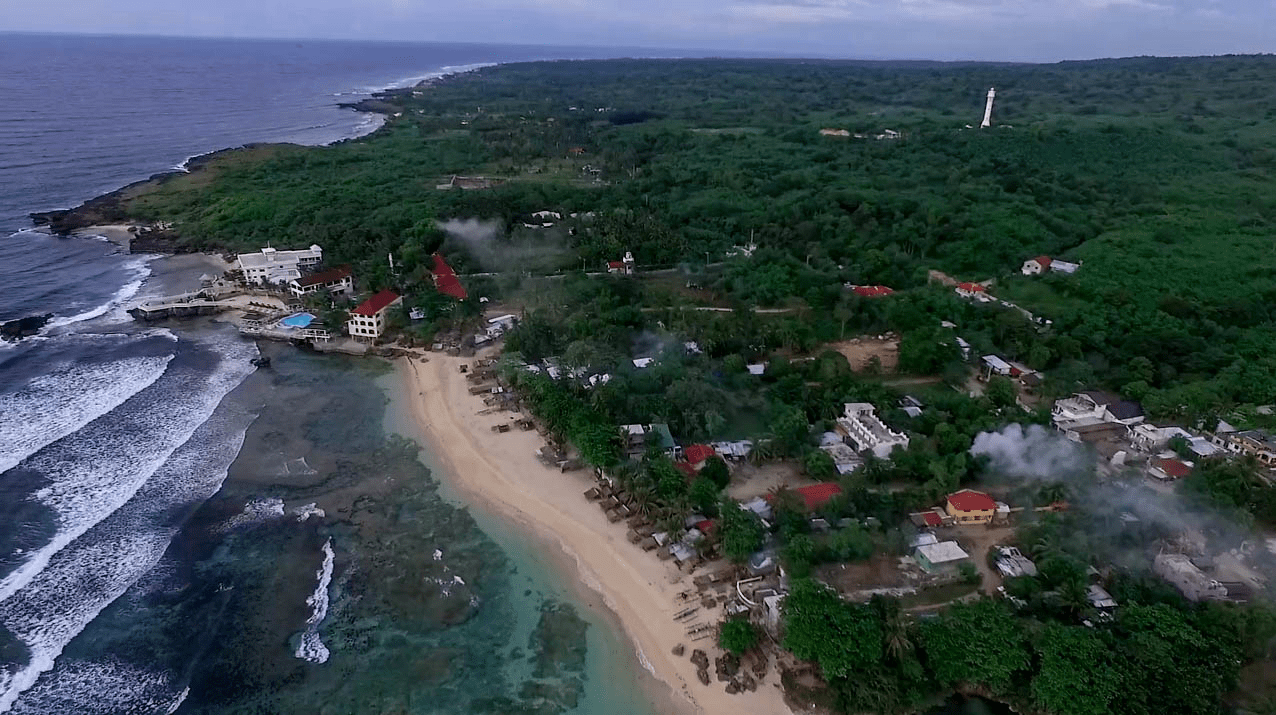 Bolinao Falls
The Bolinao area mostly consists of flat farmlands, making some people wonder why there'd be waterfalls present within those fields. Still in the midst of these wide plains, there are three beauties of falls available for general public that in their turn give a head start for the Balingasay River to let water flow towards the West-Philippine Sea.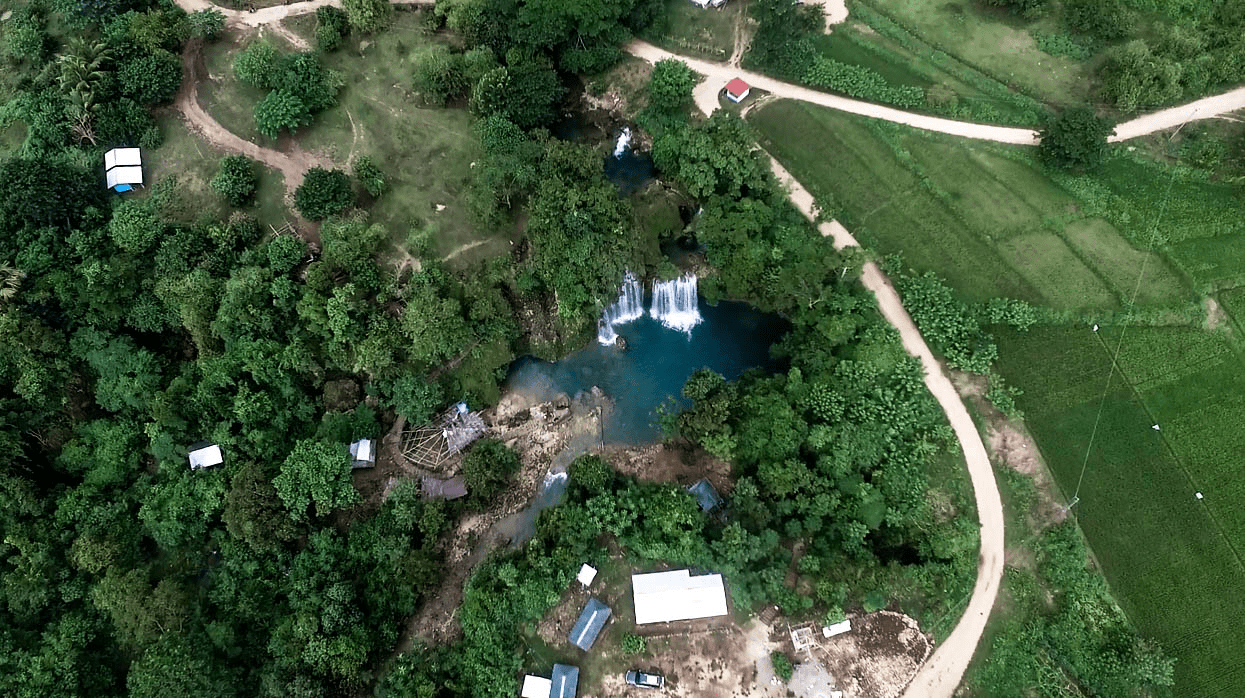 The Bolinao Falls are in the midst of flat farmlands.
One can take a 20 min ride per tricycle towards the three Bolinao Falls that are closely located to each other. Bolinao Fall nr. 1 is a waterfall where you can have fun jumping off of in its large basin which in its turn makes for a fantastic natural swimming pool.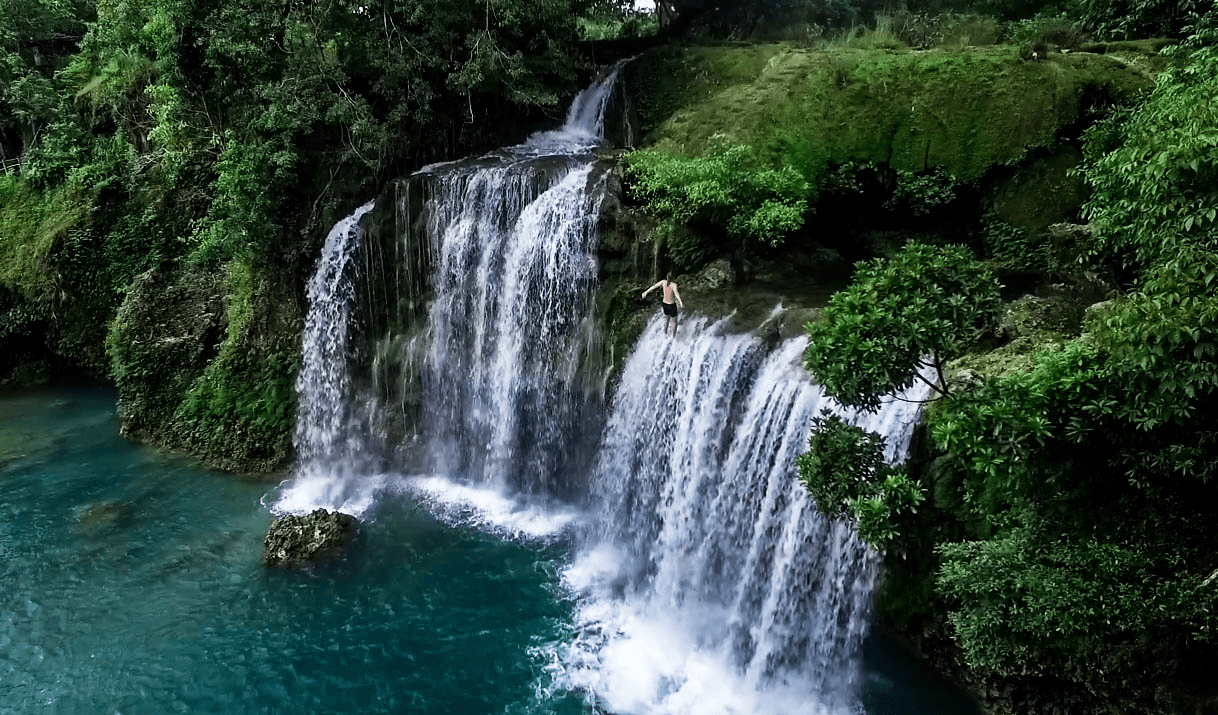 Bolinao Fall nr. 1 is the best one for avid cliff jumpers.
Bolinao Falls 2 & 3 are good for people that are afraid of heights and make for fantastic socializing and relaxing areas as well. With an abundance of wooden cottages at each waterfall area one could spend a full day chilling with friends in and around the already quite beloved Bolinao Falls.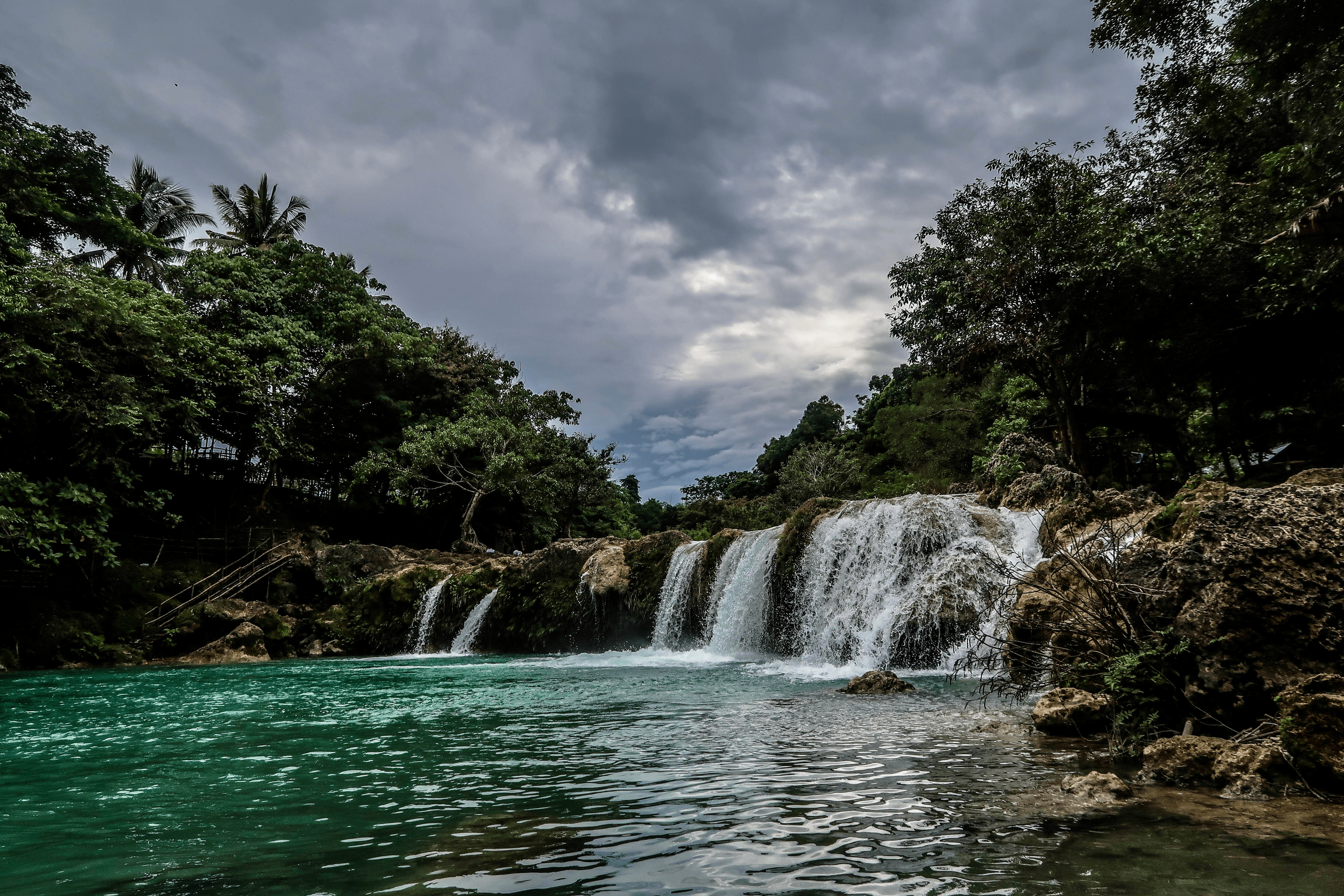 Bolinao Falls 2 is not as high but still nice to jump off of or swim/chill around at.
Enchanted Cave
More of an indoor swimmer? There is another great natural attraction located in the Patar Beach area called the Enchanted Cave. This consists of, yes, a cave as well as beautiful forest-like terrains and gardens surrounding it that are as picturesque as they are enchanting.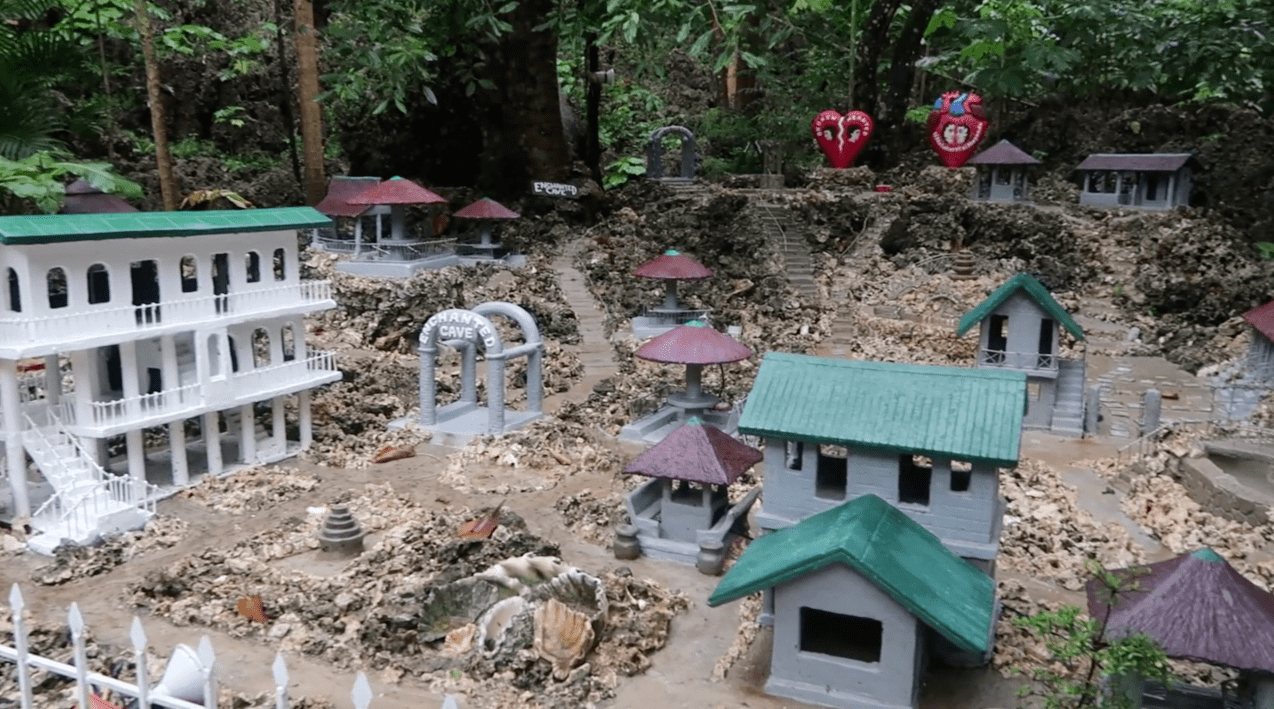 A scale model of the whole park is present for display near the entrance of the park.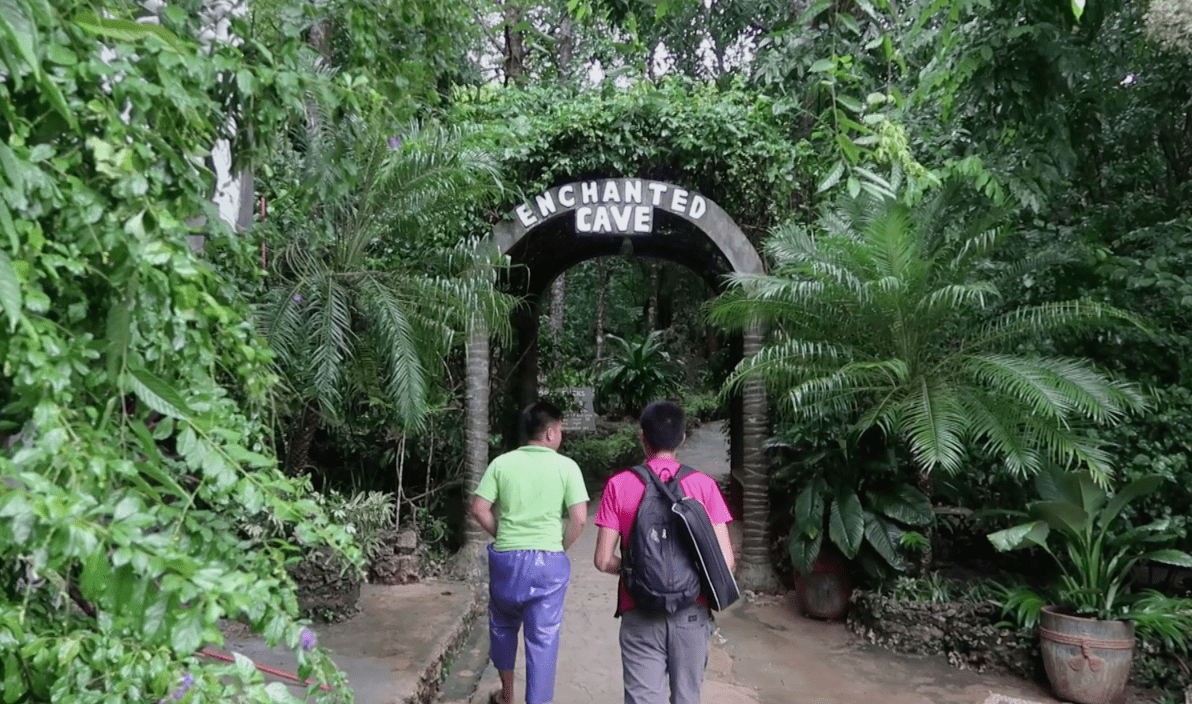 When you're done watching the monkeys, miniature city, and all the other sights within the Enchanted Cave park, you might wanna check out the cave itself right? Yes, you might, so in the center of the park there is a small stairs leading down to an underwater cave you absolutely don't wanna miss out on. Several Filipino movies have actually been shot here and you'll know why as soon as you see how enchanting the cave really looks on the inside.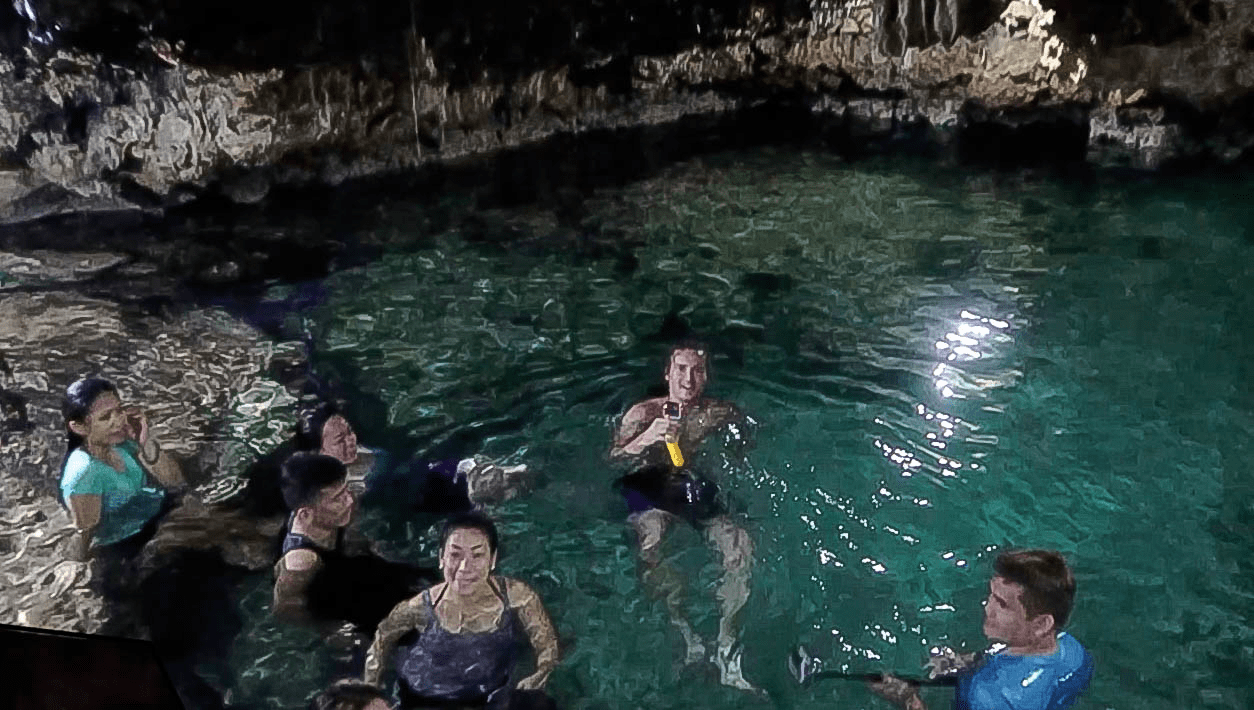 Crystal clear waters that are, even though in contact with the sea, totally fresh and clean. Become even more enchanted and take a swim! There are ropes placed inside the cave to hold on to while swimming so anybody should take a dip in the cave's water is our opinion. It would be one of the most refreshing swims you've even taken, we guarantee.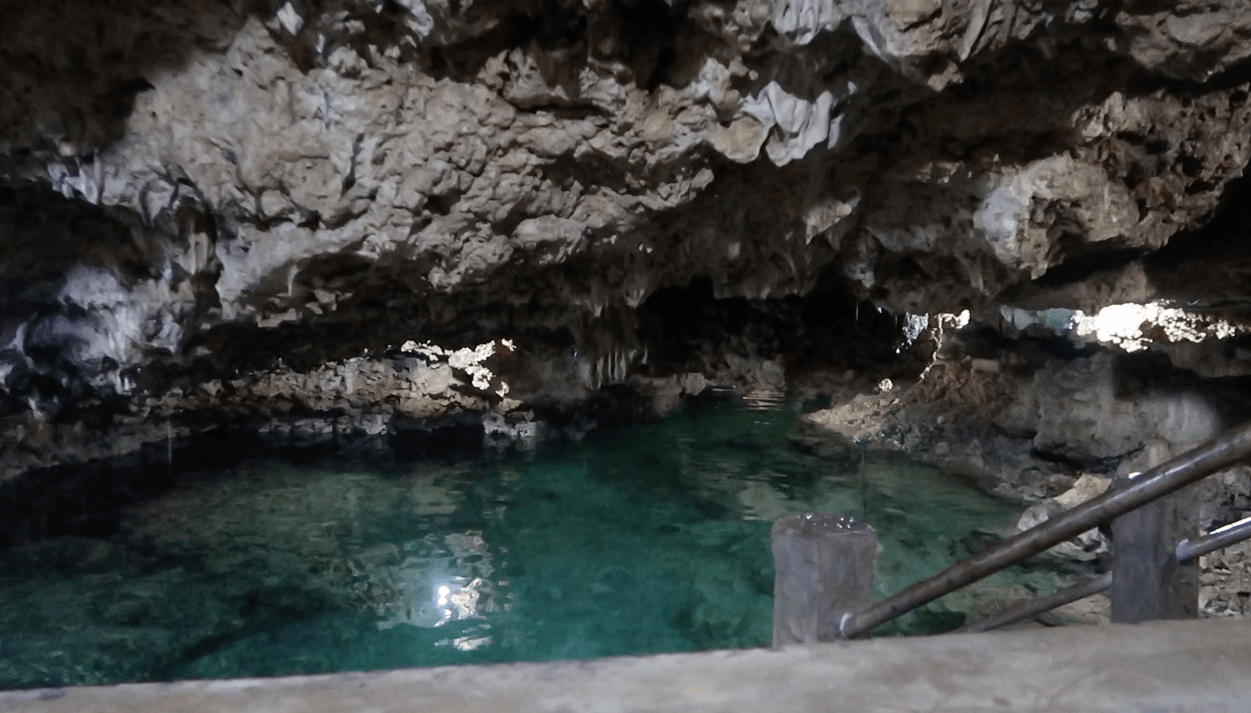 Small tip: go right before closing time (5:30pm) to have a chance to get the cave all to yourself.
Patar Rock Formation
Being a favorite prenuptial photoshoot location; the Patar Rock Formation might make for a 'quick check-out', or just a great day of chilling time at a beautiful rocky coastline, depending on your schedule and preferences.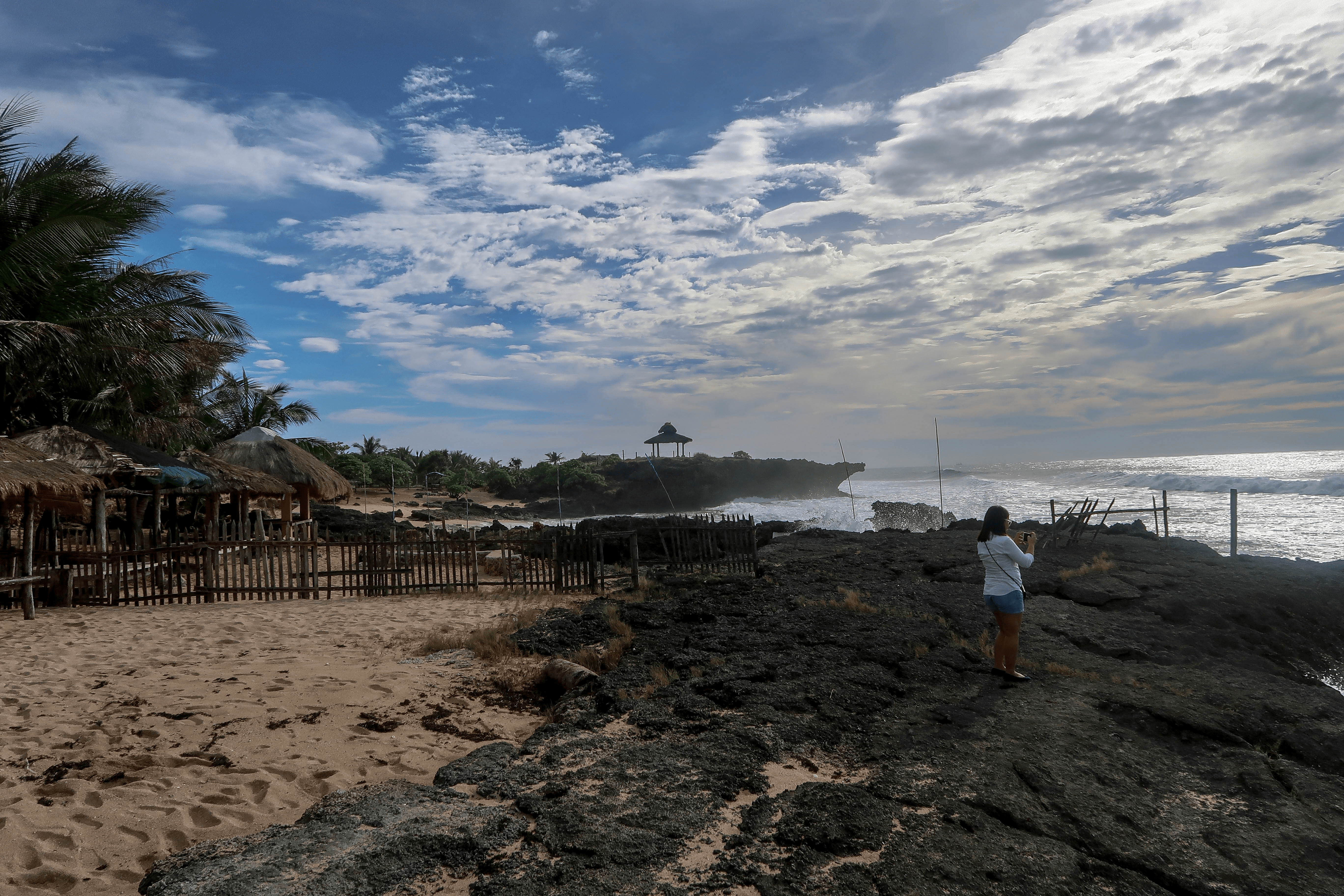 A wonderland for photography enthusiasts.
This place is typically not crowded and just a relaxing environment, with enough nipa huts to chill at while observing this beautiful piece of coastline called Patar Rock Formation.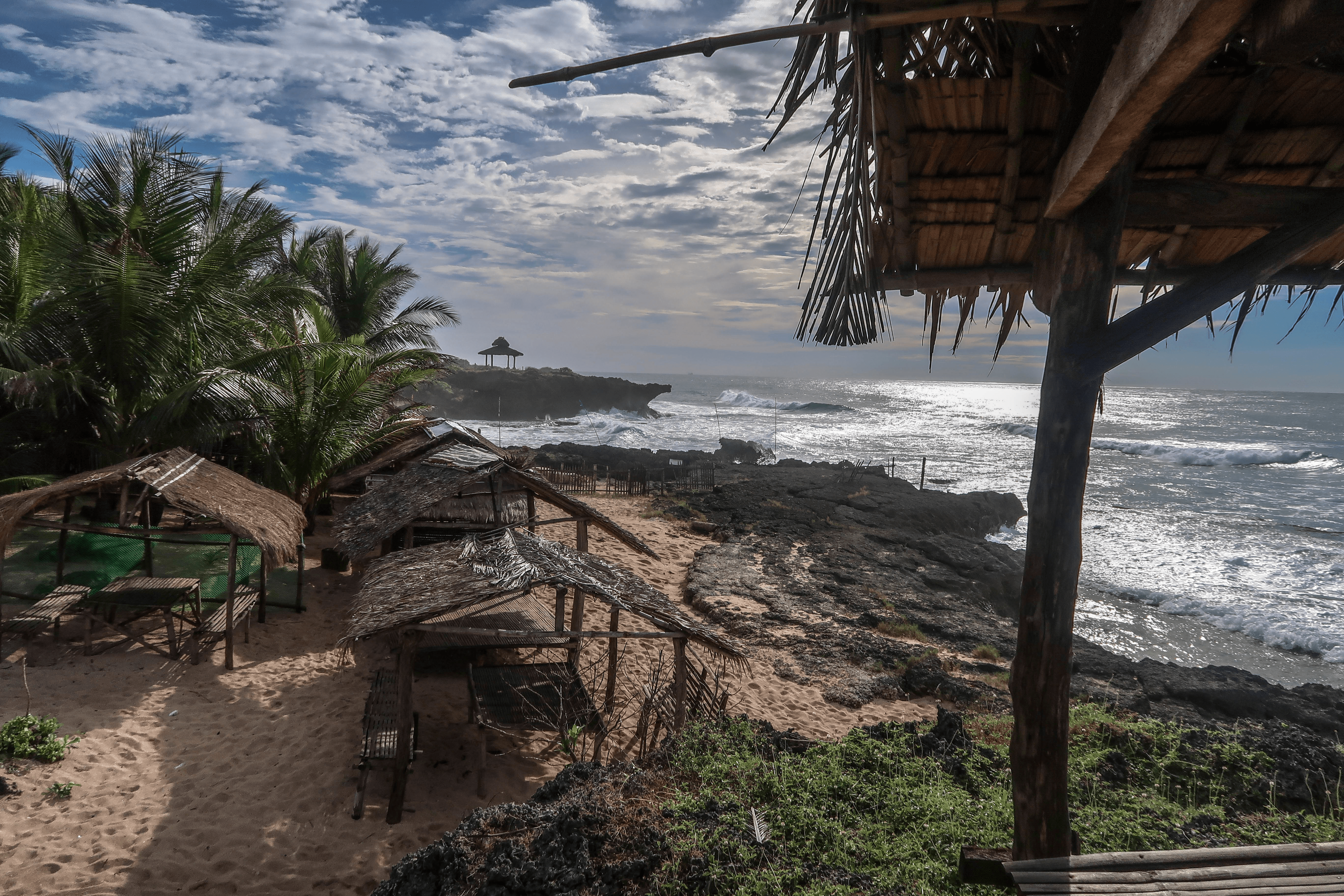 Spend some time chilling at a hut while enjoying the breathtaking views around.
This place has been the venue for scenes of famous Filipino movies as well. You'll understand why as you go explore this majestic rugged terrain. Take in some beautiful and magical views that'll be burned into your memory for a lifetime, at the Bolinao Patar Rock Formation.
Recommended hotel nearby Patar Rock Formation (click to visit in new tab):
Recommended hotel nearby Patar Rock Formation (click to visit in new tab):
Cape Bolinao Lighthouse
A few minutes ride from the Patar Rock Formation you can head over to a free attraction called the Cape Bolinao Lighthouse. Built by the Americans in the early 1900s, this lighthouse still leads some vessels around the coastline up until a 44 km (27.3 mi) distance.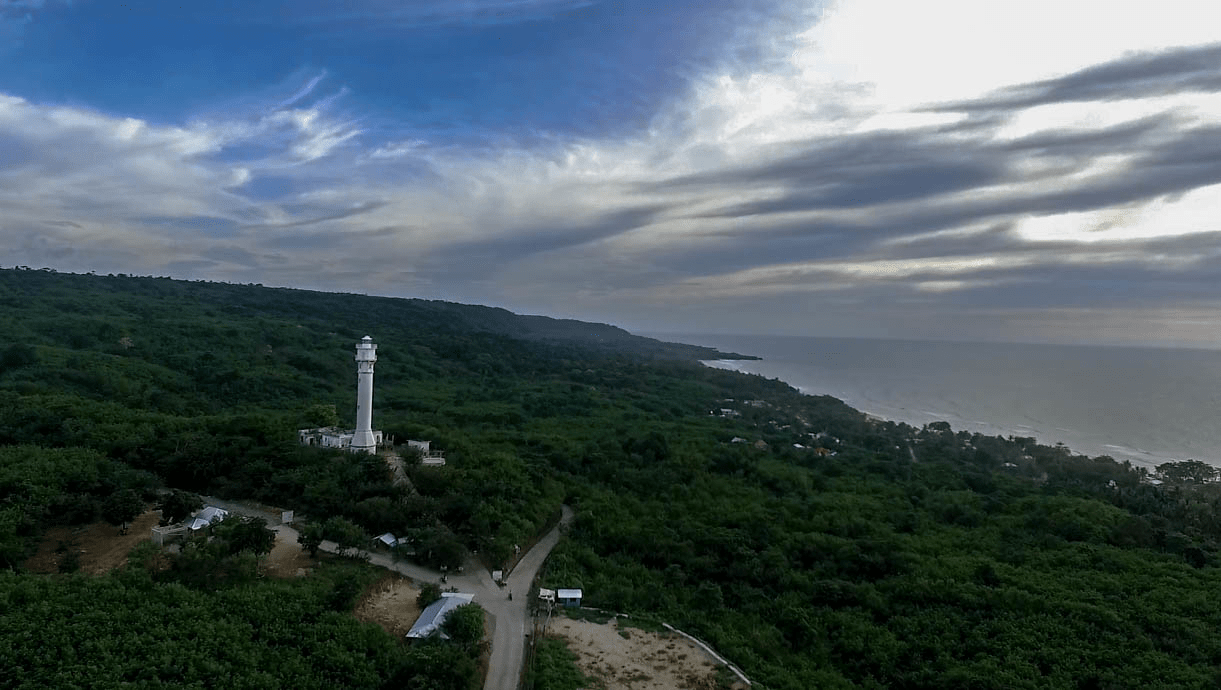 Being one of the five major lighthouse in the country; in structure this is the highest lighthouse in the Philippines. In elevation it comes in second to the Cape Bojeador Lighthouse (386 ft or 117.7 m above sea level) in Ilocos Norte.
The Cape Bolinao Lighthouse is 351 ft or 107 m above sea level and provides a scenic look over the beautiful Patar coastline. If you're lucky enough you can get on top of the lighthouse provided the lighthouse guard is present at the site. If he's not, you can keep yourself contented by enjoying the nice views from a small observation deck overlooking the coast of Patar Beach area.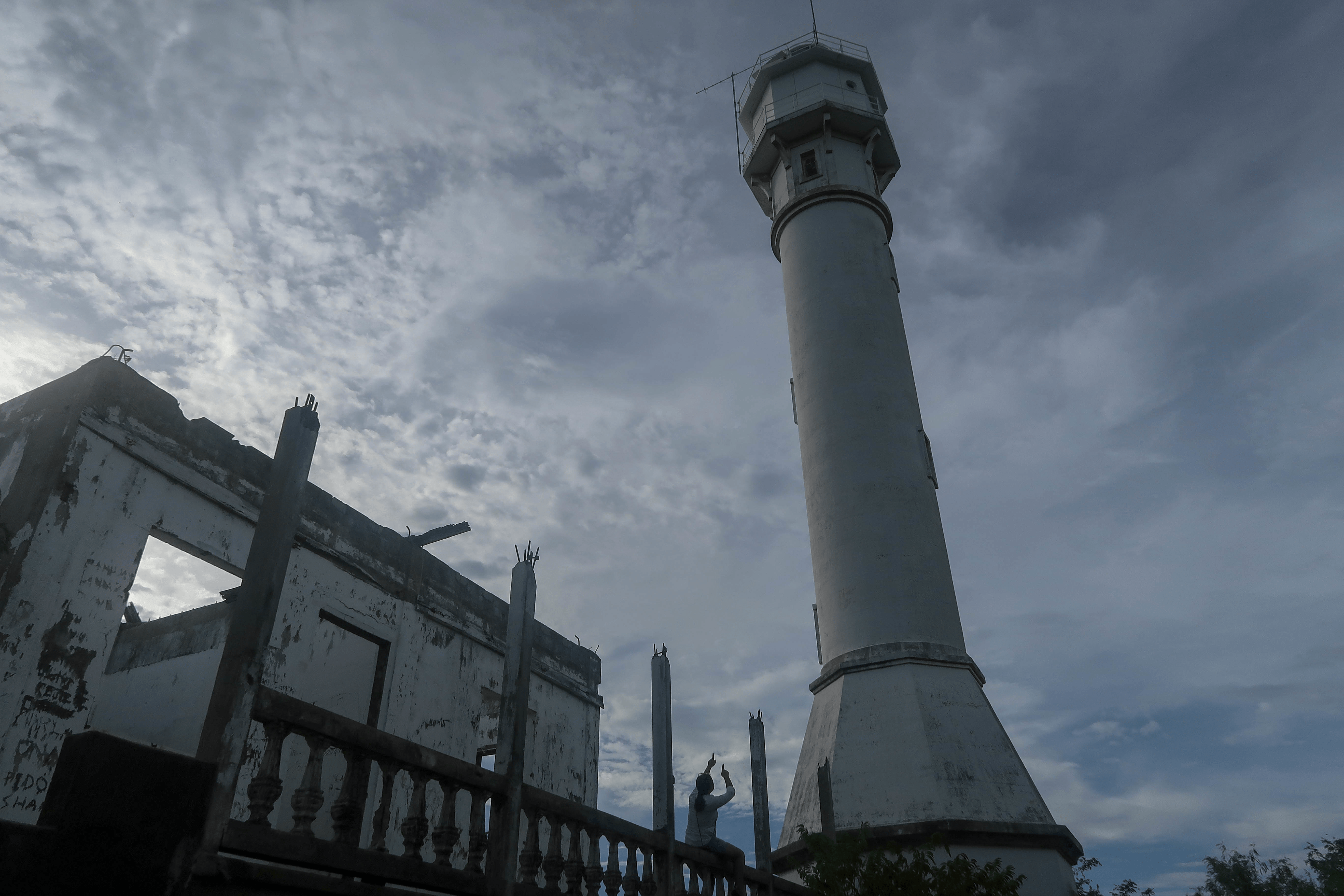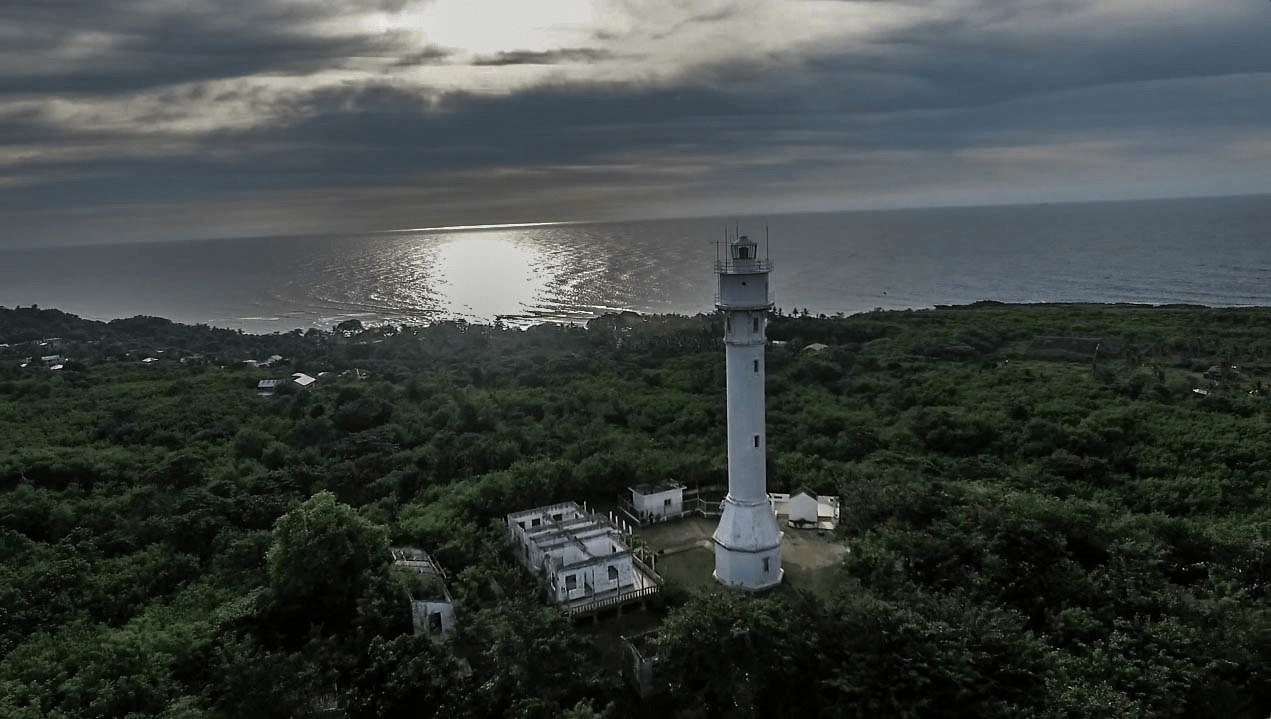 Wonderful Cave
The Enchanted Cave's little sister. We still wanted to include this cave as this underwater cave is similar to the Enchanted Cave in some way, but smaller in size as well as less touristic. For some people this might be a blessing: it's quite a nice serene area and often time you'd be alone.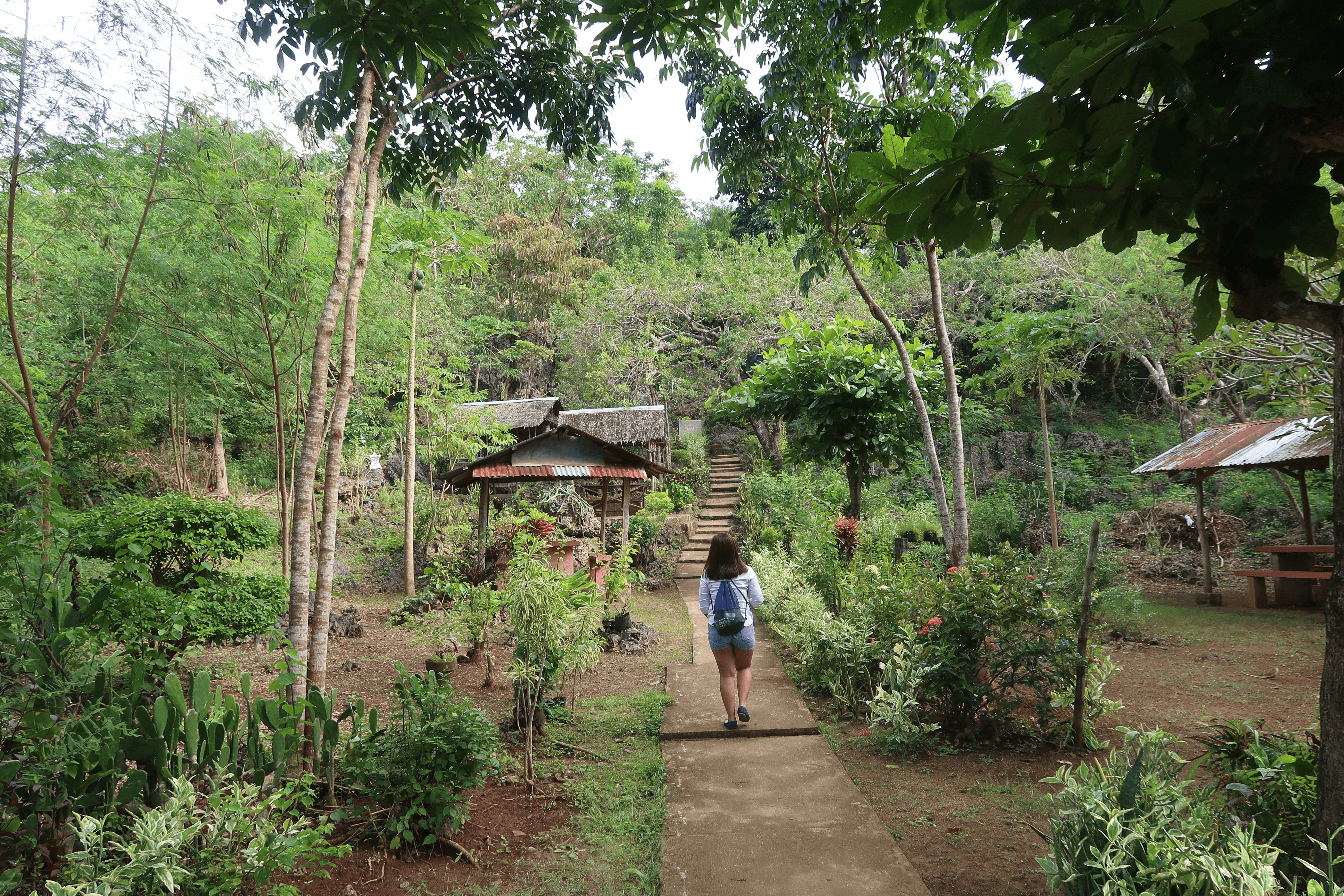 Wonderful Cave is generally speaking less touristy than the bigger Enchanted Cave.
One could also swim in the cave and it has the same crystal clear and refreshing swimming water as that what the Enchanted Cave offers. If you really want to visit both caves on the same day you might wanna be smart about your itinerary and go to the Wonderful Cave at peak times and the Enchanted Cave (open from 8:30am to 5:30pm) at down times during that day.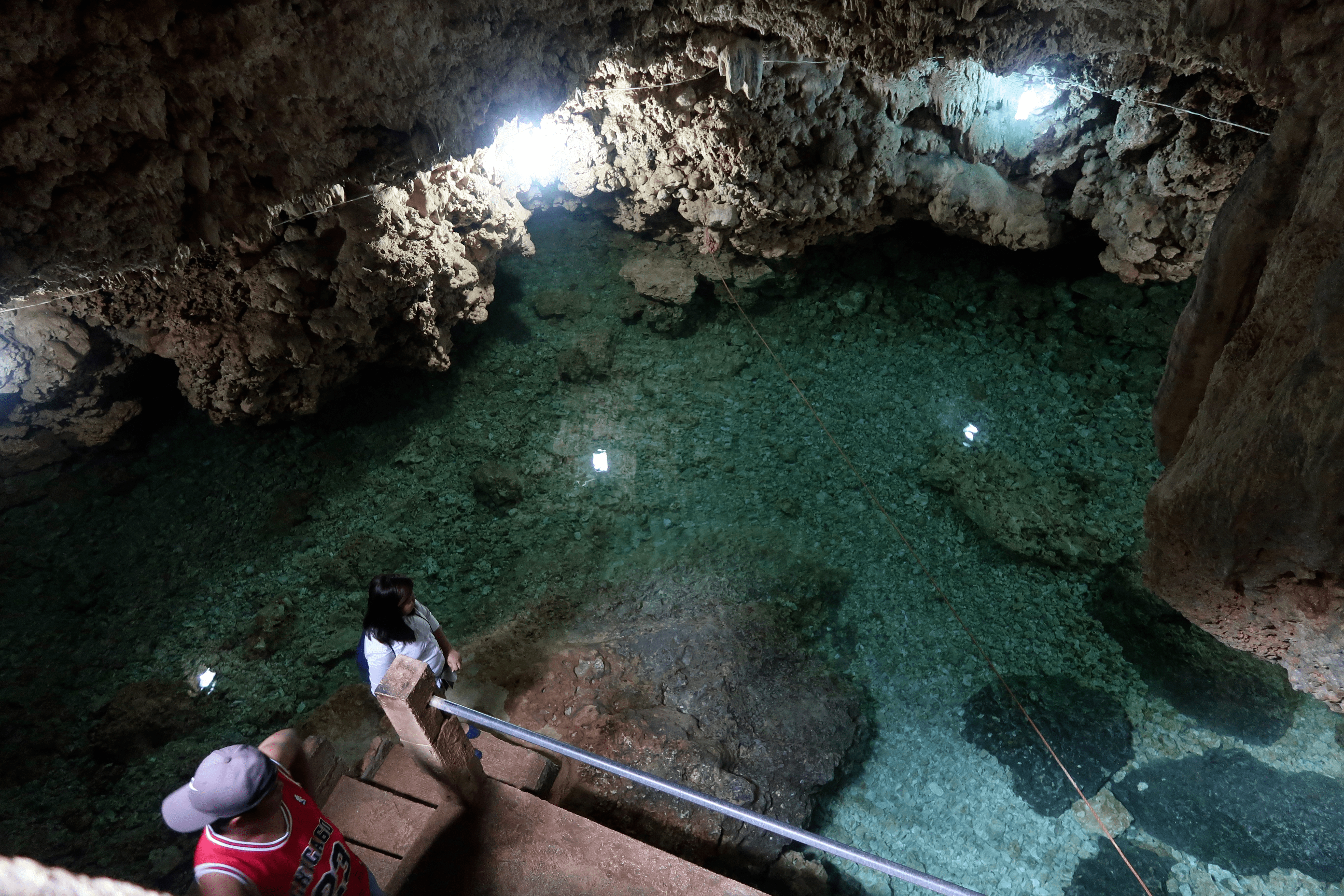 Patar White Beach
The best beach to go to in Patar is the Patar White Beach all the way in the end of the coastline. Your tricycle will know where to go to and once you arrive you'll be in the midst of a typical Filipino village with youth playing basketball.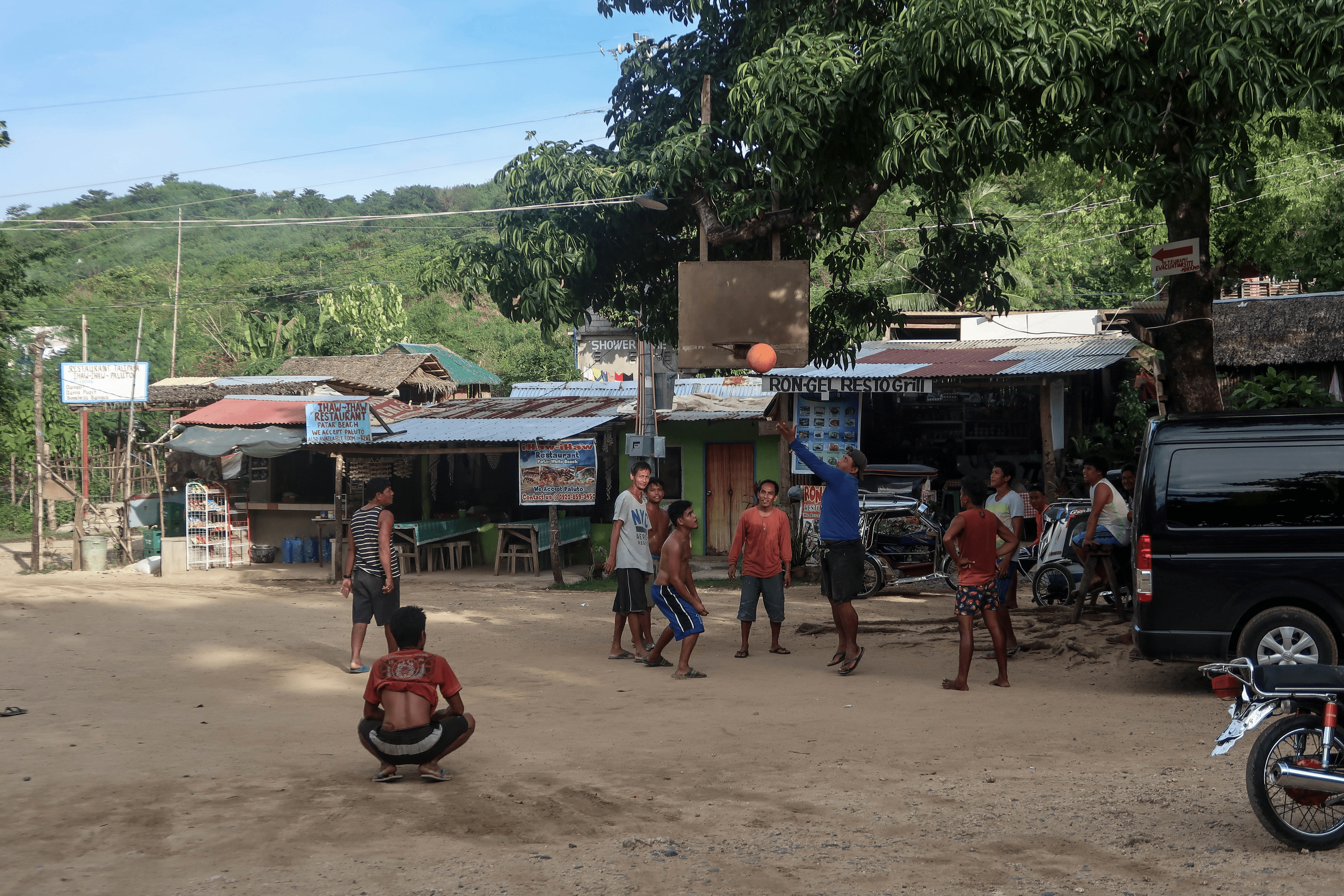 A typical Philippine scene right there at the entrance of Patar White Sand Beach.
When you start walking towards the ocean you likely will be pleasantly surprised by a beautiful calm beach with white golden sand, and nice calm water crashing into the shoreline.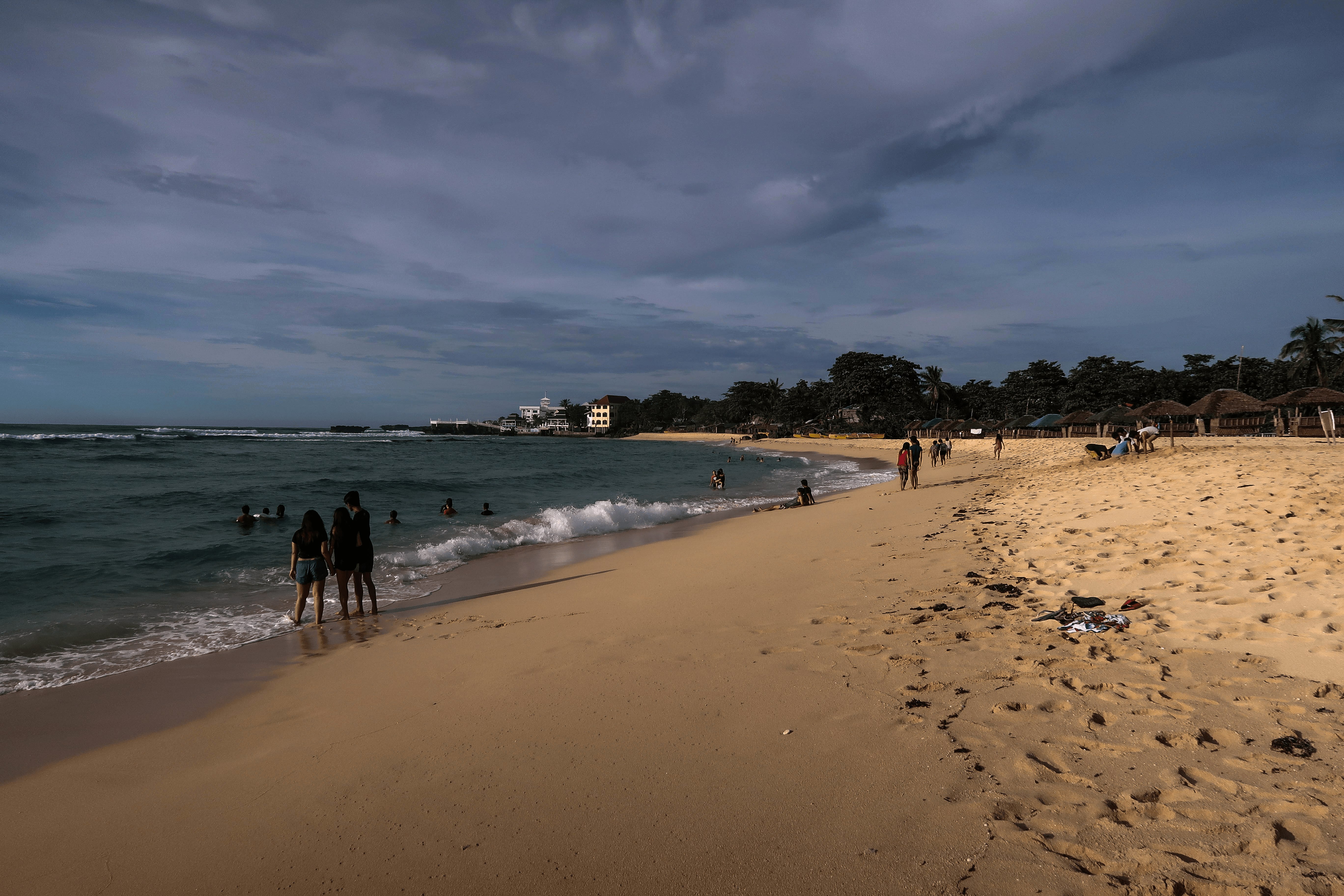 A nice and clean white golden sand beach will welcome you as you walk towards the ocean.
An abundance of nipa huts will be available for you to chill in; so you'll know that this place makes for just a great day (or a few hours) chilling at the beach.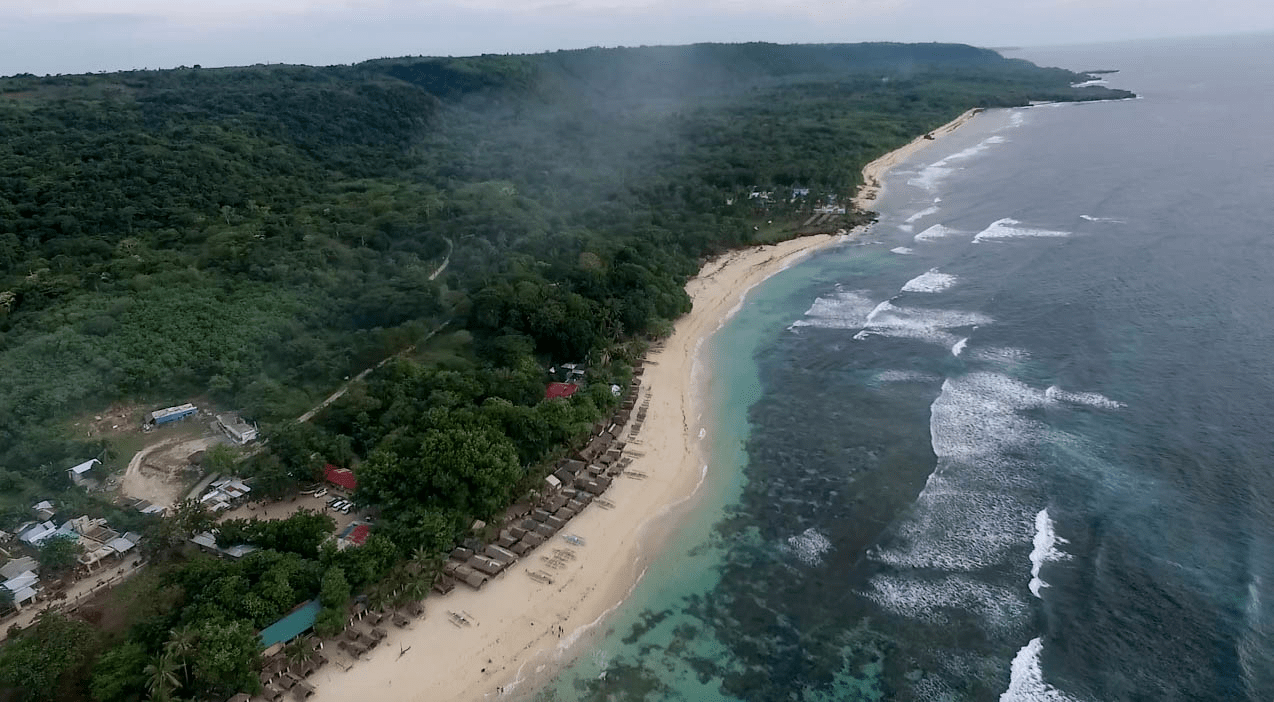 There are enough huts to accommodate you at this nice and clean white sand beach.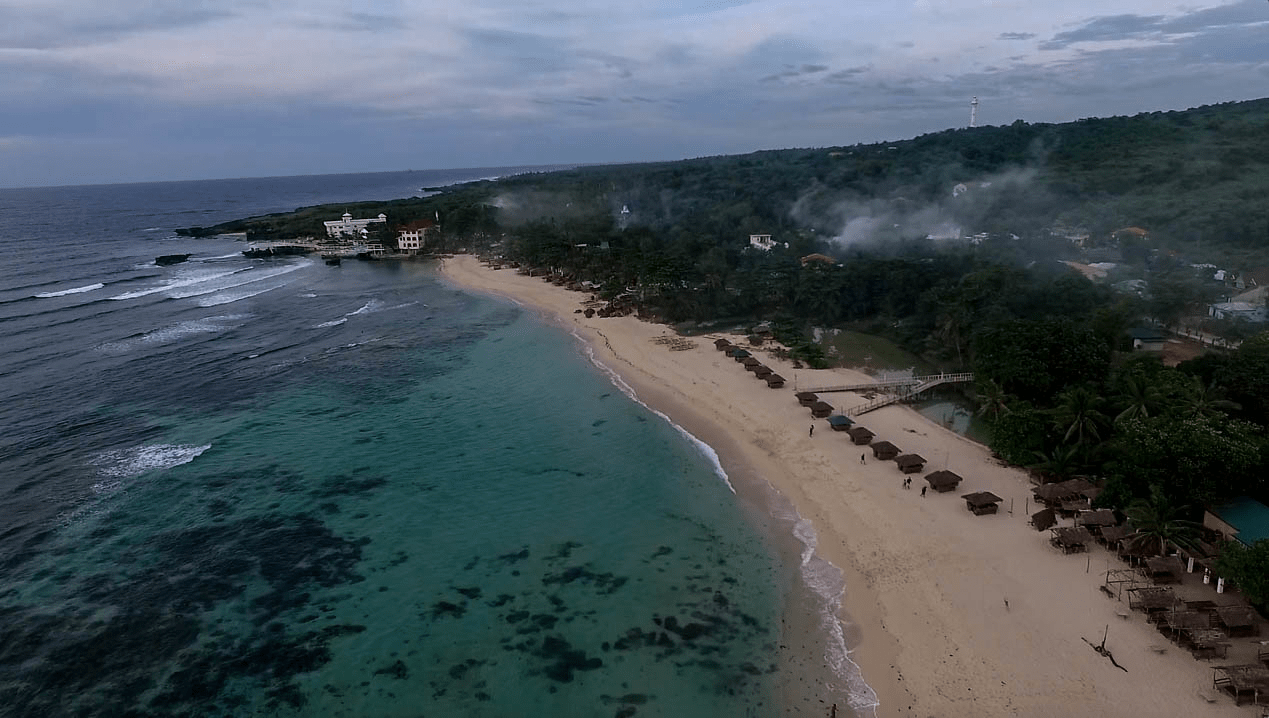 Patar White Beach is not too far from the Cape Bolinao Lighthouse.
Floating Restaurant (Sungayan Grill)
When the day trip is close to an ending and the sun is setting down (anywhere in between 5:30 and 6:30pm depending of the time of year); the restaurant of choice should be the 'Sungayan Grill' Floating Restaurant. A short ride back towards Bolinao centre you'd be stopping at the bridge crossing the Balingasay River. From there you could see the restaurant being settled at a convenient location at the riverside.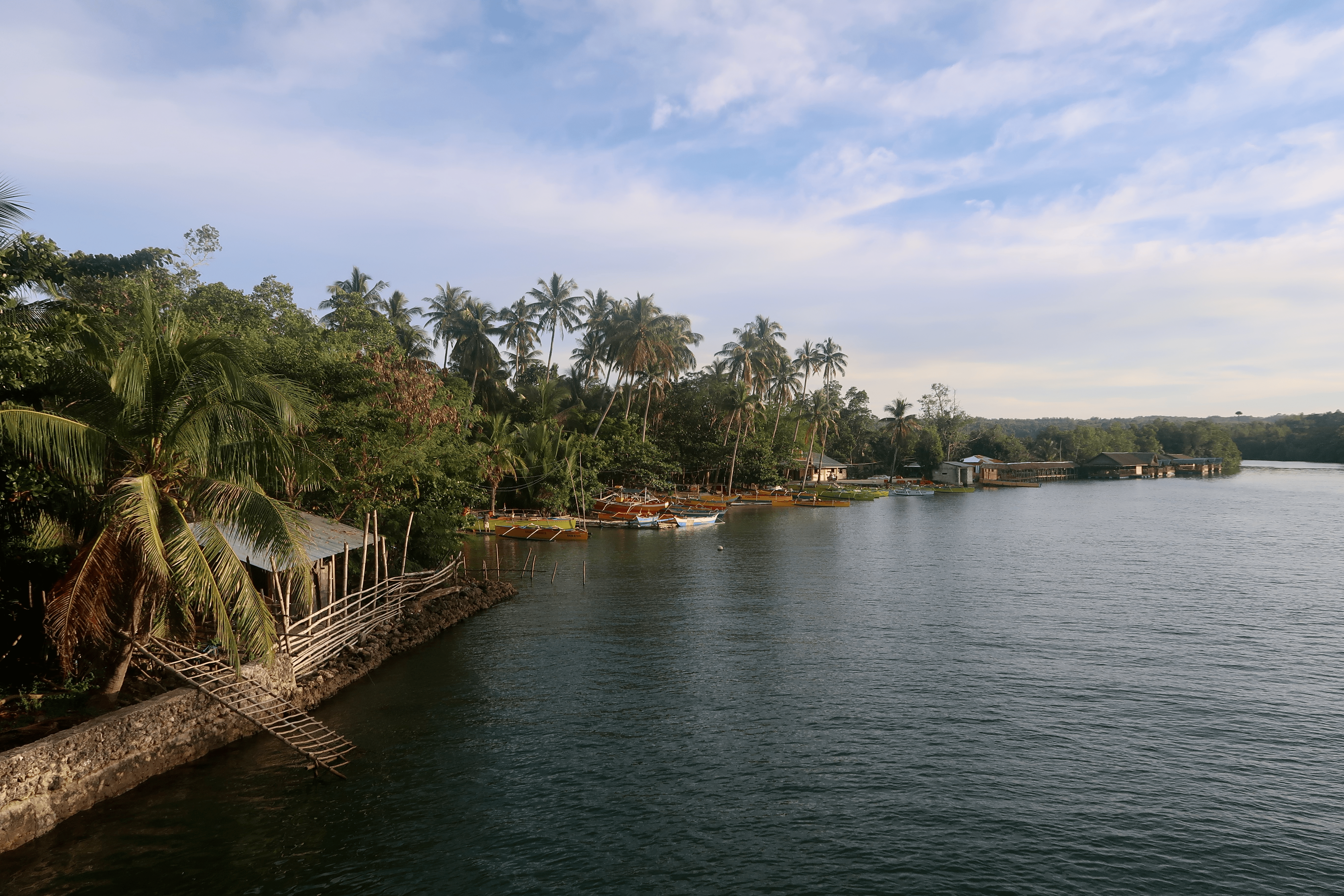 The Floating Restaurant as seen from the bridge.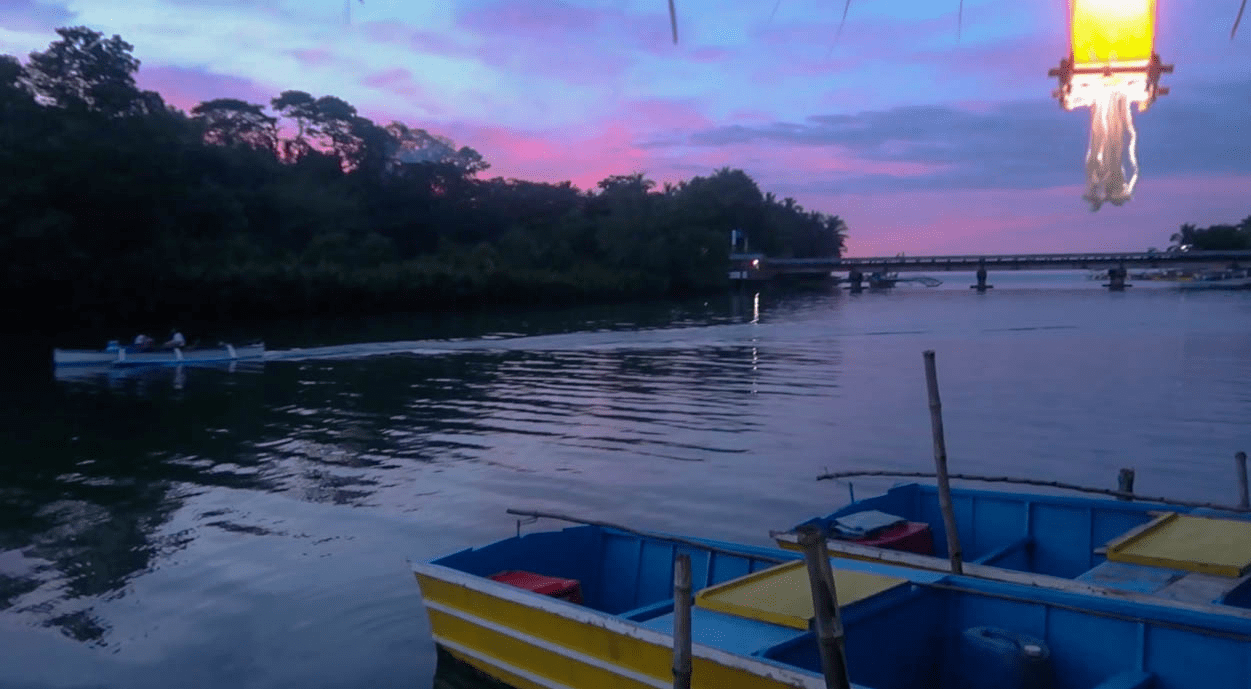 And the bridge as seen from the Floating Restaurant with a beautiful sunset.
Convenient because other than the fact that this restaurant is almost completely floating on barrels; certain parts of the venue can be detached so you can be eating dinner while riding over the Balingasay river, being pulled by a boat. This makes for quite a romantic experience whether you're with your lover or not.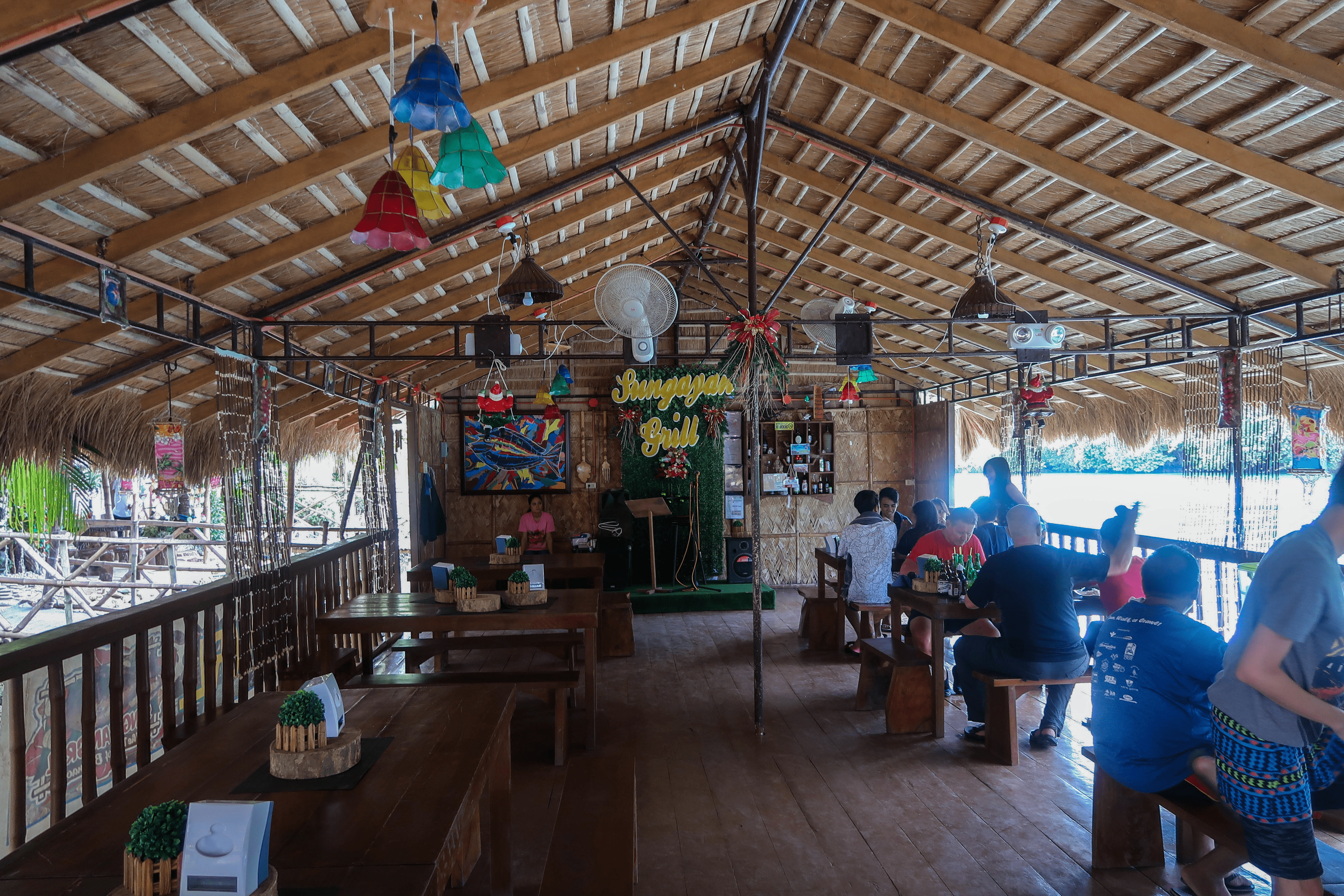 A dining area at Sungayan Grill.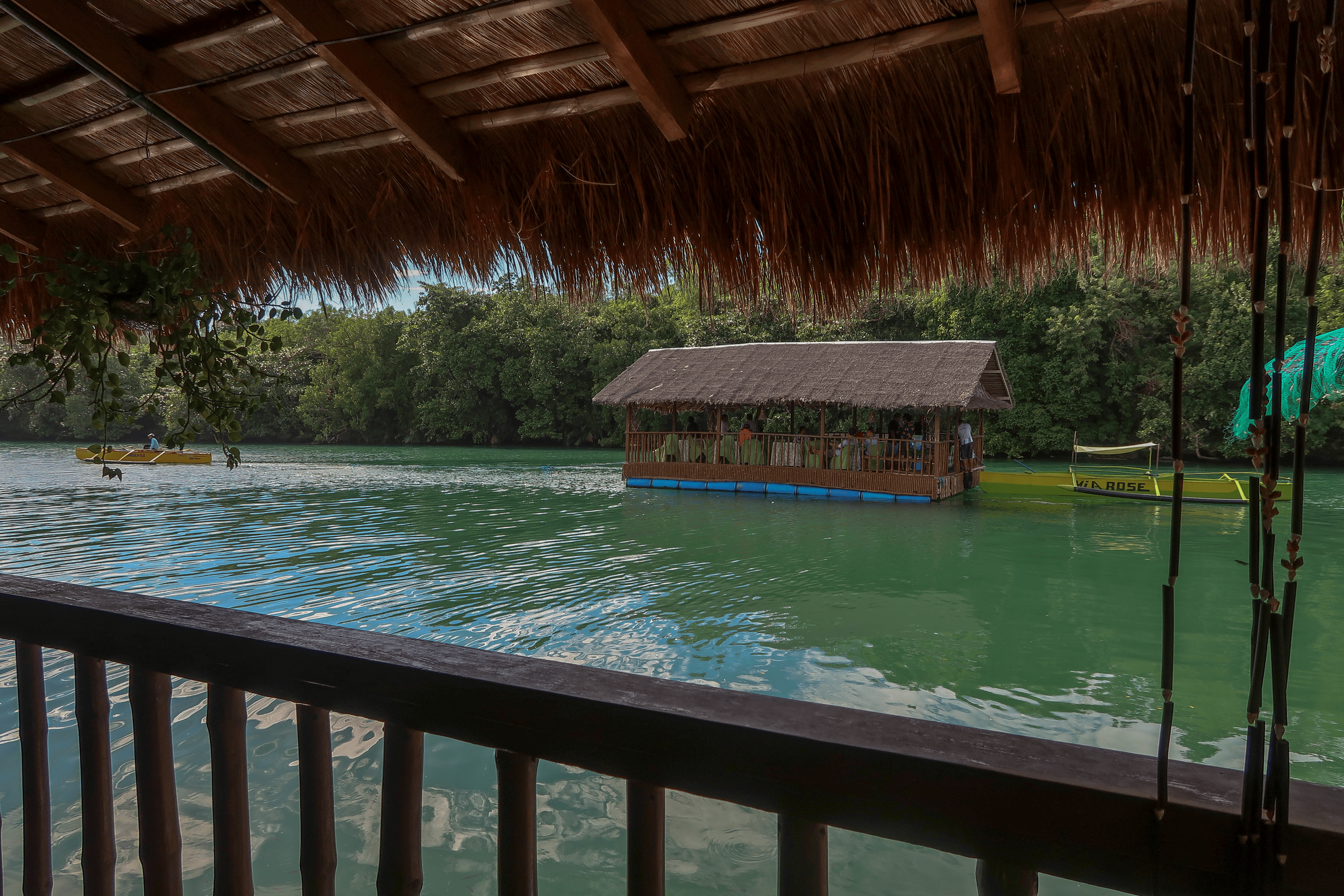 For an extra 1000 PHP you can be riding over Balingasay River while dining.
To conclude
Maybe all these activities don't fit into one day if you want to fully explore and experience them all. But we hope we've given a nice overview of the best destinations and activities that are located around the Patar Beach area; and that potentially could be part of a very, very nice day trip. For some videos about some of them we advice to check out the Bolinao video section right here so you can get an even better idea of the several activities the famous Patar Beach area offers to its ongoing stream of visitors.
Budget itinerary for all activities:
Bolinao Falls: about 50 PHP entrance fee per fall, per person.
Enchanted Cave: 150 PHP per person park entrance fee.
Patar Rock Formation: 75 PHP per head.
Cape Bolinao Lighthouse: free.
Wonderful Cave: 100 PHP per head.
Patar White Beach: free (but small parking fee).
Floating Restaurant: prices are gentle (200-500 pp and 1000 PHP additional fee for riding over river).


Note: nipa hut rental might make for additional costs.



Total: 600-(~)1350 PHP per person.