Hiking and swimming fun at an awesome waterfall in Catanduanes.
The remotely located Hicming Falls in Catanduanes can provide great pleasure in the form of refreshment, as well as a touch of adventure. Hicming Falls provides a challenging little hike through river and forest. A great activity for the active tourist that likes to explore the more undiscovered sights and scenes...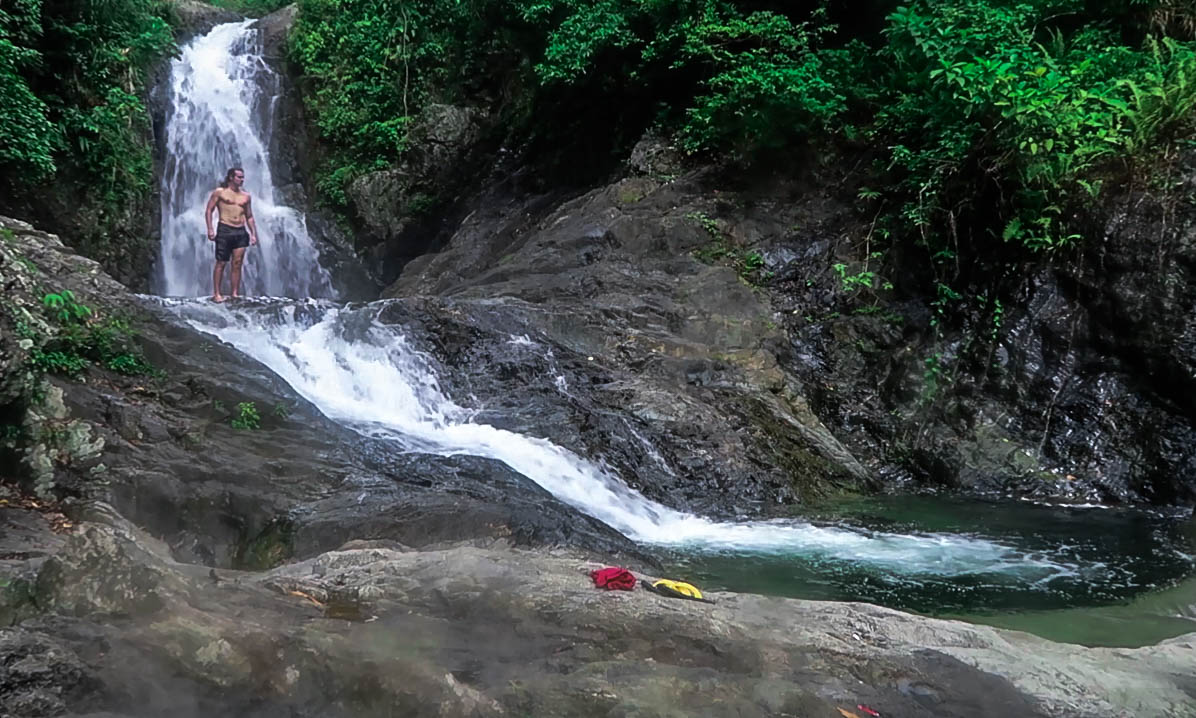 Avoid tourists
Hicming Falls is located in Barangay Hicming, a 20-minute drive from Virac center. Most tricycle riders can find their way over there, with or without the help of the forthcoming locals. Hicming Falls is actually not a mainstream attraction in Catanduanes by any means. This might make for an excellent opportunity to avoid any other tourists for once. You can be together with unspoiled nature and warm, friendly locals that are excited to see any foreigner or outsider.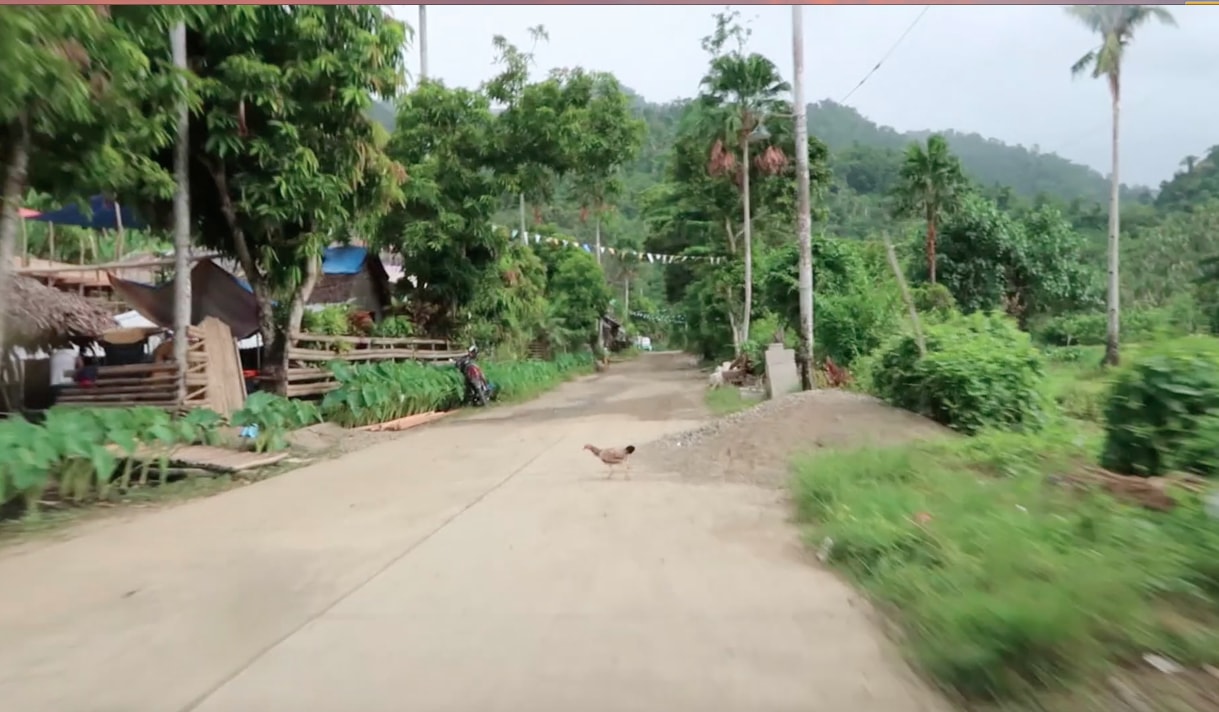 This is what the area nearby Hicming Falls looks like.
Great playing environment
When you arrive at the entrance all you'll see is a little stall with a primitively made sign pointing towards the falls. You will head out on a little trail, that ultimately takes you up to the Hicming Falls. Often you will be accompanied by a bunch of kids that are used to go back and forth, to go play at the Hicming Falls. When you finally arrive at the main waterfall, all the way in the back, you will realize how it does make a great playing environment for children.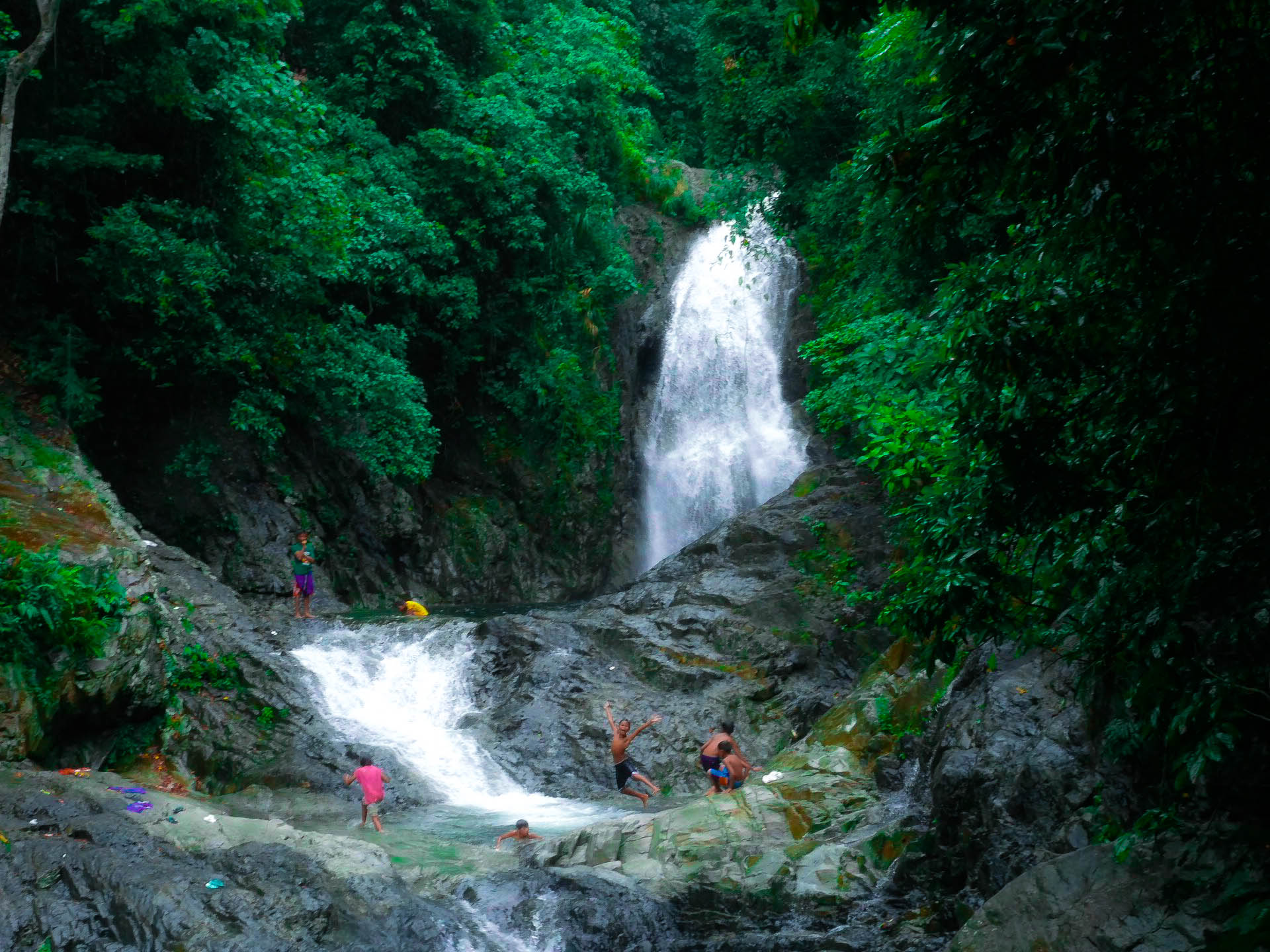 Once you arrive at the Hicming Falls you realize what a great playing environment it makes for children.
River trail
Shortly after leaving the barangay (Tagalog for 'neighborhood') from which you start your hike, the trail becomes a river trail. You'll be forced to step over river stones (be careful), or walk through the water if you're on slippers. This will be a good chunk of your total hike (be prepared), but eventually you will arrive at the first stop. Here, there's a stall where you'll be registering your name and you'll be asked to pay a small entry fee of about 50 PHP (0.93 USD). From this stop you can already see the first waterfall that's part of the Hicming Falls, but the second and main on is still 'one hike away'.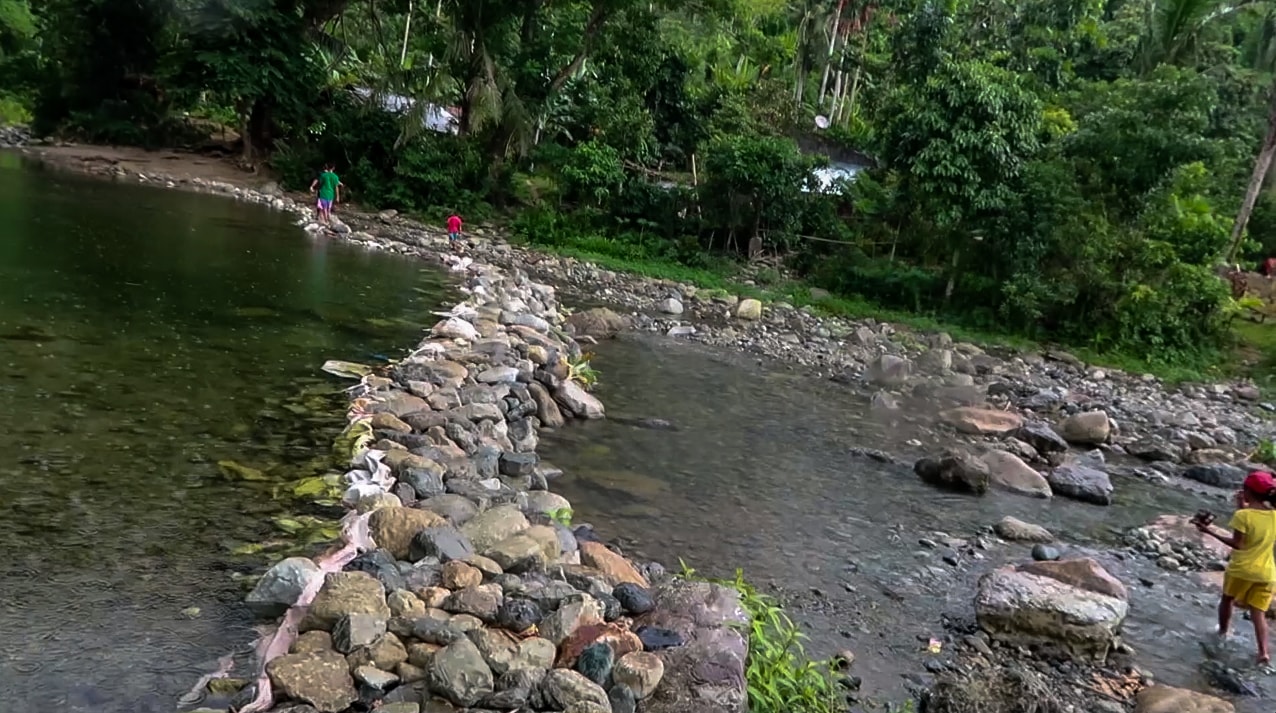 A rocky trail has been made going over the river.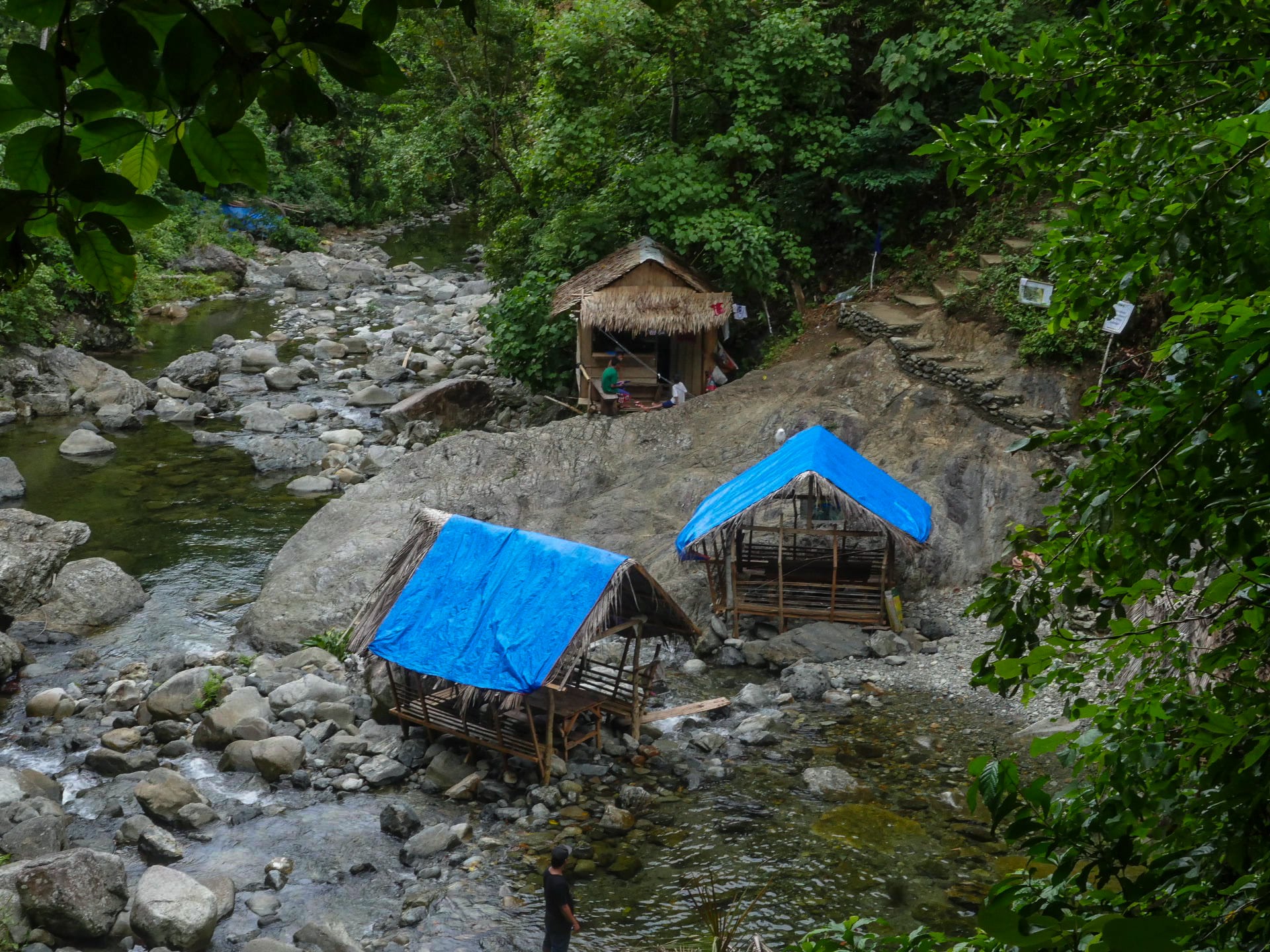 After the river trail you'll arrive at a stop where you're being asked to sign in.
Adventurous hiking
Next follows a semi-adventurous little hike through forest terrain. This will take place at a higher altitude so also here: take good care of not slipping and falling (especially during rainy season). All this active hiking that comes with a little risk does make this activity one for people that are fit enough. Take good notice if everyone in your group is physically able enough to endure some more challenging hiking sessions, before you head out to enjoy the Hicming Falls.

Ultimately you do arrive at a little cabin that overlooks the romantic sceneries the Hicming Falls provide for its few visitors. Right there, in that little wooden hut, you will have an excellent opportunity to recoup from the adventurous hike you've just completed.
Meanwhile, if any of the local kids have been following you; they probably already climbed their way down to the waterfalls 'downstairs'. It's possible for you too, to actually climb down closer towards the falls, where you'll have the opportunity to actually enjoy the water the Hicming Falls provide.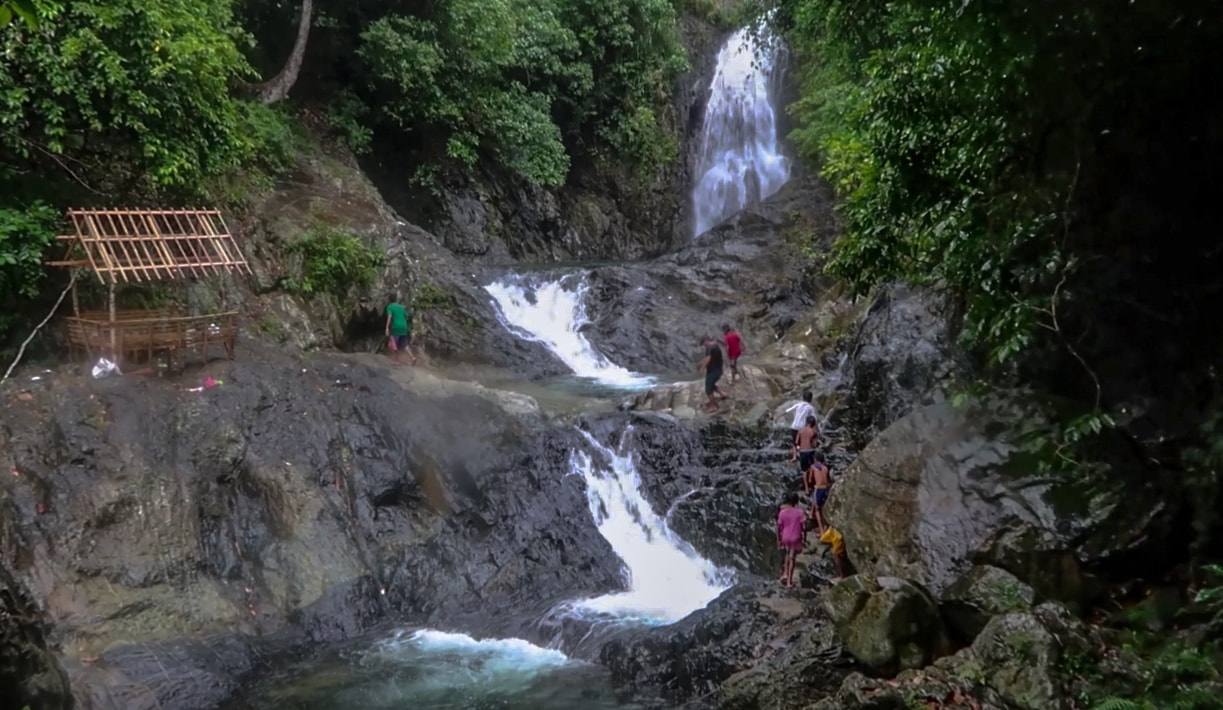 After you arrived; the local Filipino kids that may have been following you would probably already have commenced to start taking the extra leap towards the water.
Swimming fun at the Hicming Falls
The Hicming Falls provide some excellent swimming and playing opportunities, for kids and adults alike. Reward yourself for your previous hiking efforts by an exhilarating swim in one of the nicest (nice and cold), most refreshing waters you'll ever encounter! Also try the natural slide, from which you most likely have seen the local kids go off by now. It's also available to jump off different points on top of and around the waterfall, at least I've seen the kids do this. All in all, Hicming Falls makes for an excellent swimming environment. Even just laying in the streaming water, just to chill, is a privilege you don't want to miss out on while visiting the Hicming Falls.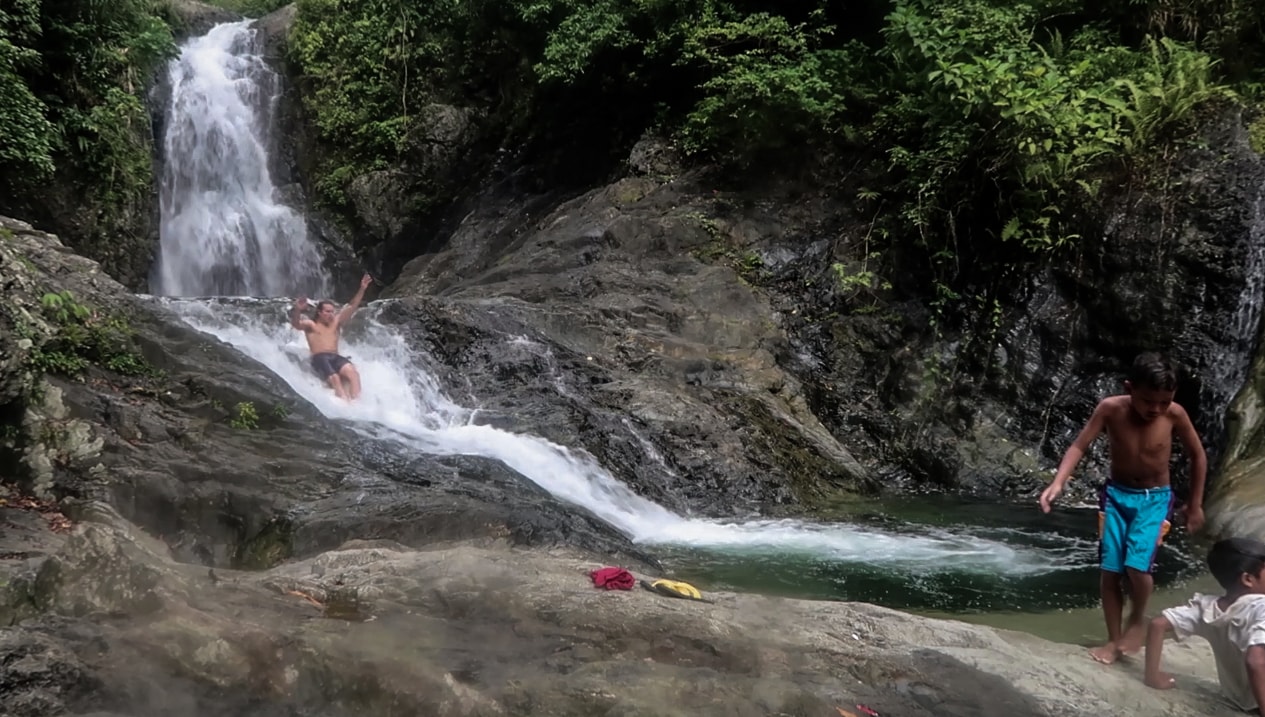 Find your inner child at the Hicming Falls by trying the natural slide.
To conclude
Hicming Falls in Catanduanes is a waterfall that, at time of writing, is still somewhat unexplored. It's not your typical Philippine waterfall attraction with hordes of tourists and Filipino locals are enjoying the water. On many occasions, you would have the Hicming Falls all for your own. It takes a small hike through river streams and rough terrains, but ultimately it will be all more than worth it. Hicming Falls deserves an afternoon of chilling on its own. Enjoy Hicming Falls' perfect, cold water and be in the midst of a beautiful piece of tropical paradise.