The smallest and second most active volcano in the Philippines.
Taal Volcano has a mystical, otherworldly appeal. It might as well be a fantasy movie's 'hideout' where the villain keeps the princess, and for which the hero would have to go through many obstacles and traps to rescue her...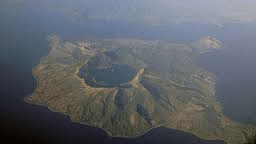 The volcano is nestled within a lake. From the Tagaytay ridge, one beholds a very serene sight of the small volcano and its lake. Perhaps Taal's appeal is unique in that it is considered one of the most active volcanoes in the world, and therefore is under constant and careful watch by the Philippine Volcanology Institute.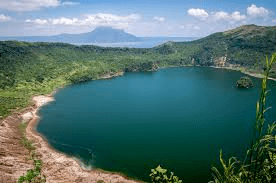 One beholds a very serene view from Tagaytay ridge.
The Volcano Island
The volcano island covers about 23 square kilometers and has 47 craters. Within the island is the Crater Lake, popularly known as the 'lake within the lake'. It has blue green waters and is 4 meters above sea level. There is also a small separate conical island, locally called 'Binintiang Malaki' only 2 kilometers across, which is another crater by itself.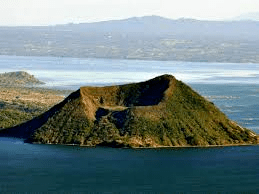 There's a small separate conical island: Binintiang Malaki.
Mysterious History
Dr. Thomas Hargrove, who used to head the International Rice Research Institute Information Center (and who is more famous as a captive in Latin America), took a special interest in Taal. He wrote a book called 'The Mysteries of Taal', where he collected information on Taal's eventful history.
He wrote about how the towns surrounding Taal Lake have apparently moved locations up to four times since recorded history, because of the eruptions. I'm going to draw from the information Dr. Hargrove has provided in the next two paragraphs.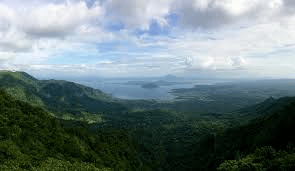 You'll experience some stunning views on and around Volcano Island.
Active
The marine life study of Taal Lake indicates that the body of water may have been salt water in pre-historic time. It is believed that the whole area itself including the surrounding province of Cavite and Batangas was once part of an immense pre-historic volcano estimated to be 18,000 feet high which erupted violently and collapsed into a caldera with a channel opening towards Balayan Bay. Between 1572 to the present, more than 41 eruptions occurred with the last eruption of 1754 lasting close to six months. It darkened the skies over Manila for days, so that people literally walked around the city carrying lanterns even at 10:00 in the morning. It is most probable that this eruption finally closed the open channel to the sea that allowed the accumulation of fresh water from rainfall leading to the formation of Taal Lake. The crater lake on Volcano Island is nowadays known as the largest lake on an island in a lake on an island, in the world.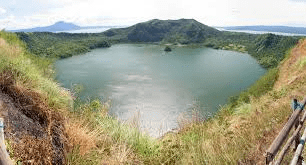 Crater lake on Volcano Island is the largest lake on an island in a lake on an island in the world...