Another evidence of the strong belief of Filipinos about miracles is the Mystical Cave. Visiting this wonderful attraction when you move through Antipolo, is a must.
It's no secret that the Filipino people are strong believers in miracles, and the Mystical Cave near Antipolo is strong evidence for that. This 8 storey wonder of nature was discovered by Inday Nelly Deles in 1970 and has since been maintained by her...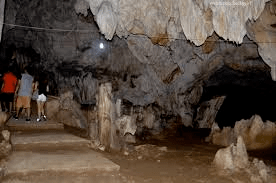 Dreams and visions
Inday Nelly Deles discovered the Mystical Cave in 1970. It's been said that when she was 7 years old, she had dreams and visions about this cave. Being from Ilo-Ilo orifginally, she travelled around the country to find the cave that she has been dreaming about. Then, she reached Antipolo, and finally found the cave. Initially the hole of the cave was the size of a coin. Gelignite was used (explosive material) to form a passable entrance through the cave.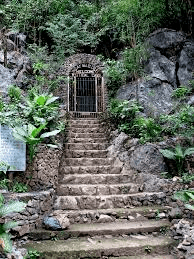 The entrance of the Mystical Cave.
Mysterious holy figures and scenes
It will take almost 200 stair steps before reaching the entrance of the cave but once you enter, you'll be mesmerized. The cave is eight storeys deep and the tour guide will show you the mysterious rock formations that resemble holy figures like Jesus Christ, Black Nazarene, Virgin Mary, and many more. The rock formations are quite spectacular and their crystals sparkle beautifully when the guide's flashlight shines over them.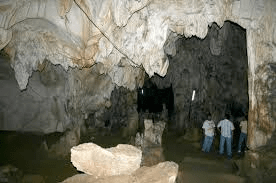 Be in awe and explore the 8 storeys of the Mystical Cave.
Stalactites and stalagmites
It's also been said that the rocks inside the mystical cave are alive. The rocks drip water from the ceiling and become stalactites and stalagmites, basically forming new rocks through their drippings. Even though there is a good scientific explanation about the rock formations, it is still a question why they resemble holy figures. Randomness? Imagination? Filipinos beg to differ..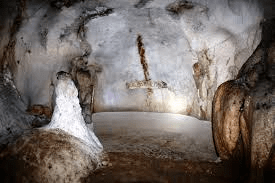 Be amazed about all the holy figures and scenes visible in the cave.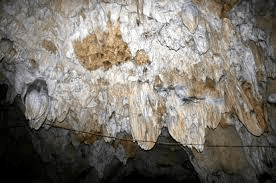 Be in wonderment about the beauty of the stalactites and stalagmites.