Being the country's first and only real amusement park that includes attractions such as rollercoasters; Enchanted Kingdom in Laguna makes up for most of the province's touristic visitors. Even though it's small in size; Enchanted Kingdom will serve the hearts and minds of kids as well as some of the more adventurous and thrill seeking ones...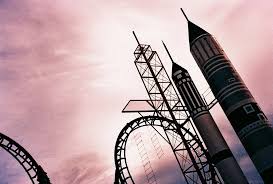 First real theme park in the Philippines
Founded by Cynthia and Mario Mamon, Enchanted Kingdom is the very first amusement park that includes a rollercoaster. The Filipino couple frequently visited theme parks around Asia in the early 90s, as they found the inspiration to start one of their own. They attended several amusement conferences and trade shows and joined the International Association of Amusement Parks and Attractions (IAAPA). The group helped them getting into the industry and so early construction followed two years later, on August 1994. There were some potential competitors seeking to establish the first theme park in the Philippines for themselves; so construction was rushed but successfully completed a little more than 1 year later. The park was then opened on the 19th of October, 1995.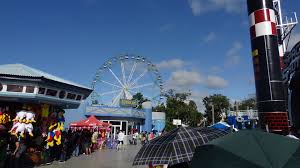 Branding and setup of Enchanted Kingdom
From the very start, the park was inspired by the Philippine architecture by the influence from some of the consultants the Mamons brought in. On top of that, according to Mario Mamon, lots of the shows and attractions produced in the park are in fact inspired with Filipino and educational values in mind, and not purely for amusement or entertainment purposes. Still the kids are stoked about the park and especially the attractions the theme park offers. The park does have some mascots though with the main one being Eldar the Wizard; designed to embody the values knowledge and integrity.

Enchanted Kingdom is laid out over a parcel of 25 hectares (62 acres) and nowadays features over 20 attractions and rides. These rides are scattered but organized over 7 different themed zones. We will list the zones underneath along with their featuring attractions. Any attraction we name will link to a page on EK's very own site where you'll find more detailed information about that specific ride.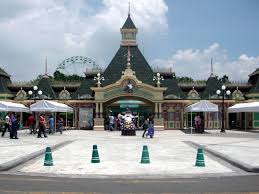 Entrance of Enchanted Kingdom with Eldar the Wizard in front greeting the visitors.
Victoria Park
The first theme zone you will step into right after passing through the entrance of the park. With Eldar the Wizard as well as another main character (called Princess Victoria) to greet and pull you into the right mood; Victoria Park will get you enchanted right away with its Victorian era charm.
This zone mostly serves children, but features the largest carousel in the Philippines. The Grand Carousel is elegant looking, has a fairy tale quality to it, and will spark the attention right away (especially your little ones').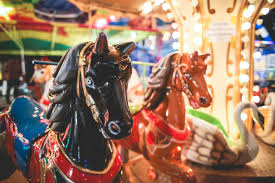 Boulderville
If you're primarily with children, a good direction to go to right after the entrance is to the right. After Victoria Park you will then enter a zone that serves kids just as well as Victoria Park does, or better. Boulderville is a dinosaur-themed area that's especially designed for the little ones. It's main rides are: Stone Eggs, Bumbling Boulders, Air Pterodactyl, and Boulderville Express.
There's a vast area of stall as well with games where you can win prizes like stuffed dinosaurs and such. Also the Petreefied Treehouse and Rock Quarry serve as excellent playing facilities in this zone. Also in Boulderville there is a higher density of walking mascots (dinosaurs in particular) which the kids can take pictures with.
Affordable & highly recommended guesthouse near Enchanted Kingdom (click to visit in new tab):
Affordable & highly recommended guesthouse near Enchanted Kingdom (click to visit in new tab):
Portabello
Next to Boulderville is a zone that has a Caribbean feel to it. Here you will find the attraction 'Flying Fiesta'; a giant swing ride for some of those pleasant g-forces. Another great one in this area that'll provide g-force pleasure to your stomach is Anchor's Away, the famous swaying pirate ship attraction you probably know. Also you can try the Rio Grande Rapids; Enchanted Kindom's largest attraction that'll bring you over a wild water ride for some splashy fun (you may bring extra clothes). Another worthwhile attraction in Portabello zone is the 7D Interactive Motion Theater, with state of the art motion technology, for some swell 4D film entertainment.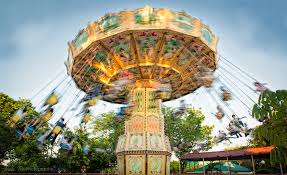 Flying Fiesta swing ride in the Portabello zone.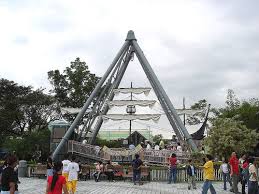 Anchor's Away.
Brooklyn Place
Bases on 1940s New York and the silent film era, Brooklyn Place features replicas of building reminiscent of that time. Also, here you'll find a popular new attraction called the Rialto; a 4D motion simulator that serves as a great sidekick for the 7D Interactive Motion Theater in Portabello zone.
Spaceport
The Spaceport zone features Enchanted Kingdom's most thrilling ride: the Space Shuttle. The park's only adult rollercoaster but exciting enough to make up for its solitude. It's a triple loop rollercoaster where you get pulled up first before getting getting released back and downwards into the abyss. It goes back and forth three times so you'll be shaken up and upside down a lot. It's really a rollercoaster you're likely to enjoy a lot. Another big attraction is the go-karts right next to it. They ask for an extra fee though so unfortunately it's not free of charge.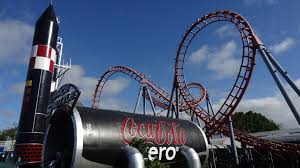 Enchanted Kingdom's most thrilling ride, 'Space Shuttle', is located in the Spaceport zone.
Jungle Outpost
This zone is jungle themed, specifically the Amazon rainforest. The main attraction here is Jungle Log Jam; guests have to swish their way down two cascading waterfalls with some breathtaking twists and turns. A more relaxing ride you'll find in Jungle Outpost is the Swan Lake, where you can enjoy the tranquility of the lake riding in boats that look like swans.
Midway Boardwalk
Midway Boardwalk is reminiscent of Coney Island (U.S.) in the 30s. It also features the most rides of the seven zones. You'll find the bumper cars here (Dodgem), Roller Skater (a small rollercoaster), and a balloon ride called 'Up, Up and Away'. Also here is where you can find the Wheel of Fate; the park's Ferris wheel with 36 gondolas (6-person capacity) that'll take you up to a height of 39.62 m (130 ft).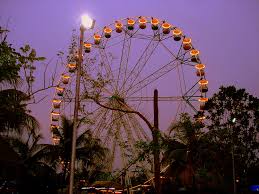 Have a cool view over Laguna in the Wheel of Fate.
Inflatable waterpark
Enchanted Kingdom also recently launched a new water attraction. It's a full-blown inflatable waterpark which is also the first and only in the Philippines. In cooperation with South Korea's BiKiWorld, they set up six huge inflatable pools along with slides, games and rides that the whole family may can enjoy. On a hot day this might make for a great alternative to the original Enchanted Kingdom amusement park. It's located right next to it, and has an admission fee of 350 PHP (6.55 USD).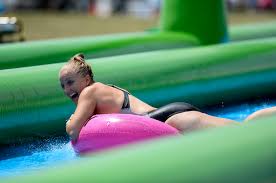 To conclude
Even though Enchanted Kingdom is small in size; it's the main theme park in the Philippines, and can make for a great daytime activity when traveling Luzon. As you may know by now, it's located in the Laguna province and also in relatively close vicinity to Metro Manila. It is a cute, fun little theme park that's jam-packed with rides and attractions for the whole family. The admission rate does vary over time but expect it to be 400-500 PHP (7.49-9.36 USD) per person. For more information about Enchanted Kingdom you can visit their homepage.

Travel Through Paradise wishes you a great day at Enchanted Kingdom in the beautiful Laguna province!